Archived Opinion
In a season of feasting, finding food for the soul
Wednesday, November 30, 2016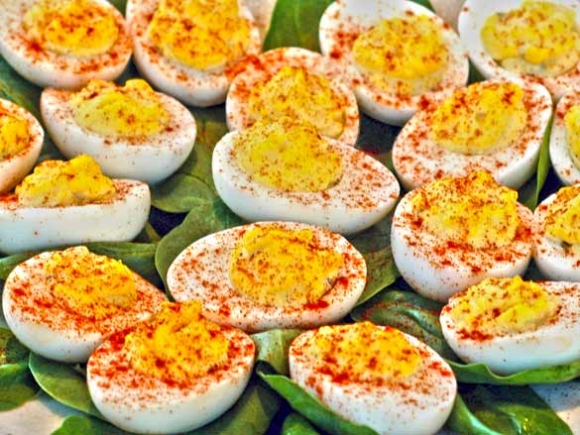 I've always embraced change, perhaps to my detriment. I suspect it has something to do with a youth where we moved to different homes as often as most people buy new sneakers, so it just seems normal — and somewhat cathartic — to do things differently, even to the point of dropping old traditions and embracing new ones.
But some change I can't accept, and one of those is Thanksgiving without deviled eggs that taste as much like my mom's as possible. Some things are, after all, sacrosanct.
I guess that's one of life's challenges, embracing new traditions while preserving the old ones, especially those that provide emotional nourishment.
Anyway, that's what I was thinking as we loaded up the car with food on Thanksgiving morning (are we really going to be able eat that much?), making sure the eggs were safe and not somewhere they could slip off the tray and into the bowels of the 2002 Subaru and its 215,000 miles, the same car that has played taxi for two dogs, several cats, three kids, and hundreds of trips to Lowe's and the dump. No telling what they would encounter if they came off the plate, but it would surely render them un-edible.
Feeling good about their security, we made the short trip to north Asheville, to the home of my wife's sister and her husband, Joe and Julie Hooten, and their three young children.
Young being the important word here, as they are 5, 8 and 12. Lori and I are recently emancipated empty nesters. Liam, our youngest, is 18 and in his freshman year at UNC Charlotte. His sisters are 21 and 24. But we haven't been without kids at home long enough to forget the importance we placed on establishing family traditions for the youngsters. So for now, that's Thanksgiving at the Hooten house with those young ones and as many members of the family who can make it to the mountains.
And so this is the new and current tradition for us, one I've wholeheartedly embraced. We McLeods get up early on Thanksgiving Day, drive to Asheville for the annual downtown Turkey Trot 5K — some have trained, some haven't — and run (suffer through?) the race. Then it's back home for showers and finishing cooking and back again to Asheville for dinner at the Hootens.
I guess it's normal to trace the arc of one's life through the holiday family gatherings. I remember Thanksgiving hunting trips as a kid that I looked forward to for months, and then years of traditional dinners at my mom's house where aunts. uncles, cousins, cousins of cousins and a crowd of other relations would always come to eat or at least visit. Both of those gatherings included the aforementioned deviled eggs.
My cousin, Corky, and I were the youngest in our families and so awarded the special status — aka, perhaps being a little spoiled — that comes with that distinction. We would begin chowing on the eggs as early as my mom would let us, and she got more lax with the deadline the older we got.
When I was in college it would start as soon as I dropped by bags in my room — mom conveniently had them ready in anticipation of my arrival — and the assault on those delicacies became a leitmotif of the holidays, and one of the favorite memories of my mom: "Lordy Scott you're gonna eat all the deviled eggs before people even get here," she'd say, trying not to smile. For my part I tried to keep her honest and do as much damage as possible.
So when I found myself this past Thanksgiving morning in our kitchen, the table from the porch pulled inside because we needed more prepping space, peeling eggs, cutting them and scooping out yolks, surrounded by all my own children and Lori, in that moment a wave of nostalgia swept over me as I realized I had all I needed: food for the soul, food for the body, healthy traditions. All is good. Happy holidays.
(Reach Scott McLeod at This email address is being protected from spambots. You need JavaScript enabled to view it..)