Archived Mountain Voices
When frost comes, we know winter has arrived
Wednesday, November 30, 2016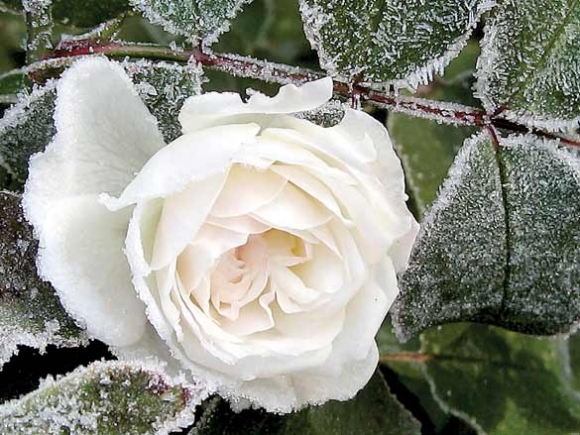 The first frost serves as a given year's most distinctive dividing line. It's hard to pinpoint just when winter becomes spring, when spring become summer, or when summer becomes fall. But the winter season has arrived when the first frost occurs.
Like summer dew, the frost appears on clear windless nights as the air cools and can't hold as much moisture as it did during daylight hours. In summer and early fall, this excess moisture condenses on the surfaces of weeds, spider webs, metal tools, and other exposed objects. But when the temperature falls below 32-degrees the same vapor crystallizes, forming frost.
Through a process known as sublimation, the vapor does not turn first into water and then freeze. Instead, it changes directly from the gaseous state into a crystalline form. As more and more vapor freezes, two types of formations sometimes called "frost flowers" can be observed.
One type I heard old-timers in my family refer to when I was growing up consisted of the delicate feather-like patterns most noticeable when traced on windowpanes that glisten in the glow of a lamp at night or in early morning sunlight.
A second type of "forst flower" occurs when thin layers of ice are extruded from long-stemmed plants. These form exquisite patterns that curl into "petals." They only do so when the ground isn't already frozen. The sap in the above ground portion freezes and expands causing cracks to form along the length of the stem. Water is then drawn out of the cracks via capillary action. Upon contact with the air the fluid freezes creating "frost flowers."
Like frost and dew, fog is the product of saturated air. So long as the tiny droplets in a fog can move unheeded through below-freezing air, they remain super-cooled and unfrozen.
Rime frost occurs when the droplets encounter tree limbs or other objects that cause them to crystallize instantly and coat the object with granular tufts of ice.
Black frost of the sort that often occurs on highways is the most dangerous variety because since it isn't accompanied by rime and can't be seen by motorists until it's too late.
(George Ellison is a naturalist and writer. He can be reached at This email address is being protected from spambots. You need JavaScript enabled to view it..)