Archived Arts & Entertainment
Straight from the Source: A conversation with Marty Stuart
Tuesday, November 29, 2016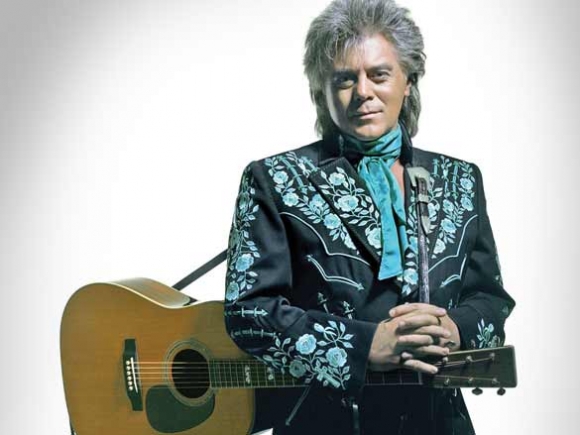 It's about staying true to yourself.
When you converse with country/bluegrass legend Marty Stuart, you're speaking to the source. From being a teenager, touring and performing side-by-side with Lester Flatt in the 1970s, to finding country radio success in the 1980s and 1990s, to his enduring work with Doc Watson and Johnny Cash, Stuart has risen into the upper echelon of Nashville icons.
SEE ALSO: Marty Stuart, Balsam Range at Lake JBalsam Range at Lake J
A longtime member of the Grand Ole Opry, Stuart will be the first to tell you that when it comes to staying power in Music City, what matters most is paying attention. It's not flavor-of-the-week trends or a flash-in-the-pan hit. It's sticking to your guns and never forgetting that what it comes down to is simply putting pen to paper, guitar lick to the old six-string.
Stuart is a walking, talking encyclopedia of music history and heritage. He's the living, breathing bridge to the "musical architects" long gone from this earth, but forever remembered by their songs immortal. And as his career comes full circle, the 58-year-old looks to impart his knowledge to those coming up behind him, those torchbearers who will become the next generation of performers showcasing the eternal sounds of traditional music.
Garret K. Woodward: There's always been an ebb and flow in Nashville. But, I feel right now we're in another transitional phase. What do you see?
Marty Stuart: The thing I keep my eye on isn't the trends, it's on what never changes. A great song is what drives everything, it's the true star that appears. The Country Music Hall of Fame. The Grand Ole Orpy. A good band and a good show. Those are the kinds of things that keep people in the game for decade after decade. Stars come and go in Nashville. But, I learned a long time ago, if you play that game [of trends], somewhere along the line you'll get your heart broke. What I did is that I got alongside the roots, which is such a timeless place.
GKW: What is it about bluegrass that sets it apart from other types of music?
MS: Well, to me, it's home. As a musician, it's just as complicated as classical music in a lot of terms. The dexterity required is incredible, but to combine dexterity with heart and soul, and make it something that touches somebody, that's something special. And with country music, too, my wife (country legend Connie Smith) calls it the "cry of the heart." And I think true bluegrass, I'm talking the real way back there stuff, that's what I listen to more than anything else, even today — it still speaks to me.
GKW: What about traditional music surviving in our modern world moving forward?
MS: I think if you were to walk the streets of Asheville, say on a busy Saturday, there's some sort of version of Old Crow Medicine Show on about every corner. And as you play festivals around the world, roots music and bluegrass is still alive and well. I don't think anybody is really filling up stadiums with it, but I also don't think that matters, because it's still alive and gaining. At the end of the day, it's still about the guitar, the song, and the honesty of it all.
GKW: You've spent your life performing and creating music. What has that taught you about what it means to be a human being?
MS: I had a conversation one time with [the late] Pete Seeger. Just the two of us sitting on the ground at the Newport Jazz Festival. Years ago, back in the late 1970s. I asked him about Woody Guthrie. And he said Woody was like a correspondent that traveled on a boxcar through life, looking to the left, looking to the right, reporting on the human condition. It was about love, mercy, compassion, justice and injustice. And what [Pete] said helped me understand that it's not just about putting on cowboy clothes and making money. Whether it's speaking out for a lost culture or lost cause, or shining a light on a new idea, my soapbox works for that, and that's what it's really all about.