Archived Arts & Entertainment
This must be the place: Stones sax player, improv legend rolls into WNC
Wednesday, November 23, 2016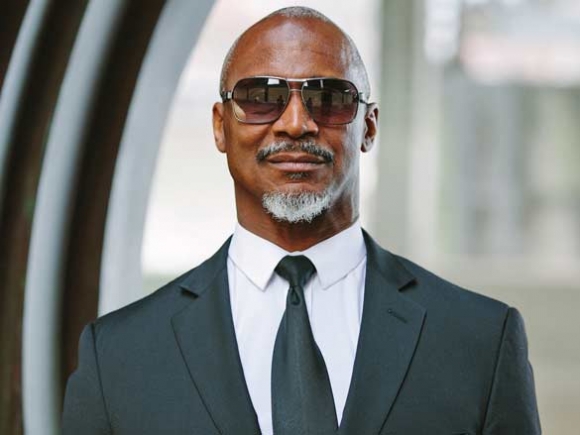 It's a whirlwind.
With his group Tiny Universe, saxophonist Karl Denson seamlessly creates this vortex onstage, a sonic hub where jazz, rock, funk and soul collide, swirling around one another like a street fight with no determined victor. The sights and sounds hit the listener with such force, it will make you rethink just what improvisational music and live performance can be — and ultimately is — at least within the endless curiosity of Denson.
In recent years, Denson has globe-trotted with The Rolling Stones as their sax player, a position that carries with it the heavy responsibility and big shoes of the late Bobby Keys, whose signature horn playing became the melodic core of classics like "Brown Sugar" and "Can't You Hear Me Knocking."
And yet, Denson himself has carved out his own space onstage with the "Greatest Rock-N-Roll Band In The World," where his iconic presence and second-to-none talents radiate out over an audience as raucous and exuberant as they are thirsty for his frenzy of intricate notes.
Smoky Mountain News: What has that been like touring the world with the Stones?
Karl Denson: It's been a cherry on top for me. They put on a great show and they work really hard. It's an eye-opener to watch these 70-year-old guys that work as hard as they do. It's been my biggest learning experience, which is to see them rehearse, play their shows, and be completely focused. It's amazing how large their catalogue is, and it makes me work harder to make my own catalogue stronger. They're just sitting on so many great songs and they just keep pulling them out. Every night, you get to these big giant stadiums and they're empty, then five hours later they're completely full.
SMN: What can people expect with the new Tiny Universe record (due out spring 2017)?
KD: It's all about writing good songs, man. This record is about where we're going musically — me and the band, just trying to figure out how to write quality, original songs. I've been playing guitar the last few years, so that's been influencing some of the writing. It's fun though. I've got a couple of guitar tunes under my belt, getting comfortable with it, making it my own. Our intent is to mix and match all kinds of different styles of music and make it so people can really dance to it.
SMN: With the upcoming Asheville show, you'll have Jimmy Herring joining you.
KD: Well, I've been sitting in with Widespread Panic forever, even before Jimmy was there, before [guitarist Michael] Houser died [in 2002]. I met Jimmy when he was playing with Phil [Lesh] & Friends (of The Grateful Dead). And Jimmy sat in with us at the New Orleans Jazz Fest a couple years ago. So, I checked my end-of-year schedule, Jimmy made sure it was OK with his wife, and here we are. He's just a virtuoso. When you're near him, you're standing next to somebody that can shred you.
SMN: Where do you go in your head onstage?
KD: Just trying to focus on the music. You're either paddling or you're in the water. Music for me is a stream and you're just trying to catch that right current. There is this whole energy between the musicians and the audience. I'm more of an "in the moment" type of guy.
SMN: You're turning 60 in December. What's your mindset these days as that milestone approaches?
KD: It's definitely startling. But, I'm still feeling good, so I'm not getting freaked out. I'm achieving goals. I'm having fun and playing music for a living. It's a good life. I'm trying to celebrate every moment at this point.
SMN: I never take any of it for granted.
KD: That's exactly where I'm at, too. I'll be in the airport, just seeing as these people, all these different sized people. Kids. Parents. All doing their thing, and there's this plane outside that'll carry all of us to our destination. I mean, here I am talking to you on this phone from across the country. It's weird and beautiful that we've created this world that we can do all of that.
SMN: What's a life performing music taught you about what it means to be a human being?
KD: That's a good question. Music has afforded me the ability to travel. And you get to meet all kinds of different people. It's really about being connected to others and the world, seeing it for the amazing thing that it is. I'm completely freaked out by life in general, all these wild people and things. I'm working on a story lately with a friend about life, and you start considering all the possibilities, more philosophical ways of looking at life. You know, in what we do and who we are, we're kind of a miracle.
Want to go?
Karl Denson's Tiny Universe will perform at 8 p.m. Thursday, Dec. 1, at New Mountain Asheville. Denson will be joined onstage by Jimmy Herring, guitarist for Widespread Panic. Tickets are $30 per person and can be found at www.newmountainavl.com.
Hot picks
1 Mountain Faith will perform their "Sounds of Christmas" at 7:30 p.m. Saturday, Nov. 26, at the Smoky Mountain Center for the Performing Arts in Franklin.
2 Frog Level Brewing (Waynesville) will host its fifth anniversary party with Resonant Rogues (Americana) at 7 p.m. Saturday, Dec. 3.
3 Mad Batter Food & Film (Sylva) will host Ol' Dirty Bathtub (Americana/jam) at 9 p.m. Friday, Nov. 25.
4 Beloved longtime natural history writer George Ellison will present his new essay collection at 7 p.m. Thursday, Dec. 1, at the Macon County Public Library in Franklin.
5 The Water'n Hole Bar & Grill (Waynesville) will host The Dirty Soul Revival (rock/blues) at 10 p.m. Friday, Nov. 25.