Archived News
Expansion, safety improvements for Waynesville concrete plant
Wednesday, November 23, 2016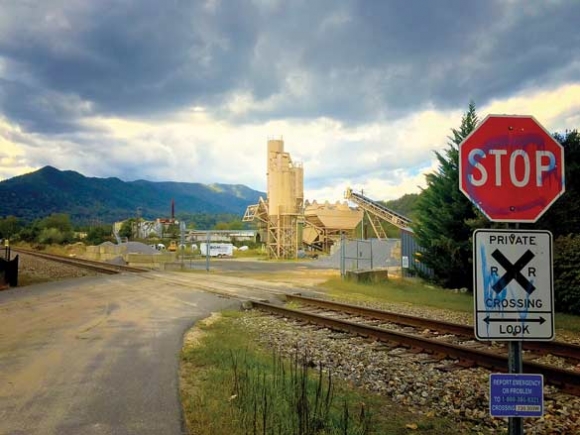 Nearly a decade ago, Southern Concrete Materials began toying with the prospect of leaving its 201 Boundary St., location for more favorable digs.
Then the Great Recession hit.
But on Tuesday, Nov. 8, SCM sent a clear signal Western North Carolina is still slowly emerging from that recession.
Hoping to consolidate and expand its services, SCM recently purchased a 3.07-acre parcel at 120 Railroad St., that lies just north of and adjacent to a 4.8-acre parcel it already owns at 50 Vigoro Lane.
That Vigoro Lane parcel has been home to a redi-mix concrete plant used by SCM when business volume or construction site locations warrant. Regional Manager of SCM John Bryson said the plant had been in use when Walmart was built around 2008, and intermittently thereafter.
Several months ago, SCM asked the town of Waynesville to rezone the parcels from Hazelwood Urban Residential District in the case of Railroad Street and Hyatt Creek Regional Center Commercial for Vigoro Lane.
After passing the planning board Sept. 19, SCM's request was temporarily tabled due to inadequate public notice for the town's proposed public hearing. The request was then passed back to the planning board, where another public hearing was conducted Oct. 17.
The Town's public hearing — the third on the issue — was held Nov. 8, and was also the third meeting to feature no comments from the general public whatsoever.
The planning board recommended to aldermen both times that the request be granted; Waynesville Development Services Director Elizabeth Teague likewise opined that the rezoning was in accord with the Waynesville 2020 land development plan.
By unanimous vote, the Board of Aldermen agreed with Teague and the planning board, granting SCM's request to change both parcels to Commercial-Industrial District zoning, which will allow SCM to improve the parcels in order to accommodate what it hopes is an expanded operation.
A privately owned family company with a long history in Western North Carolina, SCM boasts past projects like the Biltmore Building and the Federal Building in Asheville as well as the NASCAR Hall of Fame in Charlotte. It also claims more than 175 mixer trucks, 300 employees and 30 locations in Georgia, North Carolina and South Carolina.
Prior to the recession, the Boundary Street location employed about 22 people full-time, company officials said during the town's public hearing. The business hopes to one day return to the 35-plus it employed before real estate markets crashed and lending markets tightened, putting the kibosh on new construction starts across the region.
Bryson said SCM currently runs less than 20 trucks each day to and from its Boundary Street location, where SCM has been since 1984. If things pan out, neighbors on Vigoro Lane could see up to 30 a day when business grows.
Judging from the lack of public concern and what Bryson said was a good relationship with neighbors in the residential district just north of the Railroad Street parcel, there shouldn't be any problems with the increased traffic.
"Even when we have operated two or three days in succession, we haven't really had complaints," he said. "I guess we'll try to be prepared for that, but I wouldn't say I'm anticipating that."
Bryson was also optimistic about the prospect of leaving downtown, which he said "can get really busy." But SCM officials said Nov. 8 that they wouldn't be able to leave Boundary Street until they could somehow dispose of the property.
SCM also has plans to straighten out the hairpin turn on Vigoro Lane that leads in to the existing plant; currently, truck drivers heading in to the plant make an almost 180 degree turn to the left that leaves them crossing railroad tracks while looking back behind them, over their right shoulders.
The new grade crossing will be much straighter, safer, and more efficient in accommodating trucks entering and leaving the plant.