Archived News
Swain hospital makes changes to ER
Wednesday, November 23, 2016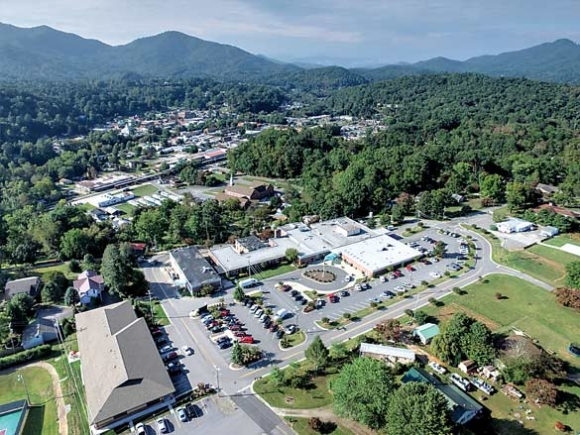 Swain Community Hospital has announced plans to change how it operates its Emergency Department, but administrators say the hospital will continue to provide the same level of 24-hour emergency care to patients.
Beginning Jan. 3, the emergency room at Swain will begin using a new model in which the ER is staffed with providers and nursing staff for 16 hours of the day (8 a.m. to midnight) and the remaining eight hours will be staffed with an "in-house provider." That in-house provider working overnight may not always be a physician — it could be a nurse practitioner or a physician's assistant.
Steve Heatherly, CEO of Swain Community Hospital and Harris Regional Hospital in Sylva, said that NPs and PAs could manage an ER department in the same capacity as a physician. Hospitals relying more on these mid-level providers as opposed to physicians is a trend that's growing across the country, according to Heatherly.
"There are ERs in the country that operate with no physicians at all — they're staffed exclusively by mid-level providers," he said.
Lucretia F. Stargell, Swain Community Hospital administrator, said the in-house provider would be able to prioritize the degrees of urgency for patients coming into the emergency room as well as manage care for patients admitted in the hospital. With the very low volume of patients in the ER between midnight and 8 a.m., Stargell said she isn't worried about patients experiencing a long wait or having to travel to another hospital.
"Swain Community Hospital is committed to delivering high-quality care close to home for the people of Western North Carolina," she said. "To do this, we regularly evaluate our services to ensure that we are providing access to the care our community members need, when and where they need it."
Dr. Frank VanMiddlesworth, an ER physician at Swain Community Hospital, has been vocal in his opposition to the changes coming down the pipe for the emergency room. He said the decision was handed down unilaterally from Duke LifePoint — the for-profit company that purchased the hospital in 2013 — without input from the community.
"Without input from anyone who lives or works in Swain County, DLP has decided to eliminate the two night ER nurse positions at Swain Hospital — no ER can function without nurses," he said. "This would be a severe blow to the health and welfare of our community and we ask all our residents to raise up the DLP administrators in prayer since this decision needs to be reconsidered."
Heatherly said the decision to make a change in the ER was not made without careful thought and consideration by the hospitals' joint board of directors. He said he is still working through the transition concerns with the hospital staff.
"We've discussed this openly with our board members who are representative of the community," he said. "The past couple of weeks as we go through the process with staff, we've fielded tough questions, which is good because that helps us work it out."
VanMiddlesworth said he was also concerned with how the change could impact Swain hospital's longstanding designation as a Critical Access Hospital since it is the only hospital for 68 miles between Sylva and Murphy. He said cutting positions from the ER would threaten that designation, which allows the hospital to receive higher reimbursement for some services.
"Without nurses in the ER the highest level of care in Swain and Graham counties would be for patients to seek treatment at the ambulance stations where EMTs are trained in emergency services and would more quickly get patients to a functioning ER," VanMiddlesworth said.
Again, hospital administrators say that isn't true. Heatherly said the hospital has had an open dialogue with the state about its plans to change emergency services and the new plan has been approved.
"This is not a conversation that's new to them in rural communities that have low volume overnight," he said. "I find Dr. VanMiddlesworth's comments unfortunate and not always based in fact."
Stargell said the hospital has also had an open discussion about the changes with Swain and Graham county commissioners and their respective Emergency Management departments. It's important for EMTs to understand the new model and be able to make the most informed decisions when deciding where to transport a patient.
"We need their expertise and we need to work together as we plan to roll this out," she said.
Heatherly also denied that the change was made simply to save money. As with any business, he said hospitals have to respond to changes in the market and adjust operations accordingly to best serve its customers. Changing the model for how the ER functions will allow Swain hospital to reallocate resources where they are most needed.
"Certainly we've seen some changes in that market and we have to adapt our business model to the changes," he said. "These operational changes are designed to allow us to operate more efficiently and have a more sustainable model for Swain."
Stargell said the change would allow Swain hospital to expand some other services — including endoscopy, a sleep lab, a new CT scanner, and the addition of more physicians to provide primary and subspecialty care. Having more physicians on staff means fewer residents will have to travel to other counties for medical services.
"In March we got a new pediatrician who is staying extremely busy in Swain County and next summer we'll have another physician at Swain Family Care, so access is expanding," she said.
While he couldn't give a specific number, Heatherly acknowledged that the ER staffing changes would impact several hospital positions. He said they are working to shift people into different positions instead of laying them off.
"That's one thing we've been very diligent about — we don't want to lose good employees to the organization even if their job changes," he said.
Lastly, Stargell wanted to assure residents that the hospital would still provide quality emergency services while continuing to expand in other needed areas. She said Swain Community Hospital is in good standing and the ER changes are not a precursor to a hospital closure.
"The ER is not closing — we'll have a provider in the building and nursing staff in the building," she said. "If people are having an emergency situation, they will come to the hospital to be evaluated and get further treatment if needed — the same standard as we have today — then they are transferred to the appropriate facility if needed."