Archived News
Containment rising, fire growth slowing in WNC
Wednesday, November 23, 2016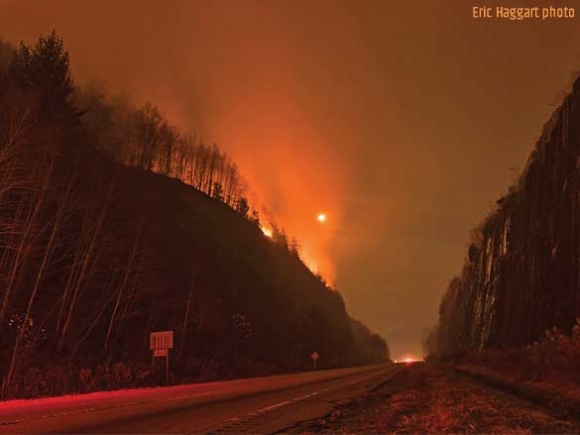 Despite gusty winds, dust-dry forests and interminable drought, firefighters made significant headway over the last week toward containing Western North Carolina's explosive wildfire season, jumping on new starts to keep their acreages low and limiting existing fires to minimal acreage growth.
"We have had some starts over the past week but we're able to address them quickly with operational people and have taken care of them," said Todd Schroeder, public information officer for the U.S. Forest Service Southern Area Blue Team, which took over management of the fire last week. "We're pretty much improving lines on a couple of the large fires and just paying attention and monitoring some of the other ones. We're in pretty good shape."
Between Nov. 15 and Nov. 22, the 25 fires burning west of Asheville grew by only 1,310.2 acres, about 3.8 percent of the overall 34,684 acres. By contrast, fire acreage jumped by 22,149 acres — 34.6 square miles — over the previous one-week period of Nov. 8 to Nov. 15. And even the 1,310-acre increase is a bit exaggerated, as the Dobson 3 Fire burning on the Qualla Boundary, now encompassing 756 acres, started on Nov. 2 but wasn't included in Forest Service wildfire data until Nov. 19.
"The acreage is staying the same. That is a very good bit of news," said Steve Kliest, the Blue Team's public information officer handling the Boteler Fire.
Containment percentages have increased substantially over the past week, with firefighters working tirelessly to build lines around the fires and burn back the vegetation around them to keep the fires from spreading. On Nov. 15, three of the largest fires in the area — Boteler, Tellico and Maple Springs — were 43, 68 and 15 percent contained, respectively. As of Nov. 22, containment on the fires was 77, 91 and 69 percent.
Ensuring those containment lines hold has involved more than simply constructing them. Typically, a heavy fall rain will force the leaves off the trees more or less all at once, but the drought has resulted in a steady fall of leaf litter that is still continuing. This provides a steady stream of fuel and has posed an ongoing risk to containment lines. To address the issue, firefighters have embraced a technology that's usually reserved for lawn maintenance.
"I'm from California and I've never seen a leaf blower used to control a fire, but it makes sense," Kliest said. "You're blowing it back into the center of the fire."
In addition to long days and creative techniques, the success of the firefighting effort over the past week is largely attributable to the sheer numbers of personnel. Currently, about 1,050 people are fighting fires west of Asheville. Another 330 people are assigned to the 6,424-acre Chestnut Knob Fire near Morganton and 902 are assigned to the 7,171-acre Party Rock Fire near Lake Lure. The 14,757-acre Rock Mountain Fire, which started northwest of Clayton, Georgia and has crossed the line into Macon County, has 458 people assigned to it.
With so many experienced firefighters nearby, the team is better equipped to respond to new starts as soon as they're reported, resulting in low acreages and high containment for fires originating over the past week or so. The largest of the newer starts is the 123-acre Cathey Gap Fire, located near Little Canada in Jackson County, but the rest of the new starts are less than 10 acres and not expected to grow.
"The positive side of having a fire this big in your state is you have so many firefighters here and the resources are so close to those fresh starts," Kliest said.
Without rain, however, those fresh starts are likely to continue. The sprinkle the region received over the weekend did little except wet the ground for a few minutes, and the accompanying wind presented a significant challenge. Low humidity has also worked against the firefighters.
"We're not getting the relative humidity recovery at night, which means we're having fires burn at night as well as during the day and sometimes burning with almost the same intensity," Schroeder said.
A front is expected to come through the area later this week, but no precipitation is expected — just wind. However, the wind is predicted to come from the southwest as opposed to the more common northwest direction, which could prove advantageous for some fires.
"The fire would have to work against the wind to jump its containment line, but when you go to the opposite side of the fire that would be where your challenge would be," Kliest said.
A chance of rain is currently in the forecast for consecutive days next week, but mountain weather is often hard to predict until it arrives. Multiple days of heavy rain will be needed to put WNC's wildfires to bed, Kliest said.
As the firefighters work to quell the blazes, law enforcement is busy investigating the cause. Arson is suspected in most of the incidents, and cash rewards are being offered for information leading to arrest.
"In speaking with our law enforcement folks yesterday, my understanding was they were investigating about 31 different fires," said Brian Haines, public information officer for the N.C. Forest Service. "They have eliminated five or six knowing those are not arson, and they are looking at the rest of them."
Before an arson investigation can be pursued full-force, Haines said, every other possible cause must be eliminated. Fire can start from a variety of sources, including lightning, escaped campfires, overheating mechanical equipment and the like.
According to the Forest Service's Incident Information System, many of the larger fires in the region have been determined to be human-caused, but whether accidental or purposeful is unknown. The IIS lists the Tellico, Rock Mountain, Knob, Dicks Creek, Moses Creek and Cliffside fires, for example, as human-caused.
The Eastern Band of Cherokee Indians has determined that the 15 fires comprising the Dobson 3 Fire were arson and has arrested two people in connection with those fires, according to the tribe's Emergency Management Supervisor Anthony Sequoyah. The names of the individuals had not been released as of press time.
The 15 fires that merged to form the single larger fire were started on Nov. 2 and now cover 756 acres, with the perimeter 85 percent contained. The fire is located east and slightly south of Cherokee, close to where the Dicks Creek Fire is. However, the two fires are separate and not expected to merge.
Despite the extent of the wildfires, not a single home has been lost in the process. The only structure damaged so far as part of a wildfire — though other structure fires have occurred in the region unrelated to the wildfires — has been an abandoned outbuilding to the west of the Boteler Fire. That success is directly attributable to the hard work of firefighters to build and aggressively defend containment lines near dwellings.
"It's never good news when you have an entire state impacted like this," Kliest said. "However, the silver lining in this cloud is that one structure and it wasn't even a dwelling — that's huge. You get hundreds of homes with fires like this."
Report arson
Arson the suspected cause of many of the wildfires blazing through Western North Carolina, and a $10,000 reward is offered in exchange for information leading to conviction.
• North Carolina is offering a $10,000 reward for information leading the arrest and conviction of those responsible for setting wildfires in the state. Report tips to Macon County Crimestoppers, 828.349.2600, or Jackson County Crimestoppers, 828.631.1125.
• The Bureau of Indian Affairs is offering $10,000 for information regarding arson fires on Indian lands in North CArolina. Report tips to WeTip, www.wetip.com or 800.472.7766.
Donate to the cause
Donations toward firefighting efforts have been many, generous, and in some cases overwhelming. The U.S. Forest Service is asking individuals to call their county's emergency management office to find out how best to support efforts there.
• Swain County, 828.488.6021. At this point, donations such as bottled water are simply being stored until the next event. However, local fire and rescue units have seen their equipment take a beating and would welcome cash donations to repair and replace it.
• Macon County, 828.349.2067. No cash or material donations are needed, but donations targeted to community fire departments and thank you notes and cards for firefighters are welcomed.
• Eastern Band of Cherokee Indians. Items such as water, Gatorade, chap stick, high-carb snacks and hand moisturizer are welcome and can be dropped off at the Cherokee Fire Department.
• Jackson County, 828.586.7592.
• Haywood County. No large incidents are currently underway in Haywood, so no call is being made for donations at this time.