Archived Outdoors
Island of green: Exhibit commemorates 50 years of community-driven landscape at HCC
Wednesday, November 16, 2016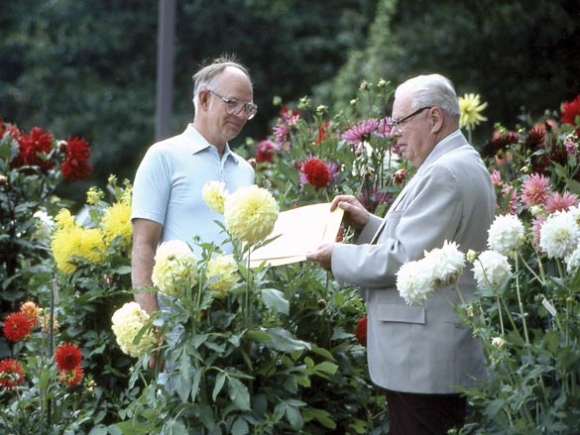 It's a sunny day at Haywood Community College, light sparkling from the campus's landmark mill pond and shining through the leaves still clinging to the archway of willow oaks lining the school's entrance drive. The campus lawn is covered with leaves fallen from the towering white oaks dominating it, academic buildings nestled naturally into the folds of the landscape.
In many ways, it looks more like a park than a campus, and that's by design — the design of Doan Ogden, that is. Ogden, a nationally known landscape architect, designed gardens and landscapes throughout Western North Carolina after moving to teach at Warren Wilson College, and the grounds of HCC are among his accomplishments.
"Ogden's core idea was to preserve this stand of mature oak forest at the center of campus as the central island of green, and so what he did was conserve that and place buildings around that island of green," explained Tamara Graham, a landscape designer and HCC instructor.
It was an innovative idea, and unconventional for its time — to leave the mature trees, avoid grading the soil and plant the understory with grass to create an undulating, shaded space.
From her first arrival on campus, Graham felt herself drawn to Ogden and the space he'd created. So, when she assigned her students to choose a landscape designer to research, she was surprised to find that none of them knew who Ogden was.
So, Graham decided to do some research of her own. Her request for maps and plans from the college's early days led to a sit-down meeting with John Palmer, who had recently retired from 30 years as the campus's arboretum director.
"John came to campus and met with me, and he spent about four or five hours sharing just a little bit of what he knew," Graham said. "I realized, gosh, there was so much more that really could be shared with the community."
That's the conviction that led her to embark on a $56,000 project to develop "Forest, Farm + Garden," an exhibit and accompanying book detailing the history of creativity and collaboration that resulted in the arboretum of today — complete with historic photography and documents, as well as new images from nationally known Asheville-based photographer Benjamin Porter. Graham authored the book together with historic preservationist Sybil Hedy Argintar, of Asheville.
The project was funded through a $3,000 grant from the England-based International Dendrology Society, which led to individual donations of $25,000 each from IDS members Mr. and Mrs. Shirley Williams, of Massachusetts, and Vicomte Philippe de Spoelberch, of Belgium. IDS member Viscount Terence Devonport, of England, contributed $3,000. A laundry list of in-kind services, such as extensive staff time from HCC and the N.C. Department of Cultural Resources, also contributed.
Centerpiece of community
As it turns out, the story of HCC is not just a story of landscape design. It's a story of collaboration, resourcefulness and community buy-in.
Those themes stretch all the way back to the beginning of the story — to 1966, when Dayco Corporation chairman A.L. Freedlander issued a challenge to Haywood County to match his donation of $250,000 to build a new campus for what was then the expanding Haywood Industrial Education Center. In addition to the bare necessities of an educational center, Freedlander asked that the campus be "transformed into the most beautifully landscaped area in Haywood County," and include "a good collection of dahlias" — his favorite flower.
Ogden, like Freedlander, was a transplanted Western North Carolinian with a keen sense of the value of place. In fact, his home garden in Asheville measured about 9 acres and was considered one of the most expansive plant collections in WNC, Graham said. It predated the other arboretums in this area, and the creators of those arboretums would come to Ogden for seeds and plant cuttings to populate their landscapes.
It wasn't hard for the board to see that Ogden was uniquely suited to carry out the charge Freedlander had laid before them. He got to work sketching out a site plan that mapped out an orchard, collections of native trees and shrubs, meadows, a stand of conifers, and preservation of the central stand of oaks.
But bringing that vision to its fulfillment would require years of contributions from students and community members, as well as from paid workers.
"There's so many different layers to this landscape," Graham said.
The school's signature dahlia garden, for example, was designed and managed by retired Lake Junaluska postmaster Billy Medford. Medford, an award-winning dahlia grower, had first learned about the flower during a 1950s visit to Freedlander's home in Haywood County — Medford purchased his first tubers there.
The campus was designed to be more than an expanse of showy gardens, however. It paid heavy homage to the region's agricultural heritage, providing students with a variety of hands-on learning opportunities. The campus would eventually include an orchard, a working vegetable garden, a millhouse and a working gristmill and sawmill, though the sawmill has since burned down.
Students played a key role in bringing Ogden's vision to reality. The college's rhododendron garden, for example, was planted with understory specimens that horticulture students brought from their family farms. Students built the sawmill and the millhouse as part of their technical education — many of the gardens too. Forestry and wildlife students roamed the grounds, using campus as a living laboratory before a single building was constructed.
"There was so much resourcefulness and ingenuity here on campus," Graham said. "There was amazing community support and patronage."
Jewel of the west
By digging up, displaying and commemorating the history of community support for the campus grounds, Graham hopes to invigorate its strength. With the exhibit complete and the book written, Graham and others at HCC are looking to see how they can catapult the college's legacy into the future.
"We're currently trying to increase the inventory," John Sherman, program manager for HCC's Natural Resources Department, said of HCC's plant collections. "Not every plant on campus has been inventoried by any means."
The last arboretum inventory on campus was completed in 1988 by Ron Lance, an HCC grad who would go on to travel the world as a botanist and do the first plant inventory for the N.C. Arboretum in Asheville. A lot of plants have come and gone since then.
Sherman is currently overseeing an $9,600 grant from the N.C. Urban and Community Forestry Grant which, together with $13,000 or matching funds calculated mainly from volunteer labor, will support inventory efforts.
"From that grant, we're putting together a tree advisory committee and basically coming up with a long-range tree care plan," Sherman said.
Other ideas are on the horizon, too. For example, with GPS locations for each tree the college could develop a smartphone app to dispense information regarding tree species, locations and other information.
The college is also applying for recognition as a Tree Campus USA from the Arbor Day Foundation and for a grant from the Blue Ridge National Heritage Area to have HCC recognized as a heritage area and to install permanent interpretive signage along its walking trail. Buy Haywood will feature the HCC arboretum on the cover of its 2017 agritourism guide.
"This is a real jewel in Western North Carolina, and it could be a real resource in the community, similar to the way the N.C. Arboretum is in Asheville," Graham said.
And that, she said, is what this two-year effort was really all about.
"There are a lot of ties, a lot of history here," she said. "It's a real treasure."
The making of a legacy
1963: Community college system established in North Carolina.
1966: A.L. Freedlander issues challenge to the Haywood County community to match his donation for construction of a new campus for the college.
1967: Trustees hire architects Foy and Lee to develop a master plan for campus. The Forest Management curriculum is established as one of the first programs at Haywood Technical Institute, which would later be renamed Haywood Community College.
1968: Forestry instructors begin using the new campus land for forestry instruction labs.
1971: The Board of Trustees approves Doan Ogden's site plan for campus, and the first horticulture students plant a vegetable garden on campus.
1972: HTI moves to the new campus.
1973: Nora Lee Park is built, the Shady Park and Grassy Glen are established, grading begins for the entrance drive, a landscaping contract is awarded for main campus, and David Carson becomes the first director of horticulture.
1974: The first horticulture class graduates. One of the graduates, Doyle Justice, is hired as the school's first horticulture technician.
1976: An initial inventory of campus trees is completed by Ron Lance.
1978: The rose and herb gardens are established.
1981: Billy Medford, an award-winning dahlia grower and former Lake Junaluska postmaster, is recruited to design the dahlia garden. Trustees approve Doan Ogden's plan for the rhododendron garden.
1982: Freedlander Drive is planted with 27 willow oaks.
1983: The rhododendron garden, designed by Ogden, is built by sawmill instructors, horticulture technicians and students. A ribbon cutting was performed in 1984.
1988: The arboretum inventory is updated.
1987: The gristmill is dedicated.
1995: The campus walking trail is dedicated.
1997: The dahlia garden is moved to its present location.
See it while it's here
The "Forest, Farm + Garden" exhibit will remain on display through Saturday, Nov. 19, in Haywood Community College's Creative Arts Building.
The exhibit tells the story of collaboration and community behind HCC's breathtaking grounds through video, photography and interpretive signage.
When the exhibit's time at the Creative Arts Building is over, it will head to the Western Office of the State Archives in Asheville. However, project coordinator Tamara Graham hopes to see the exhibit travel to other venues around the region. To inquire about hosting the exhibit, contact Graham at This email address is being protected from spambots. You need JavaScript enabled to view it..
A book complete with photographs from nationally published photographer Benjamin Porter has been published to accompany the exhibit and is available at Blue Ridge Books in Waynesville and at HCC's campus bookstore.