Archived Reading Room
This is historical fiction well worth a read
Wednesday, November 16, 2016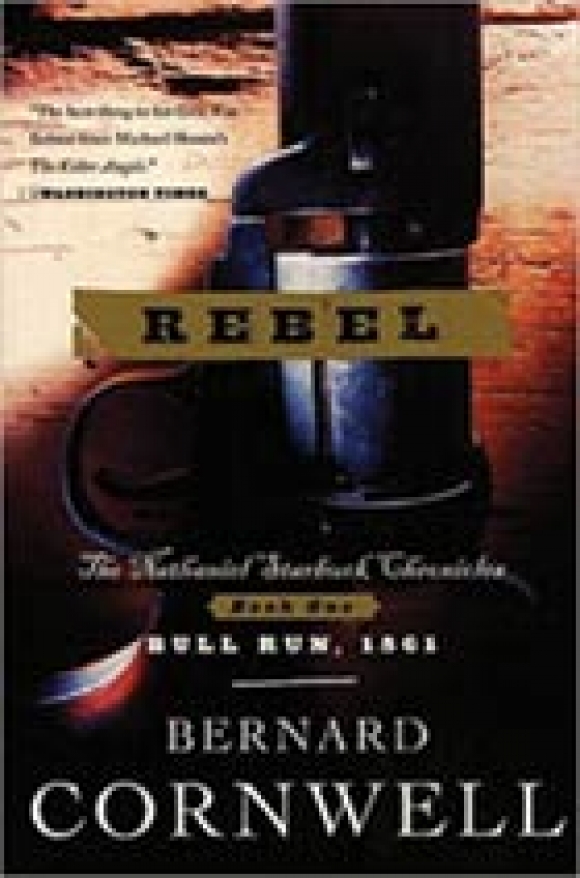 Nearly 20 years ago, while browsing the shelves of the Haywood Country Public Library, I came across a collection of videos about Richard Sharpe, a British soldier fighting in the Napoleonic Wars. My sons and I were already fans of Sean Bean, who plays the lead in this remarkable BBC television series of 16 films, each of them 100 minutes long. I knew the films were based on the novels by Bernard Cornwell, and occasionally glanced at one of the books but never read Cornwell.
Until now.
My aversion to Cornwell came mostly from snobbery. His books were best-sellers, and he seemed to pump them out even faster than Stephen King. Besides, I rarely read historical fiction, preferring straight-up history and biography. (I have since discovered that Bernard Cornwell shares that preference).
Sometimes being wrong brings great pleasure.
And I was wrong about Bernard Cornwell.
I have just finished my first Bernard Cornwell novel, Rebel: A Novel of the Civil War (HarperCollins Publishers, 1993, 309 pages, 14.99). Cornwell writes "series" books, stories set in a particular historical era and centered on a few main characters, and Rebel introduces us to Nate Starbuck, a young Massachusetts man and dropout from Yale who finds himself, through a series of misadventures, in Richmond, Virginia, in the first days of the Civil War. After being beaten and nearly tarred and feathered, Starbuck is rescued by his former roommate's father, Washington Faulconer, and decides to join the Legion Faulconer is organizing to fight for the Confederacy.
Colonel Faulconer badly wants to enroll in his Legion the dangerous Thomas Truslow, a hard, rough man from the hills who is one of the few in the county with any military experience. Dispatched to enlist the violet Truslow, Starbuck succeeds in his mission and wins the Colonel's gratitude and admiration. While convincing Truslow to join the Legion, Starbuck also falls in love with Sally, Truslow's daughter, a teenager who is pregnant with another man's child and who uses her body and cunning to try and pull herself out of the poverty in which she was raised.
As Rebel progresses, we see the men of the Legion training, becoming soldiers through drill and marches. When the Legion ends up at Manassas Junction on June 21, 1861, we also see how battle shapes and affects different men. Thaddeus Bird, for example, a schoolteacher who hated his job and has always felt himself under Faulconer's thumb, and whose snarky wit livens up every page on which we find him, becomes an outstanding soldier. In the absence of Faulconer, who has gone in search of orders from his commander, General Beauregard, Bird and Truslow throw the Legion into battle and effectively slow the Union attackers until additional help arrives.
Starbuck's father is a prominent abolitionist and Christian who raised his son to abhor all sin: tobacco, hard drink, cursing, and loose women. As Starbuck becomes more involved with Faulconer, his family, and the men of he Legion, he finds himself rebelling not only against his home state, but also against the rigid strictures of his father. This secondary rebellion adds humor and drama to a story already filled with both.
Besides his ability to tell a good story, Cornwell brings other gifts to Rebel and, I presume, to the dozens of other novels he has published. His writing is polished and elegant, appealing to modern readers yet somehow with a nineteenth century ring to it. To demonstrate this talent, here is part of the paragraph where Starbuck first meets Sally:
"'I'll be a good girl,' Sally whined, and she looked straight at Starbuck for the first time, and Starbuck's breath checked in his throat as he stared back. Once, when Starbuck had been a small child, his Uncle Matthew had taken him to Faneuil Hall to see a demonstration of electrical force, and Starbuck had held hands in a ring of onlookers as the lecturer fed a current through their linked bodies. He felt then something of what he experienced now, a tingling thrill that momentarily made the rest of the world seem unimportant. Then, as soon as he recognized the excitement, he felt a kind of desperation. This feeling was sin. It was the devil's work. Surely he must be soul sick?"
Entertaining as well are various adages embedded in the story, many of which are offered up by schoolmaster turned professional soldier Thaddeus Bird. (If Cornwell is as adept at concocting these maxims in his other books, someone should collect and publish them). Here are just three of these comments, all made by Thaddeus Bird:
"History is not marshaled by reason, Ethan, but by the idiocies of lethal fools."
"Wars are not won by gallantry, but by assiduously applied butchery."
"Fools usually need repetition to understand even the simplest of ideas."
The quality of Cornwell's writing is particularly impressive when we consider the number of novels he has written. If you visit Cornwell's website at bernardcornwell.com, you will find, in addition to the Sharpe series and the Starbuck books, other series like the Grail Quest and the Arthur Books as well as thrillers and short stories. For many years Cornwell wrote two novels a year, which, again given the quality of his prose, makes many writers look like shameful slackers.
Highly recommended.