Archived News
Arson suspected in WNC fires; Smoke and fear hang over Franklin Veterans Day celebration
Wednesday, November 16, 2016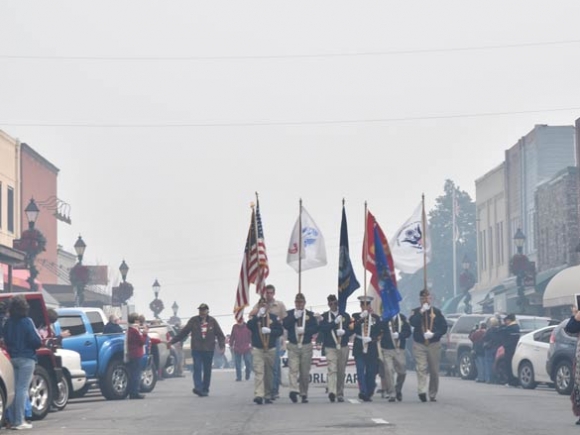 While marked by all the usual trappings of red-white-and-blue-infused color guards, antique cars and patriotic speeches, last week's Veterans Day celebration in Franklin was a bit more sparse and a bit more somber than typical of the annual event.
A smoky haze born of the region's tens of thousands of fire-wracked acres clogged air and lungs, blocking out the sun on what should have been a blue-skied day. And just beneath the surface, a different kind of fire raged — anger, burning bright and hot following the recent announcement that arson is the suspected cause of most of the 22 wildfires currently burning in the Nantahala National Forest.
"It's wicked, evil, that they would destroy the forest," said Victor Mora Loza, of Franklin, a Vietnam veteran whose brush with a grenade left him with artificial knees and shoulders, and substantial scarring.
He lost a brother in Vietnam, too — Mora Loza has sacrificed a lot to protect the country that he loves, and when asked what he'd have to say to anyone found guilty of purposely lighting the forest on fire, he had a simple answer: "I'd like to kick their ass."
Gene Smith, 75, of Raleigh, holds an opinion not too far from Mora Loza's. He and his wife Nancy often visit the Franklin area, where Nancy's mother lives — they began this most recent stay before fire season ignited.
"What really perturbs me is it's really evident these fires were started, and what you have is an example of homegrown terrorism," Smith said.
If terrorism can be defined simply as that which causes terror, then that would be a true statement. It's frightening, said Franklin resident Jackie Bridgers, 34, to see ash sticking to the windows, to feel the hoarseness in her voice, to be afraid to let her 9-year-old daughter play outside.
"My husband's a construction worker and he works outside, so he's been subjected to this every day," she said. "He's definitely getting headaches. It's been horrible. The scariest thing is it's not done."
Bridgers and her daughter had braved the smoke to hand out poppies with their homeschool group, Melting Pot, but by the end of the event she was wishing she hadn't left their dust masks at home.
George Kaye, 73, came with his dust mask firmly attached to his face. Kaye said he doesn't have any respiratory diseases, but the smoke seemed too thick to take any risks. He and his wife, formerly Florida residents, had been spending their summers in Western North Carolina for six years, and this was to be their first winter of full-time mountain living. The wildfires presented an unforeseen, inhospitable welcome.
"We didn't expect anything like this," Kaye said. "This is an awful and tragic thing."
Then, to find out that arson might be the cause? "I was absolutely shocked," Kaye said.
Some of the fires, like the Boteler Fire, are likely the result of a lightning strike, said Cathy Dowd, public information officer for the U.S. Forest Service. Others might have been accidental starts, as from an escaped campfire.
"But for the most part," she said, "they're being investigated for arson."
Law enforcement officers are on the case, looking for clues such as accelerants — indicating arson — as well as campfire rings or signs of lightning, hinting at an accidental origin. However, none of the investigations have been completed, and nobody has been charged.
North Carolina isn't the only state dealing with wildfires this year. Last week police in Kentucky nabbed a 21-year-old man charged with arson, and elsewhere in the state a teenager was charged with setting fires in the Chattanooga area.
Arson itself isn't as uncommon an occurrence as might be supposed. Over the past 10 years, arson has been the second most common cause of wildfires in North Carolina, right behind debris burning, according to a May press release from the N.C. Forest Service. Between 2005 and 2014, North Carolina logged 45,609 wildfires, of which 8,461 — 19 percent — were intentionally started.
The intensity of the fire season will likely prevent investigations from wrapping up until winter. For now, law enforcement is focusing its efforts on preventing any new fires from starting.
So far, the 22 wildfires underway west of Asheville have ravaged 33,374 acres — about 52 square miles — pulling in hundreds of firefighting crews from all over the country and costing taxpayers untold amounts of money. People have been evacuated from their homes, smoke is causing health impacts in communities, and firefighters are putting themselves in harm's way to extinguish the blazes.
Knowing that all this hardship may have been inflicted intentionally is causing anger and sorrow throughout the region.
"I just can't imagine doing this to somebody," said Christy Birchfield, a Swain County resident who was evacuated from her home on Silver Mine Road. "I can't imagine doing this to my worst enemy."
Report arson
More than 20 wildfires in the Nantahala National Forest are being investigated for suspected arson, and anyone with information as to the culprit is urged to call the National Forests of North Carolina.
So far, 33,374 acres have been impacted with more than 1,200 firefighters responding to the blazes, whose smoke is so voluminous it is visible from space.
Call 828.257.4200 with information about people setting fires or bragging about setting fires and call 911 is you see someone starting a fire.