Archived Reading Room
Coming to grips with her own image
Wednesday, November 09, 2016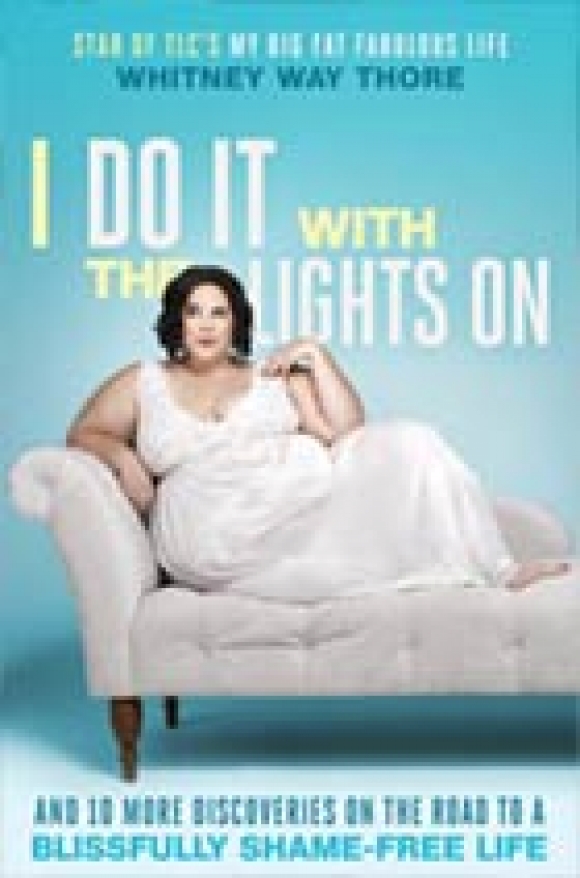 Among Americans the two most egregious social stigma are smoking and obesity. We relegate smokers to sidewalks and rooftops when they wish to indulge their habit, and some communities have declared vast swatches of public spaces tobacco-free zones, as if blowing smoke in a park will drive men, women, and children to early graves.
Obese people we treat more subtly, viewing them with scorn and contempt. We are a society obsessed with food: we make gurus of our chefs; we devote entire television networks to food and cooking; we salivate as we describe the meal consumed last night in a five-star restaurant. Yet we also spend $60 billion a year trying to lose weight. Because of our fixation on being thin, we have actually invented anorexia and bulimia, relatively new psychological disturbances related to our intense concern for appearance.
Fat people, as an old-time comedian Rodney Dangerfield might have said, "don't get no respect."
In I Do It With The Lights On And 10 More Discoveries On The Road to a Blissfully Shame-Free Life (Ballantine Books, 2016, $26, 240 pages), North Carolinian Whitney Way Thore, radio show host and star of the reality television show "My Big Fat Fabulous Life," recounts her long battle against weight gain and her eventual decision to live as she is and fully engage life.
As a girl, Thore played soccer, swam, and then fell in love with dancing. During this time she also felt pressure, especially from her peers, to be thin, a desire that only increased in college and during her early days in the work force. While at Appalachian State University, she acted and danced, and tried several diet and workout programs, but she kept gaining weight, overeating and drinking alcohol when she became depressed by her physical condition.
After college, Thore taught English in Korea, where she was openly mocked for her weight and nationality. Some students called her a pig to her face, and Koreans on the sidewalks called out "Waegookin!" meaning foreigner, when she passed them. (Apparently political correctness has yet to visit the streets of Seoul).
By this time, Thore, 5'2" tall, weighed over 300 pounds. On her return to the United States, depressed, her self-image shattered, she eventually found work as a radio host. She kept fighting the weight, which she now knew was caused in part by polycystic ovary syndrome, diagnosed by physicians during her college years.
While at the radio station, Thore made and posted online a video titled "Fat Lady Dancing." When this video went viral, eventually attracting millions of viewers, Thore began receiving calls for interviews from television shows and magazines. These appearances led next to "My Big Fat Fabulous Life." During these years Thore finally made peace with herself and her weight, and decided to embrace and enjoy her life rather than lamenting the numbers on a bathroom scales.
In the last two chapters of I Do It With The Lights On, "Feminism Is My Favorite F-Word" and "Body-Positivity Doesn't Promote Obesity," Thore dishes up opinions and philosophy rather than autobiography, and it is here that she runs into trouble. To be sure, Thore scores some points: she reminds us of the opportunities we miss to know someone when we judge them solely on their outer appearance, she points out that men as well as women can gain by accepting the tenets of feminism, and she takes men to task for "friend-zoning," stating that women "are not obligated to show affection to a guy who does her a certain number of favors, or who buys dinner, or who gives her compliments."
By ending with these two chapters, however, Thore weakens her story. In the earlier part of the book, she gives us insight into her life and perhaps into the lives of others, both male and female, who struggle with their weight and their self-image. But in this last part of the book she switches from autobiographer to guru and falls on her face.
In her chapter on feminism, for example, Thore spends two and a half pages recounting an episode during which she sought to purchase a pack of chewing gum at a gas station. The clerk called her "sweetheart" and then held the gum to his chest and said, "You gotta give me a smile if you want this." This microaggression, as Thore labels it, is to her proof of ongoing male oppression and aggression, yet her reaction strikes me, as it did thousands of her online followers, mostly women, as over the top. The young man behaved unprofessionally, but to take this incident as a sign of ongoing misogyny and oppression seems absurd.
The chapter on "body positivity" rightly calls for the acceptance of people regardless of their appearance. Although she spends too much time discussing weight and health issues in this chapter, Thore is correct when she writes that weight matters less to our health than does well-being. Like other evangelists in our nanny culture, however, Thore overlooks the reality of human nature. We may love and cherish the 320 pound person in the 5'2" frame, and we would want that loved one to lead "a blissfully shame-free life," but few of us are going to declare her — or him, for that matter — attractive.
These flaws aside, I Do It With The Lights On reminds us of the worth of each human being and the dangers of judging them solely on their looks.
(Jeff Minick can be reached at This email address is being protected from spambots. You need JavaScript enabled to view it.)