Archived News
Contamination persists at SCC shooting range, testing shows
Wednesday, November 09, 2016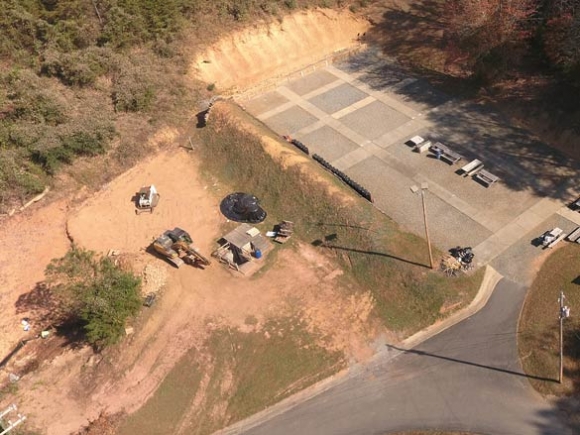 The first round of soil removal at Southwestern Community College's lead-contaminated shooting range has substantially reduced the concentration of metal in the soil, but there's still more work to be done before lead measurements retreat to safe levels.
After realization in 2014 that lead bullets in the berm of the 30-year-old shooting range had built up to an estimated 60 tons, testing commenced to determine whether lead contamination was present in surrounding soil. Initial testing revealed concentrations as high as 19,700 milligrams per kilogram in soil downhill from the range — 73 times the safe amount of 270 milligrams per kilogram. To fix the problem, SCC had the contaminated soil removed, treated for disposal and hauled away.
So far, an estimated 350 tons of soil have been excavated and disposed of, taking about 5 feet off the surface of the affected area. But follow-up testing showed that the lead problem is still present. Soil near a drainage feature on the upper length of the range tested at about twice the acceptable concentration, whereas soil in the main excavation area came in at about 10 times the acceptable concentration.
"We definitely got rid of a lot of source material, which is good news," said Jim Bevers, environmental project manager for ECS Carolinas, the environmental consultants SCC has engaged. "It's just a process. It can be frustrating but you have to deal with it."
In July, Jackson County commissioners approved SCC's recommendation to accept bids for soil treatment and removal that would total $237,000 for 450 tons. Though a final weigh-in has not been completed, Bevers said the soil removed thus far is estimated to weigh 350 tons. With 100 tons more left in the contract, the second round of removal won't necessarily translate into another bill to Jackson County taxpayers.
However, it's unknown exactly how deep the contamination goes, and ECS Carolinas will have to work with the N.C. Department of Environmental Quality to determine the next step. DEQ representatives will travel to Sylva at some point this month to meet with SCC and ECS to discuss the path forward. According to DEQ spokesman Jamie Kirtzer, that path could involve installing monitoring wells on the site before going through with a next round of excavation. The cost of those wells is unknown and dependent on their depth and location.
"We have yet to determine what the depths of those will be, but when we go up and meet with the environmental consultants (ECS), that will be some of the things discussed is the depth and the locations of some of these monitoring wells so we can best determine the nature and extent, if lead is still making its way to groundwater from the firing range," Kritzer said.
According to Bevers, it will take about one week to excavate, treat and dispose of the next round of contaminated soil and two weeks more to get test results back for lead concentrations in the next layer of exposed soil. However, the timeline to the project's conclusion will depend on when state officials arrive in Sylva and whether a step involving monitoring wells is added.
SCC has been planning its shooting range remediation for more than two years, ever since an April 2014 funding request to Jackson County commissioners led to disclosure that an estimated 60 tons of lead were embedded in a clay berm at the range, which is used to train law enforcement officers from around the region. SCC leases the land from Jackson County.
Because the range is still active, lead doesn't have to be removed from the range itself — Environmental Protection Agency rules for shooting range remediation apply only to abandoned ranges. However, SCC has been working to implement best management practices to reduce lead accumulation and spread in the future.
Meanwhile, elevated lead levels were discovered in an area downhill from the range itself. That lead-contaminated soil is believed to have originated from the shooting range itself and to have at some unknown point been moved to its present location — contamination and all. Tests revealed no lead contamination in the nearby Tuckasegee River, but the river's closeness accelerated the urgency of the project in order to forestall development of a water quality issue.