Archived Reading Room
Searching for the meaning in a grueling trek
Wednesday, November 02, 2016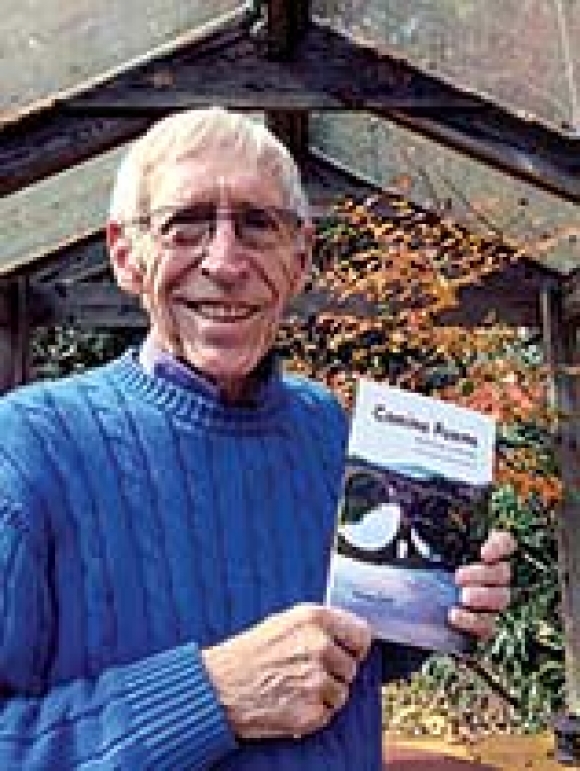 Recently, I attended "Coffee With the Poets" at City Lights Bookstore and heard the poet, Newton Smith, read and discuss his new collection, Camino Poems: Reflections on the Way. Smith told his audience that he and his wife, June, had completed the famous 500-mile pilgrimage which runs from the village of St. Jean-Ped-Port in France to Santiago de Compostela in Spain.
The journey is a daunting one since the trail (known as "The Way") consists of an ancient, rock-strewn path that runs through a network of small villages and towns. The landscape varies from sheep pastures to rugged mountain scenery. Walking is tricky, and Newton notes that he and his fellow pilgrims soon develop a variety of aches and pains.
Pilgrims who choose to make this journey traditionally carry a journal in which they record their thoughts and observations. Each time that they pass through a village that has been designated as part of "The Way," an official provides a stamp for the pilgrim's journal, thereby verifying the pilgrim's progress on his journey. Upon completing the entire journey, each participant will receive an official document which acknowledges his success.
Before setting forth on "The Way," Newton decided to mark the completion of each day on the Camino by writing a poem. The result is a "poetic journal" which is decorated with the unique stamps. In addition, June Smith's photographs give the poems a physical reality. In a sense, the combination of the poem, photo and stamp suggest a kind of "stations of the cross" or a kind of "pilgrim's progress."
Many of the poems are inspired by the scenery and the natural world. "Blue Butterfly" presents a vivid image of vibrant color, reminding Smith of other images. In some of the villages, the travelers listen to colorful folktales and stories of young men betrayed by deceitful women and chickens rising from a dinner table with their life (and feathers) restored. Some of the poems celebrate a sudden, mysterious sense of joy and well-being that causes the pilgrim to pause and sink to the roadside, content and at peace.
Is there a magic gift that the Camino provides for those who come here with a hopeful heart?
At the heart of Camino Poems is a mystery. Why are these people here? When Newton looks around him, he realizes that these pilgrims are much like Chaucer's 29 travelers. They are teachers, newlyweds, students, doctors and nuns and they also yearn to go on a pilgrimages. Why? No doubt, many are suffering from grief or heart-felt longing. They are hoping to find the courage to deal with problems that seem insurmountable.
The Camino is filled with hopeful souls, and Newton finds in himself a growing sense of community. He and his wife forge new friendships, eating, talking, sharing. Is this it, then? Did these kindred souls come here to suffer sprains and bruises together and thereby acknowledge their common bond?
There are other Camino trails out there. Recently, I read Wild, in which a young woman undertakes a pilgrimage alone and finds that the ordeal of surviving (finding food, water, shelter) greatly simplifies her life. Out in the wilderness, searching for shelter and keeping a watchful eye out for danger (wolves and men), she soon recognizes what is important in her personal life. There have been several movies about the Camino, but somehow, they fail to capture the "mystery" or solve it. No doubt, Newt would agree that it may be impossible to use art and artifice to find what is hidden at the heart of "The Way."
It may be that one of Newton Smith's poems is an apt conclusion to this review. In the poem, "No When, No Where," Newton concludes:
The Way is nowhere to be found.
To Look for it is to lose it.
It is the sun on your face.
It is here, where the rocks meet your feet.
Camino de Santiago poems
Newton Smith will read from his new poetry collection at 6:30 p.m. Friday, Nov. 4, at City Lights Bookstore in Sylva.
Camino Poems: Reflections on the Way is a collection of poems written as he walked the 500 mile Camino de Santiago Frances in September and October 2014. At the top of each poem is written where the poem had been started or written making this collection a poetic travelogue. Ron Rash said of Camino Poems, "In this superb collection, Newt Smith's spiritual journey is rendered with such attentiveness and fidelity that we become his fellow travelers. We too share the pain and effort but above all the wonder, and are reminded that in matters of the spirit the journey and destination can be one."
Poetry has been an essential part of Smith's life for more than 50 years. He has published widely in literary magazines beginning in the 1970s, including Southern Poetry Review, Carolina Quarterly, Ann Arbor Review and others. His most recent poetry publications are in the Asheville Poetry Review, Rivendale, Main Street Rag, Pisgah Review, and Jonah. During his 2014 pilgrimage on the Camino de Santiago he wrote a poem everyday reflecting on the physical body, nature, and the spiritual as he walked along "The Way."
To reserve copies, call City Lights Bookstore at 828.586.9499.