Archived News
Revamped Hazelwood parking lot may revitalize downtown
Wednesday, November 02, 2016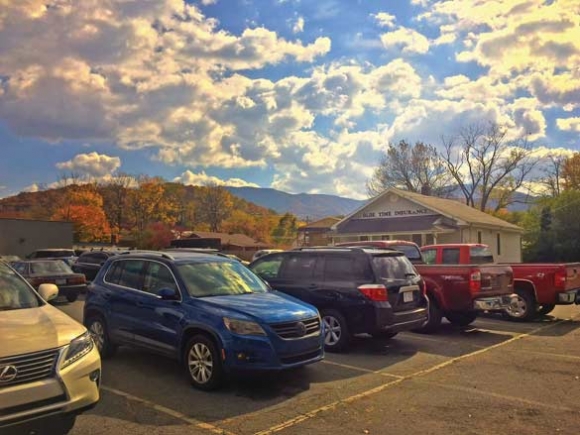 Hard-luck Hazelwood may be creating a more lucrative future not by building, but by tearing down.
After suffering through years of decline — including the loss of major industries and the collapse of the city's finances that resulted in its absorption by Waynesville — Hazelwood has seen a small strip of businesses along the 400 block of Hazelwood Avenue flourish as they simultaneously preserve the identity of the tiny downtown core.
Crucial to that core is the 31-space parking lot located right in the heart of it, where businesses like Smoky Mountain Coffee Roasters draw everyone from neighborhood regulars to out-of-state tourists.
Cyndi Messer, an assistant manager at the popular coffee shop, said that customers sometimes complain about finding parking, and that she herself has occasional trouble parking for work.
There are just seven on-street parking spaces in front of her shop, which sits in the same block as a monogram store, a resale furniture store, a restaurant, a pharmacy, a soap shop, a homebrew supply store, a gun store and a photography studio.
To the delight of Hazelwood business owners, the Town of Waynesville has finally begun to take up the task of expanding and beautifying the lot.
"It's way overdue," said Cecil Brown, owner of Haywood Gun and Tactical at 495 Hazelwood Road.
Brown said he too gets occasional complaints from customers who've had trouble finding parking; he has a few spots next door to his building, but welcomes the expansion anyway.
The plan is to demolish two buildings on the site — the Olde Time Insurance building off Hazelwood Avenue and Bill's Barber Shop on Brown Avenue — and then pave, stripe and light the new area, increasing the lot's capacity to 90 cars.
An area measuring 20 by 35 feet will also be set aside for public art, giving downtown Hazelwood the opportunity to conduct some visual public relations; pieces on display in Waynesville have become popular, well-known and readily identifiable on social media and in tourist media.
Brown's only complaints about the plan are the absence of public restrooms and a dearth of readily-accessible trash cans.
But if the plan moves forward, it's likely Brown and other Hazelwood Avenue business owners will see an even busier, more beautiful business district.
Aldermen are expected to approve the $100,000 plan — which has languished since last fall — in November or December, at which time work would begin.
Town Manager Rob Hites said he expects the project to take about three months total, with a "mothballing" of the project to occur around Thanks- giving. Demolition of the buildings will be undertaken first, but asphalt companies will probably be closed for the winter by the time the town's site work is complete, so gravel will be in place until they reopen in the spring, meaning the lot will immediately offer space for more vehicles.
The town expects to lease the lot for $850 per month for 25 years, with a 9 percent increase every five years.