Archived News
Charges filed against escaped inmate
Wednesday, November 02, 2016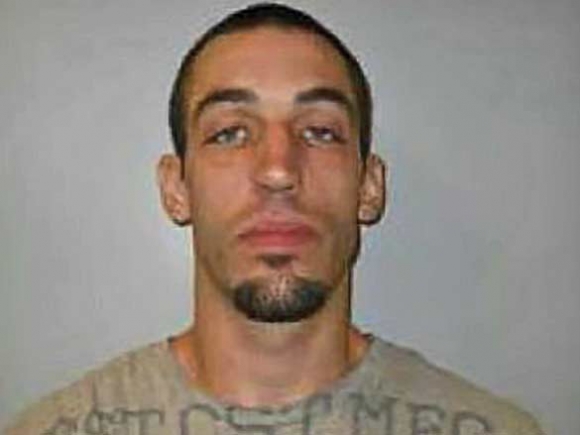 Robert Edward Branning of Canton — the escaped inmate who was shot on Main Street in downtown Waynesville two weeks ago — has now been charged with multiple felonies.
According to court records, 27-year-old Branning has been charged with first-degree kidnapping, felony larceny of a motor vehicle, assault with a deadly weapon, felony flee to elude with a motor vehicle, felony assault with a deadly weapon on a government official and felony possession of a firearm by a felon.
The charges stem from incidents that occurred on Friday, Oct. 21, when a Haywood County detention officer, whose name still hasn't been released by the sheriff's office, was transporting Branning and a second inmate, Joshua Phillips, to the Buncombe County Jail.
According to the sheriff's office, an altercation broke out between the two inmates in the back of the van to the point where the officer had to pull the van over on Interstate 40 near exit 31 in Canton to resolve the issue.
As the van stopped, Phillips escaped from the vehicle and attempted to flee on foot but was quickly apprehended. As this was happening, a bystander — now identified as Judie Lau, an off-duty police officer with the Sylva Police Department — pulled over to assist the detention officer. Lau had another female passenger in the vehicle and the passenger's 6-year-old nephew in the backseat.
Branning then fled from the van and, according to court documents, assaulted Lau with a deadly weapon by carjacking her Jeep and dragging her about 1,000 feet and then attempting to knock her off the vehicle by swerving toward a tree.
The 6-year-old boy and Lau's gun — a Kel-Tec semi-automatic pistol — were still inside the vehicle when Branning took off with it. Court documents state Branning unlawfully restrained the child in the Jeep and dropped him off a few miles away in an unsafe location.
Branning was able to elude police for about 45 minutes before officers spotted the Jeep again in Bethel. Near the Waynesville town limits, the Waynesville Police Department used stop sticks to flatten the front tires of the Jeep but it didn't stop him from making it to downtown Waynesville.
Branning reportedly ran into several other vehicles that were parked on the street before exiting the Jeep and trying to escape on foot. He then got back in the Jeep and a sheriff's deputy rammed the Jeep with his car from behind. Branning then got out of the car brandishing Lau's pistol, which is when sheriff's detective M.J. Reagan fired.
Branning sustained multiple gunshot wounds and was taken to Mission Hospital to receive treatment. He is still in stable condition. The state filed for an order of safekeeping asking that Branning be kept somewhere other than the Haywood County Detention Center when he is released from the hospital. In addition to Branning likely still needing extensive medical care after his release, the order states that he had gang affiliations with other inmates in Haywood County.
"At the time of his escape, the defendant was being transported to Buncombe County for housing due to his gang-related behavioral issues, which caused safety concerns at the Haywood County Detention Center," the order stated.
Branning also had several other charges pending for assaulting a detention officer, illegally possessing a firearm, carrying a concealed weapon and possessing a stolen firearm. Phillips had an indictment for assault with a deadly weapon with intent to kill.
No law enforcement officers were injured during the incident on Main Street though the sidewalks were packed full of tourists enjoying peak leaf season. The North Carolina State Bureau of Investigation is investigating the incident, which is routine in officer-related shootings. Reagan is on administrative duty while the investigation is under way.