Haywood
Haywood School board races complicated, important
Wednesday, October 26, 2016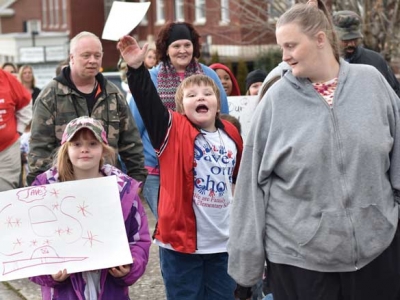 Haywood County Schools is at a crossroads, making this year's crowded election for school board a pivotal one.
While the school system has continued its ascension in academic rankings once again this year, edging its way to the 11th best school system out of 115 statewide, that doesn't mean smooth sailing is ahead.
Haywood County Schools continues to grapple with major budget challenges. The student population has declined. Teachers are leaving in disconcerting numbers for higher pay in Buncombe County. And the incoming school board will face a key decision on the superintendent position.
A third of the Haywood County School Board will turn over with this election — out of nine seats on the school board, three of those up for election don't have an incumbent on the ballot.
The loss of continuity could be detrimental depending on how informed the newcomers are and how quickly they learn the ins and outs of education issues. But the high turnover will likewise mean an infusion of new ideas.
Here's an overview of the issues we asked the candidates about.
Teacher retention Two dozen teachers left Haywood County this year for jobs in higher paying Asheville and Buncombe County schools. While teachers' base salaries are set by the state, local school districts kick in a supplement to attract the best teachers. Every candidate said they would ask county commissioners to pony up more money for teacher supplements. Haywood County is among the top 25 percent in the state for its local per student funding level, but commissioner candidates have tentatively agreed to the cause of doing more, even if it means raising property taxes.
Central Elementary closing The controversial closure of Central Elementary School in Waynesville this year was a painful result of school budget shortfalls. Some contend it was the wrong place to make cuts, and that it was handled poorly — parents, students and teachers were blindsided by the school closure.
But the school board said waning operational funding from the state and a declining student population — in part due to the opening of a new charter school and a rise in homeschooling — left it with no choice.
Budget challenges School systems statewide have struggled with declining state funds for operations over the past decade, from lottery money being withheld to insufficient state funding to cover mandated teacher raises. Budget woes have been exacerbated even more in Haywood due to the decline in the public school population, which determines school funding level.
Haywood County Schools made systematic budget cuts for several years, to a large extent sparing core academic integrity, but a $2.4 million shortfall this year was the the straw that broke the camel's back, prompting across-the-board cuts and the closure of a school.
Superintendent contract Superintendent Anne Garrett has been at the helm of Haywood County Schools for 20 years, leading it to its strongest academic record in history. She's had a longer-than-average run for a superintendent but has not been without naysayers.
Garrett's contract will expire in July 2018. Typically, school boards extend their superintendent's contract well before the clock runs out. Haywood has been no different. The school board has historically tacked more time onto Garrett's contract a couple years before it is officially up. Her last extension was in spring 2015, when the school board added two more years to her contract, taking it from 2016 to 2018.
Candidates were asked whether they supported a similar pre-emptive contract extension for Garrett, as opposed to letting her contract run down.
DIY voting: a Haywood School Board primer
Daunted by the long list of unfamiliar names on the Haywood County School Board ballot? We're here to help.
The Smoky Mountain News conducted one-hour interviews with each candidate to get a feel for what they have to offer, what they hope to accomplish and their stance on a handful of key issues. Grab some highlighters, pull up a stool to the kitchen counter and tuck into our school board voting guide before you head to the polls.
But first, some frequently asked questions:
Is the whole school board up for election or just some of them?
Five of the nine seats are up for election this year. The other four will be up for election in 2018.
Which seats are up for election now?
The chairman's seat is up, as well as the two seats from Waynesville and two from Canton. The seats from Bethel, Clyde, Fines Creek and Crabtree are up in two years.
Can I vote for the Waynesville and Canton school board seats if I live somewhere else in the county?
All voters, regardless of where they live, can vote on all the seats. The geographic districts apply only to where candidates live. Candidates must hail from the district they are running for.
Who's running?
• For chairman, Chuck Francis is running for re-election against challenger Craig Messer.
• For the two Waynesville seats, Jim Harley Francis is the running for reelection along with four challengers: Kay Miller, Pam Martin, Ann Barrett and Rebecca Benhart.
• For the two Canton seats, neither of the current school board members are running again, leaving it up to three new contenders: Ronnie Clark, Richard Lance and Scott Smith.
How come the candidates' party isn't listed on the ballot?
School board races are non-partisan, so party affiliation isn't listed on the ballot.
Chairman seat: pick one
Chuck Francis, 60, salesman and location manager for agricultural supply distribution company. Francis has three children who went through Haywood County Schools, one of whom is now a teacher, and two grandchildren.
Francis has led the school system through the best of times and the worst of times. Francis has been on the school board for 16 years, 12 of those as chairman — witnessing the impressive strides in academic performance to one of the top school systems in the state, but at the same time steering the ship through the rocky and controversial waters of dark budget times.
Francis' knowledge of education issues, policies and budgeting are vast, and he is concerned by his opponent's inexperience, especially given that the school board will have at least three new members due to incumbents not running for re-election.
"I get the idea of people thinking the board has been the same for too long and it's time for a new look. I commend my opponent for being willing to run, but he is not ready for this job in my opinion," Francis said. "There are a huge amount of things the chair guides and directs. In my opinion, it would be highly recommended that someone who is elected chair have at least served as a regular board member for a term."
Francis said he does look forward to new members joining the school board, however.
"I think board members that are new face a steep learning curve. If they own it and ask the questions and buy into it they can learn on a pretty rapid basis if they take the time to do it," Francis said.
Francis has also served as president of the statewide school board association.
Francis said one of the big challenges facing the next school board is "how do you keep moving the needle academically?" now that they have climbed so high.
Another challenge will be fluctuations in student population. While the student body declined by more than 800 students over the past eight years, it held steady this year. Predicting the trends will be critical for right-sizing operations and facilities, which could lead to an assessment of district lines to balance school population.
On teachers: Francis is serving on a task force charged with addressing teacher retention, and believes the county commissioners are on board with providing more money to increase the salary supplement even if it means a property tax increase.
"I would support asking for a county tax increase with the caveat that it was used specifically to increase our teacher supplement."
He said the salary supplement is not the only factor the school system needs to study regarding teacher retention, however.
"I think in all honesty we need to look at environment as well as teacher supplement."
On Central Elementary closing: Francis admitted that he has lost friends over the school board's vote to close Central Elementary and it could cost him votes as well.
It was personally a heart-wrenching decision for him.
"It wasn't an easy decision. We didn't take it lightly at all."
Francis said he would do things differently in hindsight, primarily by making sure the public realized how dire the budget outlook was further in advance.
"We knew that unless things turned around measures would have to be taken."
Francis said the board frequently discussed the budget crisis in the two years leading up to Central's closing but didn't realize that the general public wasn't following along.
"There were a lot of questions the board was asking of the administration: 'What do we do if this happens, what do we do if that happens?' I feel like we are very transparent and very open, but we could have tried to communicate it better. I would have liked to communicate what the options were, which included the possible closure of Central and the possible closure of other schools. In our minds we were doing that but it never hit the public radar."
On the budget: "I think it is very important you have working knowledge of how the budget works."
While he supports asking local county commissioners for more money, the buck should stop with Raleigh.
"Why has the state shirked their reasonability and pushed it down to the local level?"
While the school system has been criticized for draining its reserves to make ends meet over a several-year period, Francis said it was intentional.
"Slowly, over a period of time, we used our fund balances to maintain the high level of employment we had, the classroom sizes and teachers assistants."
On superintendent's contract: Francis said Superintendent Anne Garrett has done a good job leading the school system.
"When you are 11th in the state, the team is doing a pretty daggum good job."
Superintendents have to make hard decisions every day and can't always please everyone, which means some animosity will build up against them, especially ones serving as long as Garrett has.
Craig Messer, 26, works in family-owned poplar bark siding business
Messer is running a campaign based on change.
"I think we need somebody who has not been there forever and done it the same way over and over and over. We are living in a different time than when (Chuck Francis) was growing up. The world is changing and I am OK with adapting."
Messer added that Francis is a "great man."
"I believe he is doing it for the right reasons, but I feel like the voters deserve the chance to decide."
Messer is newly married and doesn't have kids of his own yet, but says that's not a mark against him.
"It is my community and it is time for the younger generation to step up."
Messer said he has a better understanding of students' needs and concerns.
"I can hear what they have to say and what they feel like they aren't getting. Just because you have academic success does not mean you have fulfilled students. There are other things we need to engage students in. Academics obviously is important but these kids need to grow and learn who they are."
On teachers: Messer, like all the other candidates, plans to lobby for more funding from the county to increase teacher salary supplements.
"We need to push the county commissioners to change the funding formula to give us what we need."
On Central Elementary closing: "I feel like the decision to close Central was ran through because they hadn't planned in advance and had closed all their other options. When you see you are going to have a shortfall, they do nothing and do nothing and kick the can down the road. I think they could have tightened the belt in other areas."
He also believes the school closing was handled poorly.
"I feel like if they we're going to use that option, parents should have been consulted and have at least another school year. They announced they were going to talk about it and bam, they did and it was over."
On the budget: While the school's budget woes are primarily due to state funding, Messer said the county can do more on its part.
"When you are spending $3 million on a dog pound and we have homeless students, we need to press the county."
While the county is in the top 25 percent for per student funding at the local level, "That's fine and dandy, how about go to number one?"
On superintendent's contract: Messer does not agree with extending the length of Garrett's contract before it formally expires.
"I think her term needs to run out. The vast majority of people I talk to do not like Anne Garrett. I believe we need to be the ones to decide whether she gets an extension or not."
Canton school board seats: pick two
Ronnie Clark, 48, Evergreen paper mill shift manager
In the countdown until Election Day, Clark realized he's gone about his campaign for school board all wrong.
"I told my wife I was going to change out all my signs to 'Jeff Albritton's stepdad,'" said Clark, whose own name recognition pales compared to the fierce tackling leader for Pisgah's undefeated football team.
Clark hopes to bring an analytical problem-solving approach used in industry to the school board.
"Before I do anything I am going to get all the facts — get the data together and then make an informed decision on the data," said Clark, who has college degrees in business administration and organizational management. "I am going to dig a little deeper."
When an issue crops up at the mill, Clark solicits feedback and ideas from everyone on his shift.
"If I make the call and it goes south I take the responsibility, but if it goes well I give them the credit," he said.
Clark, who has three grown kids along with Albritton, has been involved in the schools through youth sports over the years and counts numerous principals, vice principals, teachers and administrators among friends and close acquaintances. Clark is one of few candidates who has attended school board meetings and has watched all the school board meetings from the past two years online.
Clark doesn't think the current school board is doing a bad job.
"They are really making strides, but there is always room for improvement. I think I can bring a new perspective to the table."
On teachers: Increasing the local salary supplement is his top priority if elected.
"I want our teachers to be paid equally and I want them to be treated with utmost respect." They have a tremendous impact on children's lives, he said.
"They encourage you and pat you on the back and are life-long influences in your life."
On Central Elementary closing: "I would have brought it to the attention of the community sooner. They waited until they had drained money out of the emergency fund trying to keep the school open and then it was all of a sudden 'Whoa, we are in a crisis.' I would have asked the community for input, ideas and help. The school system belongs to everybody."
On the budget: The school board should not only lobby for more education funding but incite others to join in.
"The squeaky wheel gets the grease," Clark said. What if 1,000 people called their legislator demanding for money for schools, he said.
"People wanted the animal shelter and they rallied. Bring it to the county commissioners as a priority and let them know it is important."
On superintendent's contract: "I am not saying I will or will not extend the contract. It is like sitting in the bleachers coaching. You can't see what coaches on the sidelines do," he said, adding he would need to learn more before making a judgment call.
"It is a very hard job. She has 1,000 employees, 15 schools, if you just look at all the state and federal policies and budgeting that they've got to follow, they have to be able to deal with people, be able to politic — trying to replace that person won't be easy."
Richard Lance, 67, community college instructor in psychology, sociology and criminal law
Lance's campaign centers on the mantra "we can do better." Granted, Haywood County is in the top 10 percent of school systems in the state, but that's only according to test scores.
"Let's stop pretending. On one level our schools are doing well but our students on the other hand are not doing so well," Lance said, referring not just to Haywood specifically, but the national state of education.
Lance said students need to learn "deep processing" — as opposed to "shallow processing" — and questioned whether graduates are truly prepared for college.
Lance has one grown child who found his high school education fell short when he got to college.
"It is a dirty rotten ambush. Students think they are ready and they go in completely unarmed," he said.
Lance cited the motto on the state seal, "To be rather than to seem."
"Boy, did we get away from that one. We are happy to look at scores and think we are doing OK, but we need to get away from the tests," he said. "It takes one or two change agents to get people going. I want to challenge my colleagues to think a little more ambitiously than just average. We can't have average any more."
Lance was an instructor at Haywood Community College for 29 years and at Southwestern Community College for the past six. One of his goals is launching a formal community volunteer program to train a cadre of volunteers to help in the schools.
On teachers: Like the other candidates, Lance said he will lobby county commissioners to increase the local salary supplement, but he hopes to exceed the teacher pay offered next door, not just get closer.
"If you replicate the highest bid, you can't win. You have to do better than that. If we can beat them by just $10, we can say we pay higher supplements than Buncombe County."
On Central Elementary closing: "I don't know because I wasn't on the school board. I don't know the salient facts. Those issues are like trying to park a ship. I can't speculate."
However, he added, "I will scream and shout and do everything I can to get the money to keep from having to close another."
On the budget: Lance said he will beg, cajole and shame politicians holding the purse strings to get the schools more money.
"It is my job and the school board's job to rally the troops."
He lamented the state budget cuts for public school operations or the siphoning away of lottery money, but also said if the county needs to plug holes caused by the state, so be it.
"I don't care where it comes from."
On superintendent's contract: He needs more fact-finding on this one.
"We have had some great superintendents and we have had some who have been pathetic. I am not going to make any predispositions that Dr. Garrett should be replaced. I am not ready to throw anyone under the bus until I can make a determination about somebody fitting into our system — and it will be a new system."
Scott Smith, 26, Evergreen Paper Mill assistant boiler operator
Smith was convinced by his best friend and fellow candidate, Craig Messer, to run as a team. They are young, relatively inexperienced and don't have kids of their own yet. But that's why they'd be effective instruments of change, Smith said.
"It felt like things had been done the same way and going the same way for years. I'm just trying to change things up and see if things can be done different, if things can be done better."
Smith didn't have any specific initiatives or concerns he hoped to address but said he would be a voice for students, who are often unrepresented.
"It wasn't that long ago that we were there," Smith said.
On Central Elementary closing: "To me, all of a sudden, it was like boom, we have to close a school. There wasn't much put out in the public about ways to fix it. The rug was jerked out from under them. I feel like as a county people could have gotten together and figured out a way to keep it from closing."
On budget challenges: "It seems like the budget isn't what it should be."
He is particularly upset about the cost of school supplies for students and teachers. He mostly faults the state for school budget woes but would like to see the county kick in more as well.
"It rubbed me the wrong way that Haywood County was able to get $3 million for a new animal shelter but not to keep an elementary school open."
Smith wasn't aware that the schools have seen a declining student population, and that has been factor in the budget shortfalls.
On the superintendent: Smith said he's "heard both sides."
"I couldn't really tell without getting in and seeing what she has to deal with and what situations she gets handed."
But he does not support tacking more time onto her contract.
"It seems like they avoid dealing with it by saying 'Let's go ahead and extend it and then we don't have to worry about it.' I feel like it should be a little closer toward the end of the contract."
Waynesville school board seats: pick two
Ann Barrett, 66, receptionist at Clearview Glass and Mirror
Barrett has one grown son who went through the Haywood County Schools. He is mentally challenged, and advocating for children with special needs is a big part of her platform.
Barrett was on the school board for four years from 2008 to 2012 but lost re-election in 2012.
On teachers: "We have lost 26 good teachers in our county this year because they can go to Buncombe and make more money."
Barrett said if the county has $3 million for an animal shelter, then it surely has enough to increase teacher supplements.
On Central: Barrett said she had somehow missed the controversy over the closing of Central Elementary until recently. While Central's closing was major news in January and February, she didn't hear about it until after signing up to run for school board in July.
"I didn't even know it was closed until somebody said something to me about it after school had started back. I was kind of surprised."
She said she doesn't know very much about it.
"I think it could have been handled different, how I don't know."
On the budget: "We got our budget cut, reason why I don't know. I haven't kept up with that. I have not really looked into that. It's probably been handled as well as it could have been."
On superintendent's contract: "I have had a lot of people come up to me in the community and say they need to bring somebody else new in and that she needs to go."
Barrett said she likes Dr. Garrett but that "maybe it is time for a change."
"Once you stay in the position for so long, things just become sort of routine."
Rebecca Benhart, 76, retired
One of Benhart's top issues is to get seatbelts installed on school busses.
"That is my thing. They've got to have seatbelts."
She also wants to reduce the cost of school supplies that families and teachers pay for out of their own pocket.
Benhart has three grandchildren in Haywood County Schools. She moved here 15 years ago, and her children have now settled here, too. She ran for school board four years ago but was not elected.
She is also concerned about homework volume.
"Many kids get on the bus before 7 o'clock and don't get home until 6. Then they have homework. When do they have a chance to be kids?"
On teachers: "Our teachers work so hard for so little pay. They are excellent."
She wants to pressure commissioners to provide more funding for salary supplements.
On Central Elementary closing: "I don't think it was a good decision. And I certainly think it wasn't handled well in the beginning. I don't think it was transparent. There is probably a way to be more creative."
Benhart questioned whether Central could have been repurposed as a magnet school or sixth-grade center.
On the budget: Benhart knows the school system has dire budget challenges, but questions what was cut and what wasn't.
"I know this isn't popular, but they restored money for the sports programs. I talked to band programs and they didn't get the money restored that they needed."
On superintendent's contract: "I wouldn't just automatically tack on two more years ahead of time, but look at it when it comes up.
"This is part of our problem. Too many times we take the easy way out and rubber stamp things. Let's do the work. Let's look at the situation and see if we think we can do better."
On charter schools: But it is not a choice, you can't go there if you are poor and need a school bus and free lunch.
"I don't think charter schools should be funded by tax dollars because they aren't really public schools. They are private schools essentially."
Pam Martin, Salon owner
Martin said she was inspired to run by God.
"It was a God thing. I have prayed about it for the past four years and I said 'If you want me to run I will go fill my papers out and put them in.'"
Martin has an 11th-grader at Tuscola and 8th-grader at Waynesville Middle.
"I want to be a voice for children and advocate for their advancement. Do I feel like the current school board is doing a good job? I think the school board has had a hard year and I think whoever of us gets on there will be another hard year."
Martin has been a hairdresser for 34 years. She got vocational training in high school, something she believes is now lacking.
"That is going to be my mission, to figure out more vocation for our kids at a high school level. How many kids in our county can't afford to go to a college?"
On teachers: "Our teachers need a supplement and we as a county are going to have to come together and go before our county commissioners and ask for it. If we can build a dog shelter, we can give our teachers a better supplement."
On Central Elementary closing: Martin was reluctant to weigh in on whether the decision was the right one.
"I am not going to say what I would or wouldn't do. I don't know anything about the decision of why they closed it. I don't know about the finance stuff. You don't know the true story until you set there and hear what is really going on."
She also couldn't say what she would have done differently.
"Because there again I don't know what happened. I don't know when at the point they realized they were going to have to do that. The one thing I think should have happened is everyone should have been honest from the get-go. When something that big is going to happen, it should have been more open."
On the budget: "There have been a lot of cuts. I don't know where they done the budget cuts or why they took it here and didn't take it there. That is something that would be hard to answer unless you were there and worked at that."
On superintendent's contract: "I am not going to judge somebody until I know the whole truth about something."
Kay Miller, 56, owner of Classic Wineseller in downtown Waynesville and past executive director of the Haywood County Arts Council.
Miller's primary platform is rebuilding the school board's trust in the community and improving its communication with the public.
Since declaring her candidacy for school board this summer, Miller has thrown herself headlong into a self-education on the inner workings of Haywood County Schools.
She's met with the superintendent and assistant superintendent twice, the school board chairman and myriad teachers and parents, not only hoping to get a handle on the intricacies of education policy, testing measures and finances, but also the issues facing those on the front lines of education when they walk through the school doors each day.
Miller kept those she spoke with confidential so they would feel free to share their thoughts and concerns.
"I didn't even write their name down in my book, only their initials, in case I lost it."
Miller has watched countless hours of past school board meetings online and is the only candidate who has attended all the school board meetings and work sessions, and even some committee meetings, since signing up to run.
One of Miller's initiatives will be solving social issues facing students, including the high number of students without a stable home life.
"We need to take that off the schools as much as possible so the teachers can focus on education."
She hopes to build more partnerships with community groups to provide support for students' unmet needs.
"I know there is already a lot of that going on, but I am wondering if there could be more opportunities for the community to address those issues outside school."
Miller does not have children of her own, but said that is not germane.
"We all have a stake in the education of the populace. It is important to me that kids get the best education possible. The better educated they are the better the country is going to be."
On teachers: She supports increasing teacher supplements, but also other factors that would help with teacher retention, including morale.
"I obviously think pay is an issue and has to be addressed, but in addition to that I think there is a morale problem based on a lot of teachers I talked to. They said 'We don't feel like we have a voice.'
"They do have some ways to voice their ideas but they don't always think it is completely free of any kind of penalty if they say something that is not perceived as positive."
On Central Elementary closing: "Hindsight is 20-20. I would have done it differently.
I would have started the process sooner, with communicating to the public years prior that if things do not change then this is quite possibly where we are going."
Miller said she sympathizes with the spot school board members were in.
"I could tell it was making them sick to do it but you have to make tough decisions. My thing is communicate, communicate, communicate. We need to rebuild the trust with the community."
On the budget: Miller said one of her priorities will be rebuilding the school system's depleted reserves.
"I knew it was artificially high before but they still do need to build it up a little bit for some cash flow cushion."
She would like to see more education funding from the state, but believes it is moving in the right direction.
"Not everybody is going to be happy with how fast we are going."
On superintendent's contract: Miller is supportive of the current school leadership.
"We have great schools. We have a great administration," she said.
"As a candidate, I don't feel like I can commit to extending a contract without more information on which to base my decision."
While some candidates have criticized the school board for being a rubber stamp for administration, Miller said simply observing school board meetings may give a false impression. The real work and discussion occurs at the committee meetings and work sessions, which she's sat in on.
"They do ask questions and if they aren't comfortable they shelve it. When they go to the board meetings it can appear you are rubber-stamping everything but the work has been done prior to that. This is why it is so important you have good people on your boards so the research and due diligence is done and you can move forward and not spend lots of time rehashing each item."
Jim Harley Francis, 45, state marketing rep for Southern Mutual Church Insurance
Francis has served on the school board for six years. He has two children who attend Waynesville Middle and Junaluska Elementary. His mom was a teacher, his grandfather was a teacher and principal, and his sisters are teachers.
"I've been around education a lot. I love kids and I want to see them make the most of themselves and this is my way of giving back to being from Haywood County."
Francis said he would also like to explore some creative solutions in response to shifting school populations, like STEM programs within schools and even an intermediate school for 5th and 6th graders to solve imbalanced district lines feeding some elementary schools.
After getting on the school board six years ago, Francis was the driving force behind holding school board work sessions to vet agenda items before the formal meeting.
"The benefit was to be more informed of the topics before the board meetings so we could do the research and ask the questions before it was presented for a final vote."
On teachers: "I am all for trying to raise the supplement."
But he wants to examine other factors in teacher retention as well, which he sees as one of the most important issues the school board needs to address.
"Are they leaving just for money? We are working on money but if there are other reasons we are losing teachers, we need to address those, too. That's something I am asking questions about and looking in to. I want the teachers to feel they are appreciated and valued and supported."
On Central Elementary closing: Francis said it was awful to be on the board that closed Central.
"I'll be honest, I lost a lot of sleep over that. But we have to make tough decisions."
Francis said the timing of the decision was unfortunate. But if they allowed it to drag out, it could have impacted end-of-year testing. If they announced it sooner, it would have come right before Christmas.
One thing Francis didn't account for was that the general public wasn't aware of the schools budget crisis.
"Several years ago when enrollment started declining and the state started to make budget cuts, we knew tough times may be coming. It is something that has been discussed for many years and the perfect storm hit last year and something had to be done. It surprised me that people were like 'Oh my gosh you don't have any money?'
On the budget: "Our job is to use the money we are given in the wisest most economical way we can and stretch every penny we are given. We can ask for more money and plead for more money, but in the end they are going to give us what they are going to give us. So our job is to take that money and use it as wisely as we possibly can."
On superintendent's contract: Francis said there's a reason why a school board extends the contract of its superintendent well before it actually runs out.
"As the superintendent you are sort of the captain of the ship. You want some stability to know whether your contract is going to be extended. If you know in another year your contract is not going to be renewed, you aren't going to be as committed in my opinion."
But Francis said he would not support a pre-emptive extension of Dr. Garrett's contract right now.
"I feel like the schools are heading in the right direction. We have had the best four years academically in the county's history. But you don't know what is going to happen over the next four years."
Francis also questioned whether it was fair to extend the superintendent's contract considering teachers no longer get tenure and many central office administrators don't have the security of contracts.
Francis said he has proposed the idea of a formal annual review for the superintendent in the past.
"I would like to see an annual review. The teachers have an annual review, the principals have an annual review. Technically the board is the superintendent's employer and it is our responsibility to supervise the superintendent."
Read 5468 times
Last modified on Wednesday, 26/10/2016