Archived News
Meadows' challenger questions congressman's ethics
Wednesday, October 26, 2016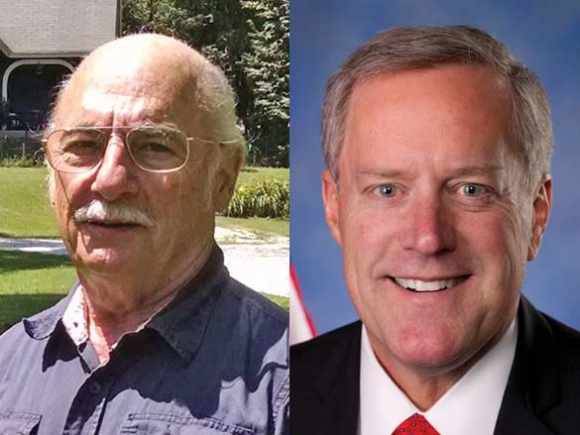 Incumbent U.S. Rep. Mark Meadows and his challenger Rick Bryson have opposing views on the success of Meadows' two terms in office and how North Carolina's 11th District is being represented.
Meadows was elected four years ago with the promise of being available to his constituency and putting their needs above party-line voting in Washington, D.C. To accomplish that goal, Meadows has offices in each of the counties he represents. In Congress, he has taken many votes that didn't sit well with his party leaders.
For example, last June he was ousted from his chairmanship of the Subcommittee on Government Operations because he voted against a trade deal directive put forward by then Speaker of the House Rep. John Boehner.
Meadows also considers himself an advocate for conservative principles and Christian values and says he's championed fiscal responsibility, accountable government, pro-growth economic policies, pro-family and pro-life initiatives, and a strong national defense during his time in office.
"In my two terms in Congress, I've demonstrated a firm commitment to fighting for Western North Carolinians and advocating conservative principles — smaller government, lower taxes, and reducing regulations on local businesses and families," Meadows said. "Ultimately, however, as a representative I've always felt the most positive thing I can do for our district is to listen to the people who live there. I can honestly say that I've never once made a decision without hearing the voices of my constituents."
On the other hand, Bryson says the congressmen's hard stance on certain issues has been detrimental to the region, including his voting record where he attempted to repeal the Affordable Care Act more than 40 times and his role in the federal government shutdown of 2013 that cost this region millions in tourism dollars.
"He hasn't done anything. He's taken our money and not done anything," Bryson said.
In addition to criticizing his policy decisions, Bryson has questioned Meadows' ethical standing since multiple women have come forward claiming Meadows' former Chief of Staff Kenny West sexually harassed them.
"We should impeach him for the environment he created in his office for harassment, and he pretends he didn't know it was going on," Bryson said.
Good or bad, Meadows has definitely made a name for himself in Washington. Bryson's only political experience has been one term as a town aldermen in Bryson City. But Bryson said he's not worried about his lack of experience or the potential of being in the minority party hindering his ability to be an effective representative.
"I'll take an alderman's approach to the job — I'm there to solve problems," he said. "By the end of December we've paid Meadows almost $700,000 and he doesn't have his fingerprints on anything in Western North Carolina."
What has Meadows accomplished?
Despite his opponent's accusations, Meadows is quick to point out what he's accomplished during his two terms. He said he's worked tirelessly to make sure firefighters, law enforcement officers and other first responders have what they need to protect their communities.
"Paying no attention to politics and admiring the selfless service they provide each and every day brings me great joy and I get rich gratification from being able to assist that effort with grants that help them serve better," he said.
Meadows said some of his greatest accomplishments have never been covered by the media, including the more than 1,200 veterans he's helped receive benefits and the military men and women that he helped welcome home.
As a member of the Transportation and Infrastructure Committee in Congress, Meadows said he's played a major role in securing multiple grants from the Department of Transportation for the Asheville Airport to rehabilitate the airport's runway system.
On a more local level, Meadows has garnered great appreciation from the houseboat owners on Fontana Lake this year. When the Tennessee Valley Authority passed a new regulation in May that would force some 1,800 floating homes off TVA lakes within the next 30 years, Meadows challenged the ruling.
He wrote strongly worded letters to TVA leadership and encouraged other North Carolina congressmen to do the same. When their letters fell on deaf ears, Meadows called a congressional hearing before the Subcommittee on Government Operations to hear testimony from local county commissioners, houseboat owners and TVA staff.
Meadows and U.S. Sen. Richard Burr, R-NC, both introduced legislation to exempt Fontana Lake from the new TVA policy. Congress approved the legislation and it's awaiting President Obama's final signature. Saving 350 families from losing their lake investments and saving Graham and Swain counties from losing vital property and sales tax revenue earned him major brownie points in the region.
One thing he hasn't been able to do for the district is get the federal government to cough up the $32.8 million it owes to Swain County for the North Shore Road settlement agreement.
The U.S. Department of Interior made the agreement in 2010 to pay Swain County $52 million over a 10-year period in an effort to reimburse the county for destroying the road when Fontana Lake was constructed and never building it back. However, the Department of Interior has only made one payment of $12.2 million and the agreement expires in 2020.
Meadows said he hasn't given up on getting that money for the people of Swain County who lost family homesteads and access to historic family cemeteries. He said the most efficient approach is to work directly with the Committee of Jurisdiction, and the Transportation and Infrastructure Committee, which he currently serves on.
"Swain County absolutely deserves to receive their money and my staff has worked extensively with local officials and leadership in the House to resolve the situation," he said. "We've been in consistent contact with folks back in the district on the matter."
In the meantime, Swain County commissioners have taken matters into their own hands by filing a lawsuit against the Department of Interior. The Department of Justice filed a motion to dismiss at the end of September, but the county wants the case to head to court.
What would Bryson do?
Since he decided to run for Congress last summer, Bryson has touted an agenda to increase jobs in Western North Carolina, strengthen Social Security, improve services for veterans and protect women's rights to equal pay and the ability to make their own health care choices.
Bryson has proposed a project he's dubbed "WNC Generation Now" that would create a business incubator network similar to the Research Triangle Park in the Piedmont area. However, the incubator space wouldn't have to be located in one central location — the small start-ups could be spread throughout the region. Bryson said funding could be funneled from existing agencies like the N.C. Department of Commerce and the Appalachian Rural Center to provide seed money for small start-up businesses.
"These are start-ups — existing ideas that are already coming out of our local universities," he said. "And it's not going to be land dependent — we don't have to worry about buying up a lot of acreage."
Not only would it create jobs in emerging technology industries, Bryson said, it would allow graduating college students to find work closer to home instead of having to leave the state. He said another plus was that a project like this wouldn't even need approval from Congress.
"Agencies like the ARC are charged to do things like this and so is the Department of Commerce — they can pick potential companies that have economic or commercial viability," Bryson said. "And these companies will have a contract that requires them to stay in the area for a certain amount of time."
Bryson said he would strengthen Social Security by working toward lifting the payroll tax cap on Social Security contributions instead of privatizing the program.
Right now people making more than $110,000 a year don't pay a full contribution for 12 months, but Bryson said fixing that loophole would help narrow the funding gap in Social Security benefits.
"If you make $200,000 a year, you're paying in less to Social Security than a carpenter or a plumber — I think it's only fair we pay into it proportionally," Bryson said. "We also need to pull the leaches off Social Security — it's supposed to be sacrosanct but people have found ways to bleed it more and more."
While Meadows said he has helped thousands of veterans, Bryson said the veterans he's talked to in the district say he hasn't done anything. He said veterans need to have more say over their health care management and the Veterans Affairs hospital needs to be more efficient.
"They need to have a clearer voice at the VA to get to their health care faster," he said.
When asked what he would do to help Swain County recoup the North Shore Road settlement money, Bryson said the issue needed to be taken directly to the highest office.
"With the county's lawsuit in place, the only thing we can do is to appeal to the president — why hasn't Meadows done that yet?" he said. "The federal government is looking like a deadbeat dad by reneging on its agreement to make the payments."
Working on infrastructure
Bryson said if he is elected, he would focus on working across the aisle on bipartisan issues like infrastructure — roads, high-speed internet and water and sewer projects.
"Our greatest need here is infrastructure — we need wall-to-wall broadband and we need improvements to transportation," he said. "The growth rate here is less than half than the growth in the rest of the state and the difference is clearly infrastructure. No matter who wins the White House we can work across the aisle to achieve that."
Bryson specifically pointed to the Corridor K road project to construct a four-lane highway through the remote mountains of Graham County. The project has been talked about for years and multiple studies have been done but nothing ever happens. Not only would the price tag for such a project be enormous, but the question remains whether the money and need justify any potential environmental damage that could occur during the process.
Meadows said he has long supported the Corridor K project and has worked with people on both sides of the aisle to encourage the construction of the vital transportation route. He said failure to get the project off the ground is a prime example of WNC being forgotten and an example of out-of-control environment regulations.
"Corridor K has been studied to death and yet the environmental groups continue to place higher value on their priorities than jobs in Graham, Swain and Cherokee counties," Meadows said. "I believe it is time that we quit studying the road and build it."
Even with his strong conservative principles, Meadows said there are occasionally common-sense reforms that afford him the opportunity to work with Democrats.
Most recently, he said he worked alongside Congressman Gerry Connolly, D-Virginia, to sponsor a bill to give small contractors the right to be heard by the Government Accountability Office.
"Congressman Connolly and I disagree on many issues, but this was a common sense measure of transparency and accountability that we could both work to advocate," Meadows said.
Responding to criticism
CNN called Meadows the architect behind the government shutdown in 2013 though he downplays his role, claiming he had been in office for only eight months. In an effort to kill the Affordable Care Act, Meadows wrote a letter to Republican leaders and had it signed by 79 of his colleagues proposing they tie the dismantling of Obamacare to the bill that funds the government for the next year. A Western Carolina University study estimated that WNC and Tennessee counties lost $33 million in visitor spending while the Great Smoky Mountains National Park was closed.
In response to the criticism, Meadows is now proposing an "anti-shutdown" amendment to prevent Congress from creating what he calls "artificial crises" that force members to support bills they might not agree with just to keep the government functioning.
"Too often, Congress waits until the 11th hour to even begin discussion on critical legislation essential to keeping our government open and fully funded. This leads to bad decision-making and irresponsible spending bills, since members just want to pass a bill and be done with it," Meadows said. "I believe the best way to fix this is to take the fear of a government shutdown off the table altogether and put in place a mechanism that automatically extends funding at the current levels for 60 days if a spending agreement isn't reached."
Bryson said that's a good plan — though it's too late to correct the damage done during the 2013 shutdown.
"It's taken him three-and-a-half years to learn shutting down the government is not what we need to be doing," he said.
Bryson also thinks it's too late for Meadows to earn back credibility after the debacle with his former Chief of Staff Kenny West. Allegations began surfacing in late 2014 against West. Several female staffers came forward accusing West of inappropriate behavior.
Meadows said he fired West as soon as accusations were made, though West wasn't officially terminated until May 2015. To make matters worse, Meadows paid West a three-month salary severance package of $58,000, which is not allowed in Congress. Meadows said he acted in good faith and was cooperating with the investigation.
"As soon as accusations of inappropriate conduct were made, I immediately took action to address the situation and was fully committed to a safe and healthy workplace for all of my employees," Meadows said. "Following that, I referred the issue completely to the Ethics Committee who has responsibility to make a ruling and I will continue fully cooperating with their investigation."
Bryson believes Meadows was aware of West's inappropriate behavior with female staffers long before he actually terminated West and wouldn't be surprised if more examples of unethical activity surface soon.
The issue is still under investigation and a ruling is unlikely to be announced prior to the Nov. 8 election. However, the congressional ethics panel did say in August that it had "substantial reason to believe" Meadows did break House rules by paying West.
"I look forward to resolving the issue and right now my complete focus remains on serving the people of Western North Carolina," Meadows said.
Where they stand on other issues
In their debate at Western Carolina University last month, Meadows and Bryson debated larger issues like gun control, police involved shootings and North Carolina's infamous HB2 measure. Here's where the candidates stood on some of those broader issues during that debate.
HB2
"I've never heard of a problem with transgender people in the bathroom, so why did we need a bill?"
— Rick Bryson
"I don't agree that it's OK to let males use female bathrooms and vice versa. It doesn't have anything to do with civil rights."
— Mark Meadows
Officer involved shootings
"Our officers are out of touch with the community. There aren't enough people talking to each other. The law has a job to do — to keep us safe."
— Rick Bryson
"I stand by law enforcement and give them the respect they're due. We need to make sure they have resources necessary to do their job. They are in harm's way every day."
— Mark Meadows
Gun violence
"I do not want a national registry, but I support gun security. It starts with gun owners themselves. They need to take responsibility for securing their weapons and keeping them out of the hands of the unbalanced or the hands of children. I have no objection to the Second Amendment."
— Rick Bryson
"Gun violence has nothing to do with the laws on the books — it has to do with the heart of the individual. Do we need to make sure we have those with mental health issues treated? Yes. Criminals do illegal things so a federal registry won't do anything."
— Mark Meadows
Meet the candidates
Rick Bryson (Democrat)
• Age: 71
• Hometown: Born in Franklin, family moved to Bryson City when he was a child.
• Background: Bachelor's degree in mechanical engineering from North Carolina State University. He spent most of his career as a public relations writer for an industrial manufacturing publication in Ohio before retiring and moving back to Bryson City.
• Political experience: Currently serving his first term as a Bryson City alderman.
• Why are you running for office? "I'm running because I want to get something done. I will move this district forward and we'll build a bridge to our future."
Mark Meadows (Republican)
• Age: 57
• Background: Meadows had a 27-year career as a small business owner and real estate broker prior to running for office. He lives in Cashiers with his wife Debbie. They have two adult children, Blake and Haley.
• Political experience: Two terms in Congress.
• Why are you running for office? "I'm running for office because I firmly believe that Washington is broken and needs leaders who are willing to challenge the status quo and return power back where it belongs — to the American people."