Archived News
Affordable Housing Task Force begins work
Wednesday, October 26, 2016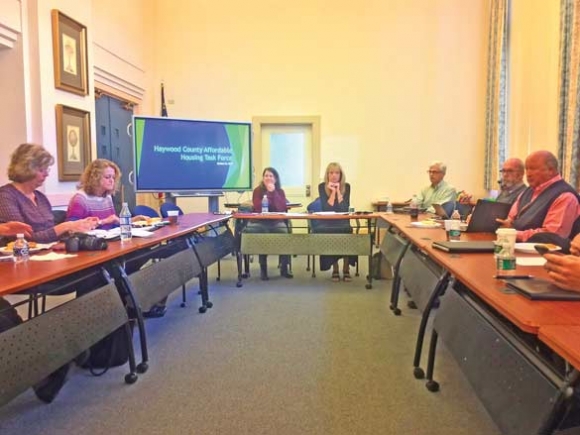 As with any problem, the first step toward solving it is admitting that there is a problem.
That happened back in March, when Executive Director of Mountain Projects Community Action Agency Patsy Davis gave a presentation to the Haywood County Board of Commissioners that suggested the county was in the midst of an affordable housing crisis.
The next step, begun in April by Dona Stewart, was to gather enough data to confirm or deny Davis's supposition. When the Haywood County Affordable Housing Task Force — co-chaired by Davis and Stewart — presented the results of its initial study on Aug. 29, the evidence was conclusive.
Apparently, a supply-side problem exists; by 2020, less than 25 percent of the 37,756 homes in Haywood County will be valued at less than $150,000, and minimum wage workers currently need to work 86 hours each week to afford a two-bedroom home. More than half of renters — as well as 35 percent of homeowners — are "housing cost burdened," spending more than 30 percent of their household income on housing alone.
"Most feedback we got was very positive," said Stewart of the community's response to the study. "They like having that level of detail."
That sobering level of detail has made affordable housing one of the top two or three campaign issues locally.
All candidates for state and local office seem to agree that affordable housing is a problem, as do most local governments. Waynesville Mayor Gavin Brown, Haywood County Commissioner Kevin Ensley and Canton Town Manager Seth Hendler-Voss have been active participants on the task force.
"We have a very high level of cooperation (with local officials) right now and I don't see any reason that would change in the future," Stewart said.
The next step in dealing with the affordable housing problem came at the second task force meeting, held Oct. 24 in Waynesville.
"We're shifting from assessing our need to how we begin to develop a plan to address that need," she said.
First to address the coalition of government officials, housing industry professionals and local businesspeople at the meeting was Richard Angino, owner and managing member of Third Wave Housing LLC.
"New apartments aren't being built in most locations in North Carolina, other than the big metros," Angino said.
Winston-Salem-based Third Wave Housing enables the "acquisition, ownership, construction, renovation and preservation of tax credit and historic properties by forming public, private and corporate partnerships" according to its website. Angino, who has experience as a securities broker, has been involved in almost all aspects of tax credit property development since the late 1980s.
"Median incomes haven't increased," he said. "We pretty much have the same median incomes we had 10 years ago in a lot of North Carolina."
At the same time, Angino said, construction costs have increased, with the result being that only metropolitan areas where median incomes have increased are able to afford new apartments.
"Other areas are not," he said.
During the meeting, participants tweaked a proposed mission statement and offered suggestions on objectives in addition to those proposed by the task force.
Developing a countywide strategic plan and coordinating efforts to pursue grant opportunities were listed by the task force as areas of primary focus; small working groups produced a number of other objectives, including the compilation of a database of available affordable housing, the robust involvement of the private sector, a possible housing trust fund and the inclusion of faith-based funding.
Stewart and the task force will consolidate the suggestions, rework the mission statement and meet again Jan. 9 at the Colonial Theater in Canton to take the next step in solving Haywood County's affordable housing problem.
"I have two small children here, so I think it's important to be involved as a community to help address the issues we have," said task force member and Harrah's Casino Manager Chad Carver. "One of our tenets – our code of commitment that we have to our employees and to our community – is that we're involved. It's instilled in us from the beginning, but we're encouraged to become involved in the community. Without a successful community, it's hard to have a successful business. I think not only from a personal level, but from a professional level at Harrah's, that's why I'm here."