Archived Opinion
'Get the hell out' is not an answer
Wednesday, October 19, 2016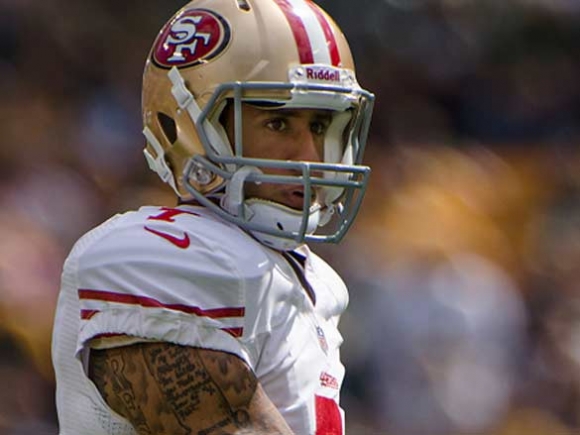 By Dave Waldroup • Guest Columnist
Legendary former Chicago Bears head football coach Mike Ditka has now joined the chorus of protesters who bash San Franciso 49'ers Quarterback Colin Kaepernick for his peaceful protest against racism in America today. His protest is by kneeling (in prayer) while the national anthem is being performed prior to National Football League games.
Ditka may have forgotten that another famous Chicago Bears football player named Gayle Sayers was, sadly, a victim of racism as he struggled for acceptance in the National Football League. Sayers, who was black, wanted the opportunity to fulfill his enormous potential as a running back in pro football.
It seems so strange that the descendants of Africans (who were brought to America against their will as cheap labor) are now told to "Get the hell out" for their efforts to secure equality in the country that is dedicated to "liberty and justice for all." We are supposed to be a beacon of freedom to the entire world. Ditka's ancestors came to America, like mine, to seek freedom that was not readily available in the mother country. His remarks are a slap in the face of freedom. He is quoted in USA Today as saying, "I think it's a problem, anybody who disrespects this country and the flag. If they don't like the country, they don't like our flag, get the hell out."
America has never been perfect. Our forefathers (and foremothers) set out to establish "a more perfect union." We fought a civil war over the fact that our union was far from perfect. We have endured riots and protests from many groups in their attempt to "establish a more perfect union." We have enacted laws intended to provide for equality of opportunity. Still, we are not perfect. Therefore, people must push for equal rights in the country that was designed to allow for people to plea for redress of grievances.
So, what does Ditka really mean when he says "they?" Is he insinuating that it is a specific group which seeks redress of grievances? Am I in the group he refers to because I tend to agree that Kaepernick has a right to his protest? As the old country song said, are we "strong enough to bend?" Does Ditka not value equality enough to allow (or maybe even support) the efforts of those who would strive for the uplifting of all people?
Who had the right to vote in America's early years? Certainly not everyone. Women and minorities were excluded along with those who did not own land and/or could not read and write. That was certainly not a perfect union. Those who had been systematically left out had to protest and push for their rights as citizens. We have since changed voting laws to include more people. Even now, however, some politicians seem hell-bent on turning the clock back and denying some people the right to vote.
Let's hope Americans will always have the legal right to push for freedom for all. We claim that we fight for freedom for people all around the world. Let's make sure we provide for all Americans along with our international efforts.
Maybe Ditka will soon see fit to use his notoriety and influence to provide assistance to Kaepernick as he works for "a more perfect union." The flag only symbolizes America. But, it still symbolizes the need for change now just as it serves as a reminder of our forefathers' battle for freedom from unfair governance by the "mother country."
These beautiful words from the Declaration remind us that we have a civic duty to work for the betterment of our neighbors as we work for our own freedom: "And for the support of this Declaration, with a firm reliance on the protection of Divine Providence, we mutually pledge to each other our Lives, our Fortunes, and our sacred Honor."
Let's not let a red, white and blue symbol take precedence over those words adopted by the Continental Congress on July 4, 1776. Let's not suggest that people "get the hell out" if they believe our country needs to be made more perfect. Instead, let's provide an opportunity for them to make a country that inches closer to the perfect union our constitutional framers envisioned.
(Dave Waldrop lives in Webster and can be reached at This email address is being protected from spambots. You need JavaScript enabled to view it..)