Swain
Challengers want change in Swain County
Wednesday, October 19, 2016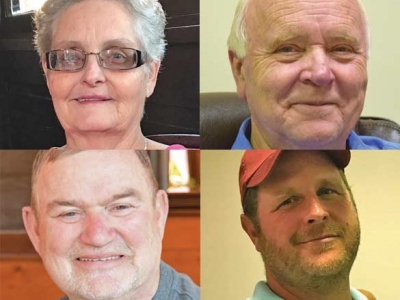 In this year's commissioner election, Swain County residents will have to decide whether they are happy with the work done by the two incumbents running for re-election or if they want to give two newcomers a chance to make a change.
Longtime Democrat incumbents David Monteith and Steve Moon are running for another term while Republicans Kenneth Parton and Carolyn Bair want to challenge the status quo.
Swain County commissioner races are at-large elections, which means residents can vote for any two of the four candidates running for the two open seats. The two highest vote getters will be elected for four-year terms.
Monteith has been a commissioner for 18 years and takes an active role in county business whether it's traveling to Washington, D.C., to lobby the federal government for funding or meeting with school board officials to see what their needs are. When it comes to politics, he says he's willing to work with anyone — Republican or Democrat — to get what Swain County needs.
"I am active in a lot of issues — I don't just sit at the meetings and vote," he said. "I'm the most non-political commissioner you'll find in Swain County — I use the federal government and state government a lot to get grants."
Moon has served as a commissioner for 10 years and served on the board of education for six years before that. He says the current board of commissioners is working well together and he hopes to continue progress if he and Monteith are re-elected.
"We're in good shape financially and we have a great team of commissioners now —I'd like to see us stay together and work together build toward the future," he said.
Bair, who has lived in Whittier for about 10 years, is taking her second run at commissioner after losing two years ago. In the 2014 election, she received the least amount of votes — 1,679 — out of six candidates. She wants a chance to assert her priorities, which vary slightly from the current board's agenda, and also bring more transparency to the public.
"The board's not being as open as they should be," she said. "Everything's always hush-hush, but more of the public needs to be informed about what's going on."
Bair would also like to see a woman serve as commissioner for once and hopes she can be the one to upset the status quo on the board. While she supports Monteith's re-election because she feels he does a lot for the community, her hope is to unseat Moon.
"I would like to see Steve off there — half the time he sits there with his arms crossed half asleep like he don't care," she said.
Political newcomer Kenneth Parton said he started attending county meetings about a year ago after one commissioner told him no one ever comes to the meetings to get involved in county decisions. When Lance Grant dropped out of the race not long after signing up to run for commissioner, Parton got a call from the local Republican party asking if he'd be interested in running. If elected, he said his main goal is to make sure the county is spending money wisely and fairly throughout the county.
"There's certain things I'd like to see them do — they should be more focused community wide," he said. "Right now they seem to put more money toward certain areas than others."
Economic development
The economy is still one of the most important topics of conversation in Swain County. Residents want to see more industry and more living-wage jobs, but tourism continues to be the biggest economic engine for the county. Love it or hate it, Monteith said tourism is growing and bringing more money into the county, which lessens the tax burden for locals. The Great Smoky Mountains National Park, Great Smoky Mountains Railroad and Nantahala Outdoor Center have created jobs and attract tourism dollars to the area.
"I want more industry too, and I think we'll see more small business in the future, but like it or not tourism is our number one industry," Monteith said. "It's the boat that's floating so we got to use it."
Parton said tourism should not be the commissioners' main focus — that's the job of the Swain County Tourism Development Authority that spends the room tax revenue. He said commissioners need to remember everything comes with a price — more tourism means the county has to spend more for law enforcement, infrastructure and services.
"I don't believe tourism is the only means of making money for Swain County," he said. "I believe we have limited resources for growth."
Moon has been supportive of tourism but also wants to see a more diverse economy with more industry for Swain County.
"I want to see more industry with better jobs and higher pay and benefits but I also really appreciate what we've got now," Moon said. "The tourism industry is vital to this area — some like it and some don't — but I'm thankful for it because it sends a lot of money here and enables us to do a lot of things for Swain County while keeping the tax rate low."
When it comes to other industry, Bryson City has a thriving downtown made up of small businesses, Shaw Industries and ConMet have created hundreds of manufacturing jobs and a FedEx distribution center is opening soon with a promise of immediately creating up to 20 jobs.
While Moon and Monteith are optimistic FedEx will expand and create more jobs in the future, Bair and others have been critical of the project and the county for supporting it.
"The county gave them a tax break for building that big building and they have less than 20 jobs — I would have shut it down," Bair said.
However, Monteith said the county was never even approached by FedEx when the company began looking at purchasing the property next to ConMet. He said the county has not given the company any tax breaks or incentives.
"We tried to help them find workers but that's it — I think they're going to grow in the future though," Monteith said.
Commissioners are limited in power when it comes to creating jobs in the private sector. Besides offering a tax break to industries looking to locate in Swain County, the commissioners' hands are tied. And when the federal government owns 87 percent of the county, there isn't much public land for industries to pick from either.
While the county shouldn't do anything to deter businesses from opening in Swain County, Parton said, it isn't the county's responsibly to create jobs in the private sector either. However, he isn't against giving incentives to a company if it follows through with creating the jobs it's promised.
Having enough people in the workforce is also another factor limiting the number of industries moving into Swain County. Parton said Shaw and ConMet are advertising for job openings and can't fill them fast enough. If another large industry moved in, he said most of the jobs would have to be filled with people from outside the county.
"It's a bad sign when we have people on welfare not taking those jobs — I don't know how to fix that," Parton said. "Maybe people need to be educated on the jobs available here."
Monteith said the county is working to create jobs where it can and without passing the cost onto the taxpayers.
For example, the county recently authorized the purchase of 8 acres in Inspiration Park to be turned into an outdoor event space for county fairs, concerts, carnivals and festivals. The $300,000 property will be paid for with room-tax revenue, which is paid by every visitor staying in a hotel or cabin in Swain County.
Bair said she wasn't in favor of the county purchasing the festival ground property — mostly because the public was not made aware of the project before the board approved spending the money.
Parton said he didn't have a problem with the county purchasing the festival grounds land as long as the TDA repays the loan with room tax revenue.
Budgeting and taxes
Swain County's tax rate hasn't budged since 2013 when commissioners had to increase it from 33 cents per $100 of valuation to 36 cents to cover a $500,000 budget deficit.
The current board of Democrat commissioners has been conservative when it comes to budgeting and spending money on new projects. Monteith said he always searches for state and federal grants first before spending county money since only 13 percent of the county land is privately owned and taxable.
A state grant has recently helped Swain County upgrade its sanitation department with new trash compactors that will hopefully help save the county money in the future. The county is also applying for a historic preservation grant that would allow it to take over ownership of the federal building in downtown Bryson City. If awarded, the county will get new office space for a minimal cost while the state court system will be able to take over more space at the current administrative building.
Bair said she wants to help keep taxes low for residents but couldn't specifically say what she would want to cut from the county budget. She said her top priorities were funding public education and the sheriff's department.
Even with a tight budget, commissioners approved a 2-percent cost-of-living raise for county employees and increased funding for Swain County Schools by $220,000 this year. Commissioners still realize the schools need more money for capital improvements and operations, which is why the board approved having a referendum appear on the Nov. 8 ballot. The referendum will ask voters whether they approve increasing the sales tax from 6.75 percent to 7 percent with the revenue going specifically for Swain County school projects.
"I'm glad to see it put up to a vote — if the people want to use it for education that's what it will go toward," Monteith said.
Bair said she is all for spending money on improving education, but she isn't in favor of the sales tax referendum unless there is a for sure promise the revenue will go to the local schools.
"Unless they can prove it will go to schools, I don't want the sales tax," she said. "If they want me to sign off on it, they'll have to prove that to me."
Moon said they can't control what future boards do, but the current board has committed to using the revenue for education.
"The money is strictly for schools," he said. "It's a possibility that could change with a new board but hopefully that will never happen."
Parton says he has no objections to increasing the sales tax if it's needed for school projects.
Picking projects
Several infrastructure projects are currently being discussed in Swain County and candidates have their opinions about what should be funded and what needs to stay on the backburner for now.
Commissioners formed a committee more than a year ago to analyze the need for an animal control ordinance. The committee's recommendation included the construction of an animal shelter if and when the county has funding available.
Bair said she is very much in favor of the county building a new animal shelter.
"We need to turn our concerns to a new animal shelter — the one we have isn't big enough to handle all the animals that need help," she said. "I was raised on a farm so I have a heart for animals."
Moon and Monteith don't see an animal shelter as an immediate need. Even if the county could come up with the revenue needed to build and maintain a facility, Monteith said the county doesn't have much available or suitable land for one.
"We got to come up with the money and it can't come out of tax base — I won't support increasing taxes for something like that," Monteith said.
Moon said the shelter is definitely a need, but it's not on the top of the priority list yet. An animal control facility is expensive to build, maintain and staff. Haywood County recently approved spending about $3.5 million for a new shelter while Jackson County is also looking for property for a new shelter.
"Whether we can afford it is a thing to consider — we don't want to go into heavy debt for it," Moon said.
Parton attended many of the animal control committee meetings and has several concerns about the proposed ordinance — he doesn't want to violate people's private property rights or affect hunters' ability to let their dogs roam free without a leash. Parton said he could see where the proposed ordinance would create more problems between neighbors.
"I don't want an animal control ordinance getting out of control," he said.
As for a shelter, Parton said he wasn't sure if it's needed — and even if it is, the county doesn't have the money to pay for the construction, upkeep and staff needed to run the facility. He would suggest working closely with the nonprofit shelter PAWS to help them build a new and larger facility.
"It's not a top priority for me right now," he said.
Bair suggested using some of the $12 million the county has sitting in an account from the North Shore Road settlement fund for the shelter, but Moon and Monteith said that money is restricted and the county can only use the interest earned on the money.
While the animal shelter seems to be on the backburner, the clock is ticking on the construction of a new Marianna Black Library. Don and Toni Davidson purchased 9 acres between downtown Bryson City and Swain County High School for $350,000 in 2014 and donated the property for a new library facility. However, if the new library isn't at least under construction by 2020, the land will revert back to the Davidsons.
While a library committee has been plugging away at fundraising for the proposed $7 million new facility, commissioners haven't made a financial commitment to the project.
"The library is something we need whether it's expanding what we have or building a new one," Monteith said. "It's an ideal spot they have but we've got to find some federal money to use for that purpose because I won't raise taxes to make it happen."
Moon said the Davidson family donation was a tremendous gift that shouldn't go to waste and he hopes the commissioners will make some kind of commitment to the library construction soon.
"The community would be well served with a state-of-the-art library we can be really proud of," he said. "It would be a shame if we missed the time limit and we lose it."
Parton said he could see both sides of the library issue. The county can't be on the hook for a $7 million loan if the library committee can't fundraise a large percentage of the project, but he would like to see a new library for the community. He would like to see the commissioners and the library committee work together to reach a compromise.
"I'd rather see money put toward a library than other things money is being put toward because it's more community based but if we don't have money to give we can't commit to it," he said.
North Shore Road settlement
The North Shore Road is the issue that first got Monteith involved in local politics about 20 years ago, and he and the other commissioners are still dealing with the issue today.
When Monteith was first elected commissioner, the board was dealing with whether to hold out for the federal government to rebuild the road as it originally promised or to accept a settlement agreement. Monteith was the only commissioner against taking the settlement, but he was out-voted and says he's been fighting to get the settlement money ever since.
The federal government made the first payment of $12.8 million to Swain County in 2010, but the county hasn't received a dime since. With only a few years remaining on the settlement agreement, commissioners voted in March to sue the U.S. Department of Interior for the remaining $39.2 million.
Monteith and other commissioners have made countless trips to Washington, D.C., lobbying their legislators for help in recouping the money owed to Swain County since Fontana Dam was created in the 1940s. Monteith and Moon are still hopeful the money will come through before the deadline and can't help but to think how the money could help Swain County.
"It would be tremendous for Swain County if we use it the right way," Monteith said.
"I think we'll get it eventually if we stick with it," Moon said. "The federal government has broken so many promises in the past and continues to do so."
Bair and Parton both wish they could go back in time and change the county's mind about taking the settlement agreement and they aren't so optimistic about ever seeing that money.
However, it's still an important issue for residents who have loved ones buried at cemeteries that they can't access without taking a boat out on Fontana Lake and walking to the gravesites. Much of Swain County's early heritage remains underwater or is inaccessible without the North Shore Road.
Meet the candidates
Carolyn Bair (Republican challenger)
• Age: 68
• Hometown: Born in Alabama, raised in Rome, Georgia
• Background: Retired from retail/fast food service, works part-time at a retail shop in Cherokee
• Political experience: Ran for Swain County commissioner two years ago but lost
• Why are you running? "To see if I can make a difference in our community because I see some things that I don't think have been handled right."
David Monteith (Democrat incumbent)
• Age: 69
• Hometown: Bryson City
• Background: Graduated from Swain High School. Retired, former Ingles Market manager, and currently drives a school bus for Swain County Schools
• Political experience: Commissioner for 18 years
• Why are you running? "I've served on the board of 18 years and there are still projects I would love to see finished for Swain County, and I just enjoy serving the people."
Steve Moon (Democrat incumbent)
• Age: 65
• Hometown: Bryson City
• Background: Graduated Swain County High School, Southwestern Community College. Retired, former owner of Steve Moon Tire Company
• Political experience: Swain County commissioner for 10 years.
• Why are you running? "I've been on the board for 10 years and there's a lot of things going on I'd like to see come to fruition."
Kenneth Parton (Republican challenger)
• Age: 38
• Hometown: Swain County native
• Background: Parton has lived and worked in Swain County his entire life. He works in the construction industry, mainly with septic systems, and with his family's stonework business.
• Political experience: None
• Why are you running? "I've been a part of the county workforce and I grew up here — I know how unique the county is — so I started gong to commissioners' meetings about a year ago to get involved."
Read 4187 times
Last modified on Wednesday, 26/10/2016