Archived News
Contentious 'Dangerous Faggot' tour brings alt-right punditry to WCU
Wednesday, October 19, 2016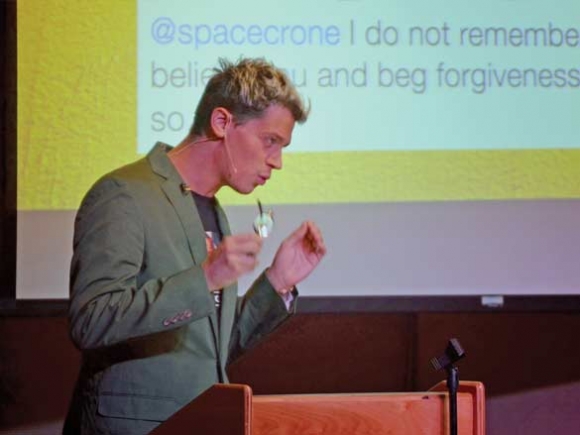 Feminism is cancer. Patriarchy is good for everyone. The wage gap is a myth. Islam is not a religion of peace. Fat shaming works.
These are the controversial opinions alt-right political pundit and self-described cultural libertarian Milo Yiannopoulos brought with him recently to Western Carolina University in Cullowhee as a part of his "Dangerous Faggot" college campus tour.
British-born Yiannopoulos started off as a tech writer but began covering political issues during the Gamergate scandal of 2014, in which it was alleged that a female video game developer had received unduly positive reviews from gaming media because of the lack of women in the tech industry.
The next year, he joined Andrew Breitbart's conservative Breitbart News Network, where his work expanded into the broader scope of social justice issues.
As a result, Yiannopoulos's unique, professorial and at times humorous delivery of opinions backed with facts that run counter to the mass-media narrative has resonated with segments of the American right who feel that politically correct language obscures truth.
Bolstering his credentials, he's earned the ire of both Hillary Clinton and Twitter, from whence he was permanently banned in July after a feud with actress Leslie Jones — star of box-office flop "Ghostbusters 2" — during which he called her "barely literate" and a "black dude."
"I am dedicated to the destruction of political correctness in all of its forms," he said of his current tour, which began in September and ends in February.
Benjamin Snedegar is a Covington, Va., native and sophomore political science student at WCU. Also the chairman of the WCU College Republicans, Snedegar reached out to Yiannopoulos' agent, who accepted the group's invitation to speak in Cullowhee. No speaking fee was requested by Yiannopoulos.
"Milo to me is an advocate for free speech," he said. "I think he's great, because he will passionately express opinions that are not mainstream. I would say honestly that probably a great deal of people, maybe even a majority of people, don't necessarily agree with him and I think that is more of what we need — not necessarily those ideas, but people willing to voice their opinions passionately and meaningfully."
Yiannopulos stressed the importance of voicing those opinions, especially on college campuses.
"People can't say, do, or be what they want, express themselves how they want, use the language they want — and the place that this stuff starts is college campuses," he said. "It matters more on college campuses because this is where people form their views on what is acceptable and not acceptable, where they start to form political opinions. And campuses are of course over-reported by the press, so the national debate kind of happens on college campuses."
He cites as evidence what he calls a large movement of mischievous dissident "free speech fundamentalists" who are mostly Libertarians but also come from the ranks of disaffected liberals.
"They think their own party is wandering into too much control, too much policing, too much interfering and nannying," he said. "The combined constituency of people who think the government and media and entertainment industry kind of hector and bully and nanny us too much is probably most of the population."
While he admitted that he was "pushing at an open door," he also lamented what he says is a liberal bias in schools, and in both traditional and social media.
"The problem is you can't really express opinions like that in many mainstream media platforms or in academia. So there's been a groundswell building, and Trump has sort of given people a pressure valve in politics. I'm trying to do the same thing on campuses and in education," he said.
Although disturbances have marred his events in the past — including a September appearance at Florida Atlantic University that was cancelled due to what authorities called a credible bomb threat — Yiannopoulos' appearance at WCU was noticeably quiet; no protestors appeared outside or inside. Visitors were wanded at the entrance, and a bomb-sniffing dog sat silently near the entrance, gazing longingly at all who entered.
Yiannopoulos' topic for the near-capacity crowd at WCU was "Feminism and Islam: The unholy alliance."
True to form, he began skewering the progressive left from the outset, prompting four young women clad in WCU purple to leave the room less than three minutes into his presentation.
The rest of the audience — mostly young, mostly white and judging by the lack of disruptions mostly supportive of Yiannopoulos — sat rapt as he drew connections between what he calls the repressive natures of third-wave feminism and Islam; both, he said, devalue women, stifle dissent and encourage punishment for non-adherents.
As a prime example of how he communicates his ideas, Yiannopoulos — a gay Catholic — remarked on how cracking a joke about Islam is especially dangerous, and then proceeded to do so.
"It's a self-evidently hilarious religion. I mean, the women look ridiculous. And, they're incredibly homophobic, yet five times a day they all put their asses in the air," he said.
But with that, he also cited a 2012 poll claiming that 33 percent of American Muslims think that when the Constitution and Sharia law conflict, Sharia should take precedence, and 58 percent think that criticism of Islam or Muhammad is not protected speech under the First Amendment.
Yiannopoulos does share some ideology with Republican Presidential nominee Donald Trump, but his speeches have been mostly devoid of the chest-beating rah-rah sloganeering associated with the "Make America Great Again" mantra.
Indeed, part of Yiannopoulos appeal is that he supports his claims through facts, though some might disagree with his conclusions.
Tenae Turner is originally from Burlington, North Carolina, and like Snedegar also studies political science at WCU, with an aim to serve in the U.S. Senate one day. A mentor in the Honors College and secretary of the Black Students Union, Turner helped create some of the most memorable moments of the evening when she spoke to Yiannopoulos during the question-and-answer segment, just after he'd finished his presentation.
"I'm the current president of our NAACP chapter. I just have a few questions," she said. "During your entire presentation I noticed that you failed to mention that feminism is the belief that men and women are equal. So, do you not think this?"
Yiannopoulos, who likely answers questions like this several times a week, took the opportunity to vigorously rebut Turner's assertions.
"Women don't believe you," he said, stating that fewer than one in five American women describes themselves as a feminist, despite more than 85 percent expressing the belief of equality between the sexes.
"Why?" he continued. "Because they know that feminism has become something different now. They know that the feminism you're talking about — it's very convenient, isn't it? To treat men like shit and then when people say, 'I'm not a feminist' say, 'Oh, but feminism is about equality!' That's not what feminism is about. It's not what feminism is anymore. Feminism is a mean, vindictive, spiteful, nasty, man-hating philosophy that has very little to do with equality of the sexes and a lot to do with man-hating."
"It was crap," Turner said after she'd left the event. "He failed to mention what feminism is, what it aims to be. He just goes off of what's portrayed on social media, which isn't always right. There was a lot of comparison between Islam and feminism, and it's wrong, because feminism is not Islam. It's not this radical thing. It's something that aims towards empowering women, and empowering men to see women as equals."
Turner said she wasn't surprised by what she'd encountered at Yiannopoulos's event.
"I expected a lot of speech that would aim to trigger people like me that believe in equality, justice, things that obviously our College Republicans and Milo does not stand for," she said. "He strives on getting people riled up on college campuses. That's one of his main objections (sic). So it's not like he's come to educate, it's not like he's come to change my mind on certain subjects. He came specifically to get us riled up."
And Turner was riled up; she went so far as to claim dissatisfaction with WCU administrators allowing Yiannopoulos to speak, inadvertently proving one of his points.
"It disappoints me," she said. "It shows that our administration doesn't live by the community creed that we have here on this wall for everyone to see. He threw direct shots, he threw things up in his presentation that do not abide by our community creed. It clearly states right there, 'I will respect the rights and well-being of others. I will live by high standards of personal integrity.' And for our College Republicans to bring him shows the bankruptcy of their intelligence level and it shows that they take their political party as a complete joke. They brought him to represent them, and they're a joke."
Snedegar — chairman of the group that Turner called "a joke" — felt that WCU was right to offer students the opportunity to hear differing opinions and decide for themselves.
"I'm not too surprised," he said of WCU's cooperation with his group; although WCU didn't have to pay Yiannopoulos for his appearance, they did have to pay staff to monitor the event. "I feel that they would do that for any speaker, regardless of their opinions. The university has been very transparent throughout this entire process. They've made sure that I understand and that everyone understands that this is not an endorsement of his beliefs or any of his opinions whatsoever."
WCU has been at the center of academic free-speech issues as of late — a $2 million donation by the ultra-conservative Charles Koch raised eyebrows and ire amongst concerned faculty and university watchdogs; critics were concerned the gift would be used to push Koch's libertarian economic philosophy, and supporters felt that refusing the gift would, in effect, censor legitimate albeit non-mainstream ideas.
Several university task forces were formed to ensure balance between the two, apparently to the satisfaction of most of those involved.
Yiannopoulos's appearance at WCU was yet another example of the administration's attempt to maintain balance in all things academic; they hosted a sold-out lecture by famed activist, journalist and women's rights pioneer Gloria Steinem — who Turner admitted to being ignorant of — in 2014. The de-facto spokeswoman for second-wave feminism in the 1970s, Steinem is a seminal figure in the history of equality in America.
While Yiannopoulos certainly isn't there yet, and may never be, he's insistent in his mission to call attention to what he sees as rampant hypocrisy in modern American political discourse.
"I don't want to hypnotize people into anything," Yianopoulos said. "I want to hypnotize people out of believing in insane and batty conspiracy theories about the patriarchy, and the wage gap or the Black Lives Matter nonsense. I think there's been a bit too much hypnotism, particularly from the progressive left."