Archived News
Wilderness debate goes to the government
Wednesday, October 19, 2016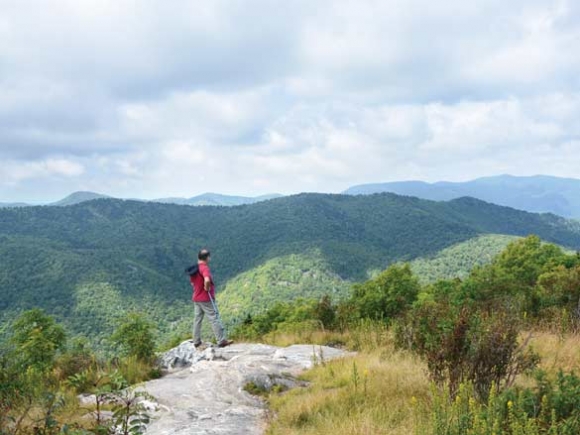 When the forest planning process for the Nantahala and Pisgah national forests kicked off more than two years ago, it didn't take long for the question of wilderness designation — whether and how much more acreage should be recommended, which areas should make the cut — to rise to the top of the stack of contentious issues.
With a draft plan expected to come out in spring 2017, the conversation is heating up once more — in homes, at public meetings and in the boardrooms and legislative chambers of government. A plethora of bills and resolutions are currently in play to address the wilderness issue, but this week The Smoky Mountain News highlights four that are drawing ample discussion among wilderness stakeholders in Western North Carolina.
Pulling the trigger on Wilderness Study Areas
The bill: H.R. 6156, introduced by Congressman Mark Meadows, R-Cashiers, would amend the Wilderness Act and Federal Land Policy and Management Act of 1976 to require the U.S. Forest Service manage wilderness study areas for multiple use until Congress can consider whether or not to designate the areas as full-fledged wilderness.
Status: H.R. 6156 was introduced on Sept. 22 and since then has been referred to multiple committees. On Oct. 4 it made its way to the House Subcommittee on Federal Lands for consideration, where it still sits. Meadows has said that he does not foresee the bill as written becoming law under the existing Congress.
Meadows introduced the bill following a pair of listening sessions he held with county leaders in his district Aug. 30 and 31. Many counties in Meadows' district have passed resolutions opposing additional wilderness, and county leaders also expressed concern with wilderness study areas — areas that were flagged as potential wilderness areas, often decades ago, that Congress has yet to take final action upon. The upshot is that the Forest Service manages them as de facto wilderness.
"I think it's time that we take the political capital and invest it to say yes, either we're going to designate it, or we're not," Meadows said. "I think this fits into a broader discussion that we need to have as a country."
Wilderness supporters and wilderness skeptics alike seem to agree that wilderness study areas were not meant to remain in limbo forever. However, they disagree on whether Meadows' bill addresses the issue in a constructive manner.
According to Hugh Irwin, landscape conservation planner for The Wilderness Society and a member of the Stakeholders Forum for the Nantahala and Pisgah Plan Revision, the bill overlooks the fact that the decision whether to designate land as wilderness is Congress' decision, not the Forest Service's. If the problem is that study areas are hanging in limbo, Irwin asked, then why does Meadows not introduce legislation to make a decision rather than legislation that dictates action to the Forest Service amid what is already a contentious forest planning process?
"It would again kind of supersede the Forest Service planning process by mandating that they go toward multiple use rather than going through the Forest Service planning process to decide whether they're recommended again for wilderness or whether they're assigned to other management categories," Irwin said.
In the meantime, he added, mandating multiple-use in wilderness study areas could degrade the qualities that merited those places wilderness designation in the first place, thereby impacting the final decision as to whether they become full-fledged wilderness areas.
Meadows objects to those criticisms.
For one thing, he said, there is "zero chance" of the bill being ratified as written today. He introduced it mainly to get the conversation going and is not that committed to the language as introduced. He's willing to adapt it as the conversation unfolds.
"I'm more in the information-gathering mode," he said.
Right now, he said, he simply doesn't know enough to say whether any particular area should be designated as wilderness and believes the discussion resulting from the bill will help him make that decision. He believes that something should be done to break the practice of keeping areas in the study designation "in perpetuity" and sees the bill as a start toward that goal.
In response to Irwin's comment that passage of the bill would degrade the areas, he pointed out that the Forest Service has "zero money" in its budget for new roads and said that the areas in question aren't up for timber, so there's little to no chance that structures or roads would be built there even if multiple use were the law of the land.
"There's not even enough money in the budget to maintain the existing roads that we have, so to suggest that it's going to further exacerbate an existing issue is not accurate," Meadows said.
Meadows' bill seems to have the support of folks who generally oppose additional wilderness designation, though they, like Meadows himself, aren't necessarily sold that requiring multiple-use is the best way to accomplish the goal of making a final decision on WNC's wilderness study areas.
"I would prefer to see it voted up or down or a sunset provision put on it," Jim Gray of the Ruffed Grouse Society in Franklin said of wilderness study areas. "I don't know the thinking behind why Meadows worded his legislation the way he did, but I'm sure he has good reasons."
Giving counties the power
The bill: Sen. Thom Tillis, R-Huntersville, introduced the Tillis Amendment as an addition to the much-larger Resilient Federal Forests Act of 2015. The single-sentence amendment simply states "The Secretary shall not designate any land in the Nantahala National Forest or the Pisgah National Forest in the State of North Carolina as a wilderness study area unless each affected county approves the designation."
Status: Originally introduced as a House bill on June 4, the bill made its way to the Senate on July 13. Tillis' amendment was added in September, and on Sept. 19 the bill was placed on the Senate's legislative calendar. It has already passed in the House.
According to Tillis' office, the senator introduced his amendment following feedback from county officials who were concerned that new wilderness designation would negatively impact their economies and didn't feel the U.S. Forest Service was taking their concerns into account.
"My amendment will help ensure that North Carolina counties ultimately decide whether to designate new land as wilderness, empowering local officials and hardworking taxpayers with a key say in the decision-making process," Tillis said in a statement.
Wilderness areas require congressional designation, and Tillis said his goal was to ensure that the federal body didn't place the restrictions that come with wilderness land if local people didn't want them there. The amendment has gained applause from some involved with the forest planning process for the Pisgah-Nantahala National Forest. One result of the finished process will be recommendations for new wilderness areas.
"I think it represents the counties, which haven't necessarily had a voice," said David Whitmire, a hunter and outfitter who is a member of the Stakeholders Forum for the Nantahala and Pisgah Plan Revision.
However, the amendment has also garnered its share of criticism from wilderness advocates who say that the counties' handling of the issue thus far is not something to be emulated. There is a cohesive, diverse group working to come to consensus on the forest plan — including wilderness recommendations — and Tillis' amendment undercuts that process, they say.
"If the county resolutions had also been debated within the county, discussed so that everybody, a large group of people in the county are aware, that would be one thing, but a lot of these county resolutions popped into county commissioner meetings without a lot of notice, without people from all sides speaking to the issues," said Hugh Irwin, landscape conservation planner for The Wilderness Society and a member of the forum.
Of the seven westernmost counties, all except for Jackson have passed resolutions blanketly opposing additional wilderness designation, though the town of Franklin has passed a resolution supporting new wilderness, as has Buncombe County.
Irwin also says that the amendment ignores the fact that national forests belong to everybody in the nation, not just people in the adjacent counties. Perhaps, for instance, there's someone in Georgia who loves the Nantahala National Forest and has strong opinions about wilderness designation. That person did not vote for the Macon County Commissioners, so are that person's rights being violated by leaving the final say-so to a body they did not get to vote for?
But the flip side of that argument is that local people are the ones who are most directly affected by land management decisions in the national forest, and when it comes to search and rescue efforts counties find themselves on the hook financially as well.
"I realize it's a national forest and it belongs to everybody in America, but the decisions that need to be made need to be made by the folks that know exactly what is out there on the ground – sportsmen and local mountain bikers and other users that see this land many times a year," Whitmire said.
Opponents also point out that the amendment does not stipulate what constitutes county approval or disapproval. Would already existing resolutions made without public input, for example, count as approval?
"The amendment doesn't define the process for approval, which means the Forest Service can work directly with counties to establish an appropriate path forward," said Daniel Keylin, spokesperson for Tillis' office.
Haywood County Commission Chairman Mark Swanger, who was quoted in a Tillis press release supporting the amendment and helped his board pass a resolution opposing new wilderness, said that he would want to see a stipulation for public hearing and input before a county board made any kind of binding decision under the amendment as written.
"These are often generational decisions that are made and they can affect people long after I'm gone, so I think public hearings and that sort of thing, workshops — good government will make those things happen," he said.
Explaining wilderness opposition
The resolution: Last year, the Haywood County Board of Commissioners passed a resolution opposing any additional wilderness designation in the county, citing concerns related to search and rescue efforts, tourism and wildlife. They have now approved they approved an explanation of that resolution, a seven-page document explaining, with photo documentation, why the board believes that areas under considering for wilderness recommendation in Haywood County should not go through. On Feb. 2, 2015, More than a year later — Sept. 19, 2016 —
Status: The original resolution was passed Feb. 2, 2015, and the explanation was passed Sept. 19, both unanimously.
Commissioners revisited the wilderness resolution in an effort to clarify their earlier stance and make sure the U.S. Forest Service really understood where they were coming from, said Chairman Mark Swanger. Outdoor tourism is a big industry for Haywood, and search and rescue efforts from adventures gone wrong are a big expense, he said.
"As the trails become less managed and less maintained, signage and so forth deteriorate, people get lost and then they call Haywood County to rescue them. We believe that the designations that exist now offer a very good balance for the public to be able to enjoy the mountains and enhance tourism," Swanger said. "If you allow areas to become unusable through being overgrown and so forth, there's no point in having them."
The commentary on the resolution points out that the wilderness extensions under consideration in Haywood County include areas that are heavily used, have existing amenities not consistent with wilderness or include well-used roads in their boundaries.
Naturalist Don Hendershot, a Haywood resident who also does contract work for the Forest Service, doesn't buy the argument.
"I can't understand what they're saying," Hendershot said. "Are they saying that simply because there are other amenities in proximity to wilderness areas that you shouldn't have wilderness areas there?"
However, The Wilderness Society, one of the most vocal groups in support of additional wilderness, sees Haywood's point —mostly.
"We agree with Haywood County on about 90 percent of this," said Brent Martin, regional director for the Wilderness Society's office based in Sylva. "I don't think the resolution is helpful still and I don't think this resolution is necessary, but we're on record as not asking for these areas to be designated for wilderness or recommended for wilderness."
Haywood shouldn't have passed the resolution without calling a public hearing to get input from a diversity of constituents, Martin believes, and the resolution itself interrupts a careful, long-term collaborative process that knowledgeable stakeholders of varying perspectives have been engaged in to come to agreement on wilderness.
However, the areas in question — the Graveyard Ridge Extension, Sam Knob Extension and Middle Prong Extension, all in the Pisgah National Forest — are mostly not suitable for wilderness designation, Martin said.
"I would completely not want to turn Graveyard Fields into a wilderness area," agreed Jill Gottesman, conservation specialist for the Wilderness Society and a Haywood resident. "I've been there on a beautiful blueberry picking day."
It's a busy place for flip-flop-wearing tourists, and it's certainly not a place to find the solitude that a wilderness area should have in abundance.
The one place The Wilderness Society disagrees is in regard to the Middle Prong extension. They'd like to see a subset of the area — about 1,200 acres — added as wilderness. The smaller area would avoid spots like the F.S. 97 corridor and land near the Cold Mountain Shooting Range, areas that aren't compatible wilderness values and maintenance restrictions. Swanger said he'd be happy to talk further about that idea.
"We're ready and willing to engage in further dialogue," Swanger said. "We want to reach a decision that everybody's happy with if we can."
Asking for more wilderness
The resolution: Buncombe County became the first Western North Carolina county to pass a resolution endorsing additional wilderness when its board unanimously approved a resolution asking that Congress designate the expanded Craggy Mountains Wilderness Study Area — also known as Craggy/Big Ivy — as wilderness.
Status: The resolution passed unanimously Sept. 20 following a public hearing that drew about 30 speakers in favor of passage and none opposed.
Buncombe County currently has no designated wilderness within its boundaries, but the current board of commissioners hopes to change that with a resolution passed unanimously last month, asking that Congress designate the Big Ivy/Craggy Mountain area as wilderness.
"We think it would be a wonderful asset to our recreation needs and desires, and kind of swimming against the tide," said David Gantt, chairman of the Buncombe County Commissioners. "A lot of other counties have said, 'Never, never, we don't want this.' But we actually had no opposition."
Not a speaker, not a phone call, not an email opposed, Gantt said, and the board that passed the resolution is composed of four Democrats and three Republicans.
Unlike boards of commissioners further west that passed resolutions opposing additional wilderness, Buncombe County called a formal public hearing before taking a vote. That's not a standard practice for all resolutions, Gantt said, but he felt it was warranted in this case.
That process drew praise from some, including Hugh Irwin, landscape conservation planner for the Wilderness Society, a member of the Stakeholders Forum for the Nantahala and Pisgah Plan Revision, and a Buncombe resident.
"I thought it was not only a great resolution but a great process. The county commissioners were very open to hearing testimony from the public, encouraged it, made time for it," Irwin said.
Even people who typically have little good to say about wilderness applauded the process and expressed support for Buncombe's community-supported decision.
"If they want it, I think that's fantastic," said David Whitmire, a hunter and outfitter in Transylvania County who's also a member of the forum. "I think that's something we could get behind and actually see a designation come out."
Designation would require congressional approval, which would start with legislation introduced by Congressman Mark Meadows, R-Cashiers. Meadows indicated that he'd be willing to take Buncombe's desires seriously.
"Having the county commissioners for Buncombe County support Big Ivy and wilderness designation in those two areas, it weighs very strongly on me," he said.
What is wilderness?
Created under the Wilderness Act of 1964, wilderness areas require Congressional designation and are intended to be places where "the earth and its community of life are untrammeled by man, where man himself is a visitor who does not remain."
Certain restrictions apply to wilderness areas. No mechanical or motorized equipment — the definition covers everything from bicycles to chainsaws to automobiles — is allowed. Structures cannot be built, nor can temporary roads. Aircraft cannot be landed.