Archived Arts & Entertainment
After the dust settles: A conversation with Tim Reynolds
Wednesday, October 12, 2016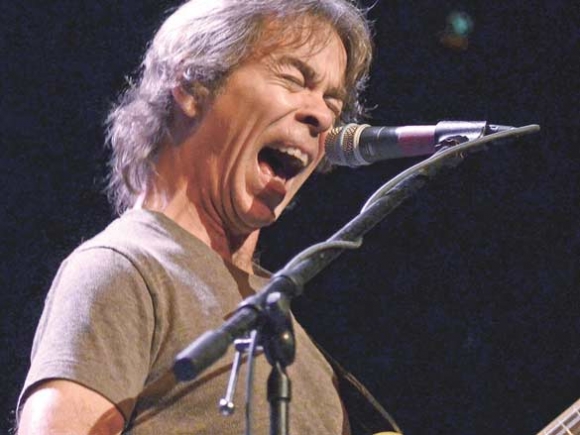 It is the rhythm of life.
When you hear the guitar mastery of Tim Reynolds, you're listening to the joyous and violent sounds of the cosmos. Each note an ocean wave crashing onto the shore, each note a break of sunlight through the dark clouds of the night.
A longtime and beloved maestro of the six-string guitar, Reynolds grew up in the Midwest, always in pursuit of the unknown horizon. After thousands of miles of touring as a young gun, Reynolds wandered into Charlottesville, Virginia, a place that he planted deep roots in for years after. And it was that time in Charlottesville, where he crossed paths with a young bartender who moonlighted as a singer-songwriter. That bartender was Dave Matthews.
And in the decades since their first encounter, the duo have collaborated on numerous albums, with "Live at Luther College" becoming an acoustic cornerstone of the modern rock era. Throughout their time together, Reynolds also became a frequent sideman who orbited around the juggernaut — onstage and in the studio — that is the Dave Matthews Band, with Reynolds becoming a full-time member in 2008.
Calling from his home on the Outer Banks as Hurricane Matthew began approaching the Eastern Seaboard, Reynolds spoke of his deep and intricate love with improvisation, what it means to be a performer in "the moment," and why he and Matthews have such an magnetic chemistry that has not only endured the test of time, but also blossomed into one of the great musical partnerships.
Smoky Mountain News: You're turning 60 years old. Has your mindset or outlook on life changed at all with that number on the horizon?
Tim Reynolds: Well, I know that number is looming out there on the horizon, but I don't think about those numbers anymore because I realized a long time ago that all I want to do is play music until I die. Of course, over your whole life, you might think about that differently, but I feel like the older I get, the less I know about anything, and that makes it easier. [Laughs]. I mean, you know stuff and, hopefully, some of those things are about yourself.
SMN: What's your approach toward music — live or in the studio — these days?
TR: It kind of keeps evolving. What I do mostly is listen to music, and trying to find things that go in you and make things come out of you that aren't the same as always. You try to listen to different things to get inspiration. Like now, I'm checking out all these string quartets of the 20th century. As far as improvising, they can give you a whole different view of what you can do with space. There are certain types of things you listen to because it's satisfying or it makes you feel good and it's something that you know. Then there are things that spark some kind of question. And to me, there are just so many approaches. Right now, I'm also working on this solo acoustic record that is orchestral in nature, and listening to these string quartets is showing just how many ways that can work or be applied to this record. And I'm sure I'll never figure it out, but that's why I keep going, to keep posing questions and finding answers.
SMN: When you're in "the moment" onstage and everything is clicking, where do you go in your head in the depths of improvisation?
TR: There's a statement I read from Kurt Cobain where he said at "that point" you're almost in this meditative state, like there's nothing going on inside of your brain because everything is going on outside. You're aware of everything at once. And that can change in a microsecond and, just like meditation, it can seem longer because it is such a profound moment in time. You obviously have some kind of conscious connection to where you're at, but, when you're in "that moment," it's almost the least thing going on because you're body is just taking in all of this energy.
SMN: What is it about that chemistry between you and Dave [Matthews]?
TR: There's really no explaining it. We get along. There's a camaraderie, where there's no expectation to do something a certain way. Let's play it and see what happens. There's the song chords and structure, but there's always a lot of room to go off and explore. We've done these songs forever, we know what they're supposed to sound like, which makes it fun to go off and do something different.
SMN: What has a life immersed in music taught you about what it means to be a human being?
TR: Like the Dalai Lama says — and this is how I feel, too — is that there are more good people than bad people in the world, because if there wasn't, we'd all be dead. They'd outnumber us and kill us all. In this day and age, to be able to be flexible and don't adhere to any dogma, whatever it is — religion or politics. Be free in your mind and decisions.
Want to go?
Acclaimed guitarist and Dave Matthews Band member Tim Reynolds will perform with his power rock/blues trio TR3 at 8 p.m. Saturday, Oct. 15, at Highland Brewing Company in Asheville.
Tickets are $15 in advance, $17 day of show. www.highlandbrewing.com.