Archived News
Tools of the trade: Preppers prepare for disaster
Wednesday, October 12, 2016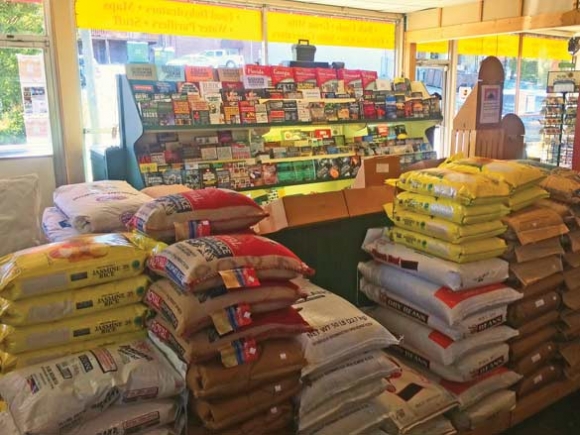 Close your eyes and imagine this: It's another picture-perfect Western North Carolina Wednesday morning with Chamber of Commerce weather and nary a cloud in the sky.
You walk to the newspaper box, grab your copy of the local rag, and then stroll casually down the street to the neighborhood grits n' eggs joint.
Effortlessly running your plastic through a Square and incurring a $3.14 debit against your FDIC-insured electronic checking account, your eyes briefly meet the flatscreen mounted up on the wall; it's the weather reporter, forecasting chilly rain and freezing temps tonight.
Dragging out the clunky wooden chair from beneath a nearby table, you sit, and gingerly place your lips on a thick white ceramic mug filled to the brim with imported organic fair-trade coffee, almost too hot to drink.
Captivated by its aroma and also perhaps by the eclectic worldbeat slowly dripping from the restaurant's wireless stereo speakers, you spread the newspaper wide, and begin to dig in.
Maybe you saw the flash, and maybe you didn't, but for some reason your eyes dart from the paper to a customer at the counter attempting to purchase a vegan white-chocolate chip cookie and chai latte; she can't seem to get her credit card to scan at the register.
Then, in an instant, the weather reporter is gone. The music is silent. The lights are off. The refrigerators and central heating fans slowly lament the loss of electricity with an oddly whirring deceleration that leaves naught but silence.
She looks at her phone, and you yours. It's blank. Black. Won't even turn on.
Other customers do likewise in the silence, and then look up — dumfounded.
None of you know that someone — perhaps a hostile nation like Iran or North Korea, or perhaps a non-state actor — just lobbed a small nuclear device from international waters into the upper atmosphere over the continental United States.
No one has died — yet — because the nuclear explosion took place too far from the ground. Sure, the fallout will come, but the desired result of the blast was neither carnage nor cancer — it was chaos.
That chaos stems from the weapon's electromagnetic pulse — a disturbance in electromagnetic energy that will cook any unshielded electronics, rendering them useless.
As you stumble forth from the darkened eatery into the sunshiney streets now devoid of neon distractions, actions that were once rote become stinging reminders of the strange new normal.
Compulsory smart-phone checking, for example. And fumbling for keyfobs that no longer fob.
Walking home, you check your wallet. You've got 36 greenbacks, a fistful of credit, and a debit card with enough cash in your account to last several months.
Walking in, you eye your now-useless refrigerator, and then your pantry. Maybe a week's worth of food. Maybe.
Walking out, you get in your car. It won't start. It has electronic components in it that no longer work.
Still not knowing why or how or really even when whatever it was that happened happened, you do know that something is dreadfully amiss, and will be, for some time to come.
Some say the end is near
That chaos — whether caused by an EMP, civil unrest, an alien invasion, a cyber attack or even a comet that falls from the sky — is the reason why preppers prep.
"People need to prepare food and supplies in the event of an emergency," said Jan Sterrett, who with her husband Bill owns Carolina Readiness Supply in Waynesville.
Prepping is almost a form of insurance against catastrophes both real and imagined — hoping for the best yet preparing for the worst is the prevailing attitude in the prepper community.
Becoming part of that community involves a strange sort of penance; acknowledging one's own unpreparedness is the first step, and realizing that in disaster situations like the EMP scenario discussed earlier, credit cards are completely incapable of providing food, water or shelter is the next.
But not everyone is prepared; normalcy bias — an "it can't happen here" mentality — prevents most people from even considering scenarios where the constructs of modern society have been reduced to smoking ruin.
"They're naive," Sterrett said. "They're not in reality. When you have college students who don't know who the vice president is but think Sharia law is a good idea, it's pure stupidity."
The Sterretts started their emergency preparedness store almost seven years ago, because, as Jan says, they "saw where the country was going" and decided they needed to act.
The products on the store's shelves attempt to answer the question posed in the store's motto — "Will you be ready when the lights go out?"
Cast iron cookware, oil lamps, grain mills, solar ovens, seeds and water purifiers are only the beginning. Sterrett says her top sellers are prepackaged foods and lighting supplies. How-to books also move quickly, because skills acquisition is another important part of the journey.
Canning, cooking, sewing and even starting a decent fire are lost arts not regularly passed down from generation to generation as in days past.
"We're just trying to tell folks to go back to what their parents and grandparents did, whatever the emergency may be — snowstorms, ice storms, financial collapse, you name it," Sterrett said.
A practitioner of such lost arts, Sterrett and store staff regularly hold instructional sessions on a number of practical topics — everything from canning meat and making cheese to blacksmithing and land navigation.
Another lost art practiced in the prepper community is good old social interaction. Humans are gregarious apes that need it at a very primal level — even more so when such Armageddonesque circumstances demand cooperation and collectivism; obviously, it would be handy to know someone with medical training, but on a more practical level, if someone needs to trade surplus walnuts for a new pair of eyeglasses, who do they contact and how?
"It's a network," Sterrett said. "These are absolutely fantastic Christian people. These are people who have their eyes and ears open, and remember history."
But the pages of history are filled with maybes and almosts; circling back to "it can't happen here" carries with it the supposition that if society in fact does not collapse into chaos, all of those supplies and all of the hours spent acquiring those skills and integrating oneself into the prepper community by attending will have been for naught.
Sterrett says that's not true.
"I'll give you a good example," she said. "I know a lady who lost her husband and her job in the same two-month period. She lived on her food supply for six months before she found another job. Had she not had that, her whole situation would have been changed drastically."
The end is here
Back at home, you exit the 2,000-pound lawn ornament formerly known as your car and head back inside your now-darkened home.
That picture-perfect Western North Carolina Wednesday morning is rapidly giving way to the darkness of uncertainty; night is coming, and with it the first tiny drops of the freezing rain forecasted earlier in the day.
You grab your hand-powered flashlight and head into the basement; although the food in your fridge will only be good for another day or two, the several dozen cans of beans, meats, squash and preserves sitting on your shelves will last much longer.
Prepackaged meals — called MREs, for "Meals Ready to Eat" — add even more security to your situation, as do the collection of 5-gallon bottles of drinking water you've assembled.
Starting a fire in the backyard by striking flint on steel, you pour some of the water into a large black pot that hangs above the flames.
As steam begins to stream from it, you pour out a few cups of the boiling water into a large pot, and moments later gingerly place your lips on a thick white ceramic mug filled to the brim with imported organic fair-trade coffee, almost too hot to drink.
Suddenly, your emergency radio crackles to life; shielded in a Faraday cage to protect it from just such an event, it sat unused for years until this very moment.
It's a fellow prepper you met at a how-to seminar, sending out a message to let others in the community know that she and her family are safe, and have plenty of food and supplies. Others you've met along your journey respond in a similar manner.
Still recognizing that something is dreadfully amiss and will be for some time to come, you again bring the thick white ceramic mug to your lips while attempting to read that newspaper you were looking earlier.
Things could honestly be worse right now; sitting with a full belly by the warmth of the fire sipping coffee is probably not what the majority of your friends and neighbors are doing at the moment.
But you are; you have the tools of the trade, and the skills and knowledge to use them to keep yourself alive, because you were prepared. You're a prepper.
AHN Prepper Fair
The Appalachian Homesteaders' Network will host a Prepper Fair from 11 a.m. to 6 p.m. on Saturday, Oct. 15, at 3301 Alarka Road in Bryson City. Vendors include Back Alley Arms, Carolina Readiness Supply, Old Grouch Military Surplus and Practical Preppers. Sponsored by CADD Graphics, K & B Meat Processing, and the Western Rifle Shooters Association. Meet like-minded people, attend how-to demonstrations and eat free BBQ while it lasts. In the event of rain, the event will take place in the Alarka firehouse.