Women in Business
Passion for fashion
Wednesday, October 12, 2016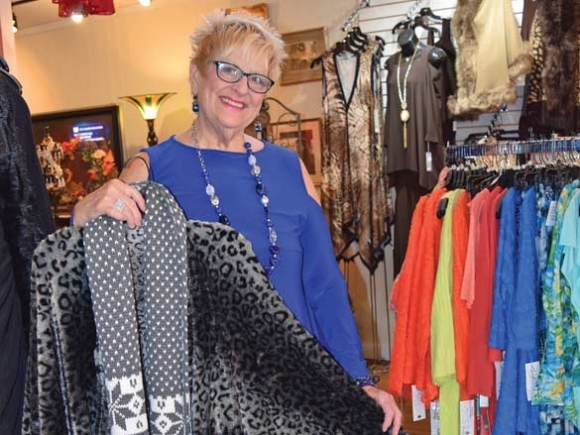 Sarah Miller has a glowing personality and limitless energy when it comes to pursuing her passion.
Her business — Diva's on Main in downtown Franklin — is a seamless extension of her individuality and drive. Gorgeous formal gowns are arranged by color and hang flawlessly from high ceilings in the historic building and classic jewelry adorns the display cases on each side of the boutique.
Miller greets everyone with a welcoming smile as they come in off the street and has a way of making them feel right at home. It's not unusual for her to offer you a refreshing drink or to have fresh out-of-the-oven baked cookies waiting on the table for you. She's usually wearing something eye-catching from her own collection and her hair and makeup are always on point. It's OK to call her a girly girl — she's the first to admit it.
It's that girly eye that makes her so good at her job. Having the ability to make her customers feel immediately comfortable and relaxed is important when you're dressing them for one of the most important days of their lives.
Whether it's a homecoming dance, high school prom or a wedding, Miller — affectionately known as Miss Diva — prides herself in putting women in the perfect dress. And whether you're a size 00 or a 26, you'll get the same quality of care at Diva's.
"God's given me the gift of merchandising and the ability to make people feel good about themselves," Miller said. "I give my girls a lot of attention. I see their body style and I know exactly what to put on them."
If her customers feel good, she feels good.
"If you feel pretty and it's a nice experience, you feel good about yourself," she added.
Miller just moved her formal wear boutique to downtown Franklin in June, but she has been in the business more than 40 years. She gives a lot of credit for her success to her husband and business partner of 42 years — Rick Miller. They started out in the formal wear business at 24 years old in their home state of California, but it wasn't long before they moved south to take over a large formal apparel sales territory based in Atlanta.
"We were one of the largest retailers in Atlanta — we had 52 employees and a huge showroom in the '80s and '90s," Miller said. "We always traveled the road in a motorhome to show our merchandise."
But something started to change at the turn of the century — the internet began to pick up steam and buying online would forever change how people purchased formal wear. Who needed a salesman or woman when they could find what they wanted online by themselves?
"After 2005 when the internet got so powerful, we saw our industry changing," she said. "We got out of the business and decided to go into our passion — we basically reinvented the wheel."
The Millers moved to Franklin and opened Cowboys and Diva's on Highlands Road to continue to provide their expertise in sports and formal wear sales. They've built up quite a reputation for what seems like a small-town operation. However, the one-of-a-kind gowns they carry are far from small town. Miller handpicks her dresses and only buys the best quality collections.
"Knowledge is power in our business, and I work hard to know my fabrics, cuts and quality," Miller said.
The Millers make presentations all over the region and cater to 19 high schools for their formal wear needs. Sarah said she goes out of her way to offer dresses for all types of young women with pricing ranging from affordable to top of the line. And her repeat customers know they can trust Miss Diva's judgment because for her it's about more than making money.
"I love what I do and if you love it, you never work a day in your life," Miller said.
And she must mean it because she never takes a day off. The store is open seven days a week and she will come in early or stay late to accommodate her customers' needs. It takes a major obstacle to knock her down — and even then she's quick to bounce back.
Resilience and perseverance are two qualities that come to mind when Miller thinks about the challenges that come with being a female business owner. While she loves her job, health problems over the last five years have prevented her from being at the top of her game. Extreme weight gain and scoliosis took a heavy toll on her and confined her to work from a wheelchair.
Being in a wheelchair made it difficult for her to give customers the attention they need and give her employees — Diva dolls — the proper training needed before prom season.
If you see Miss Diva today though, you'd never know what she went through. After losing 150 pounds, having knee and hip surgery and getting out of the wheelchair, there's no stopping her now.
"It was hard. People look down on you if you're in a wheelchair and look down on you if you're overweight," Miller said. "But I got myself together and now I can run up and down the stairs at the store and I can better train my staff — everything is back to normal."
The hardest part of her recovery after surgery was not being at the store. Not even her doctor to keep her off her feet for long before she was back at work. When asked when she sleeps, she said, "When Mr. Miller makes me."
"I thoroughly enjoy the interactions I have with people," she said. "The biggest struggle I have is if I'm not busy and if I'm not helping and enjoying people."