Women in Business
Crossroads of art and community
Wednesday, October 12, 2016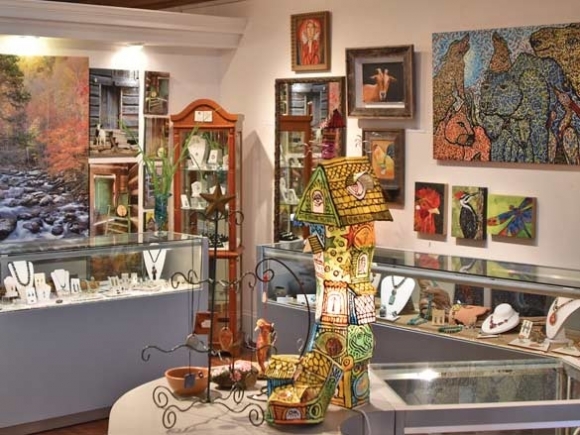 It's a constant flow.
"All day people are coming in and out of the gallery, to wander the shop or simply to say hello," said Elisa Holder. "It's exciting to see what each day will bring, because each day is different — it's never boring."
As the owner of Earthworks Gallery on Main Street in Waynesville, Holder stands at the helm of a beloved downtown business celebrating 25 years in operation. But, beyond the mere fact it's one of the longest running spots on Main Street, what is just as important is the social haven the space has provided to the community for the last quarter century.
"Our goal has always been to provide a place for people to breath, relax and hangout," Holder said. "This one time, a little girl stood in the open doorway, she held her arms out, closed her eyes and inhaled, yelling down the street, 'Mom, you got to come in here, it feels safe.'"
And that's the main ingredient with Earthworks, which is creating a two-way street of conversation that is often lost or forgotten in a fast-paced modern world. It's about grabbing a cup of coffee across the street and heading for the gallery, to stand and chat at the counter with faces you're always happy to see, faces that show no judgment, rather they offer compassion and support for those who have reciprocated the same to them.
"What's wild is seeing the kids and grandkids of the customers that come in here — we've seen all of them grow up," Holder said. "We'll have people just randomly call us all the time, just to see how we're doing and how life is."
Holder herself grew up in Thickety, just outside of Canton. After graduating from Pisgah High School, she raised a family with her late husband who worked for the mill. They relocated to Alabama for work, where Holder attended the University of North Alabama in Florence. After several years of wandering the Muscle Shoals area, Holder returned to Haywood County in 2004.
"I missed the mountains and I wanted to come home," she said.
Behind the counter since then, Holder eventually took over the business from the gallery's founder, Suzy Johnson. Within the gallery, there are 36 local and regional artists represented, with mediums ranging from photography to pottery, mixed media to painting, and beyond.
"We look for artists that are stewards of the earth, and all of our artists are completely different," Holder said. "But all are representative of the landscape, the people and culture of Western North Carolina."
In terms of being a small business owner, Holder will be the first to point out that "you need nerves of steel to do this."
"This is an up and down game," she said. "We're a very seasonal economy, and you've just got to have faith and hang on with everything you've got. There is a freedom to owning a small business, but that also comes with a lot of responsibility."
As she sits behind the counter at Earthworks again once recent morning, Holder's face lights up when another familiar figure saunters in, coffee and conversation in hand. The same goes for those strangers yet to become quick acquaintances in the subsequent interaction. It's that sense of community through art that keeps Holder coming back to the shop, turning the key and unlocking another day of creativity and friendship.
"We've all got to support each other," she said.