Women in Business
Rural animal care offers constant joy, constant challenge for vet clinic
Wednesday, October 12, 2016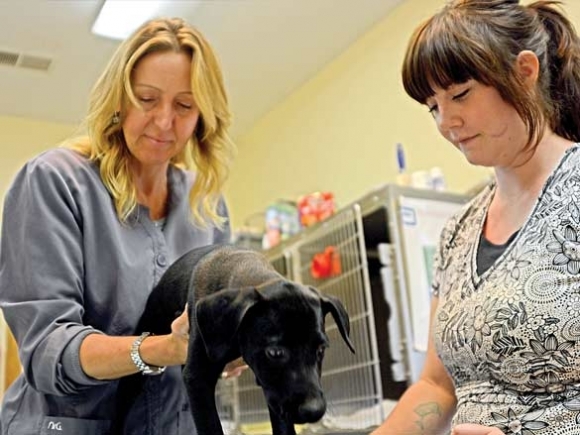 It's not unusual to hear a visiting veterinarian term Cherokee Animal Care Clinic an emergency day clinic, Dr. Robbie McLeod says as she takes a standing lunch break accompanied by a stethoscope, paperwork and a wiggly puppy in for its shots.
Right on the edge of the Qualla Boundary, the Whittier clinic is really the only game in town for veterinary care without going to Sylva or Bryson City.
"You never know what's going to come through the door," McLeod says.
"Oh, that's a dog attack, speaking of which," says practice manager Kristee Kaye, as if on cue.
Kaye walks out to the waiting room and comes back bearing a chubby Chihuahua that's sporting a muzzle and a festering wound that immediately fills the room with a putrid odor. The attack had happened Monday or Tuesday, Kaye says, relaying the owner's account — one or two days ago. The Chihuahua bit his owner afterward, explaining the muzzle.
"Oh! This is rotten, rotten, rotten," exclaims McLeod, inspecting the wound. "This is not Monday or Tuesday."
Last Monday or Tuesday, maybe — you don't get that much necrosis or pus in the space of two days, she observes.
"If this were July," McLeod says, "there would be maggots in it."
A hard job
Walk-ins like this are part of the reason that filling the veterinary void in the Cherokee area is such a hard job. In a rural region where dogs are often left to run free and the closest emergency vet clinic is half an hour away, the sprinkle of dog attacks and hit-by-cars and gunshot wounds is constant amid an already overbooked schedule of booster shots and sick animals. The "lunch" part of lunch break is usually a 10-minute affair, often done while standing, the rest of the time put to use catching up on backlog from the morning.
"This is a highly emotional job," McLeod said. "It's not all puppies. There's sad news and emergencies and death and dying and blood and puss and people. It wears you out. I think we're all exhausted by the end of the day. I think most people don't realize how hard of a job it is."
They start at 8 a.m. each morning and, ideally, finish by 5 p.m. each evening, but things rarely wrap up that early. McLeod's rule is that if the client can get a hold of her before she leaves the office, she'll stay and wait.
"There have been nights when emergency surgeries have happened that we've been here at 1, 2, 3 in the morning," Kaye said.
"Last Friday we were here till 8 or 9 o'clock," McLeod added. A cat was crashing, and a client brought in a goat that had been attacked by wild dogs. If she hadn't stayed, the owner would have had to search for an emergency clinic open during the weekend, with the added challenge that goats are considered a large animal, and fewer vets work on those.
"We try not to turn people away," she said.
There's no denying that being a vet is hard work. But McLeod can't imagine doing anything else. She's been in practice for 18 years, starting out in the Raleigh area after graduating from N.C. State University's veterinary school and then moving back toward family roots in Western North Carolina. She started work at Country Lane Animal Hospital in Clyde, where she's still a part owner, but then an opportunity presented itself in Cherokee.
McLeod had worked some at Cherokee Animal Care years before, when the then-owner was dealing with medical issues and needed someone to fill in — she'd grown to love the community. Then that doctor sold the practice to another doctor, who eventually closed it.
The closure coincided with Kaye's desire for a change of pace. For years, she'd run a showhorse farm in Cullowhee, where she raised national champion equines. McLeod was the vet.
"We just became really close friends and this opportunity presented itself," Kaye said. "We decided to take a jump, and I'm very proud of it."
Things started slowly when they opened in 2009 — they'd be excited to see 10 people in a day. These days. Things stay busy, and both McLeod and Kaye say that having a solid team in place is the key to making it work.
A newly female field
Looking through the list of employees who work with McLeod and Kaye, one pattern is apparent. With the exception of one part-time vets, every single employee is female.
And, McLeod said, that's not surprising.
"Women are coming to dominate the veterinary industry," she said. "All aspects of the veterinary industry are transitioning toward female domination."
Nationwide, 55.5 percent of vets in private practice are female, while 44.8 percent are male, according to 2015 statistics from the American Veterinary Medicine Association. In public and corporate employment, 52.2 percent are female and 47.8 percent are male.
The ratio is likely to shift even more heavily toward women in the future. In 1970, only 11 percent of students enrolling in U.S. veterinary medical colleges were female, with the balance reaching 50-50 in the mid-1980s. As of 2013, however, enrollment was 78.6 percent female and 21.4 percent male, according to data from the Association of American Veterinary Medical Colleges.
McLeod has a pretty good idea as to why that is.
"I think women are willing more to work in what they love, even if they're going to exist in a lower income level, as long as they're able to provide for themselves and their families," she said. "Men are driven by love for their careers but they're also financially driven and they want higher salaries. That's my personal opinion."
The other factor in that conversation, she said, is that men are often the primary breadwinner in the family, so they may feel more responsibility to gravitate toward the higher-paying job.
There's no arguing, however, that veterinary work pays a good bit less than other jobs requiring the same amount of education. It takes eight years to become either a veterinarian or a medical doctor, but treating humans pays about three times as much as treating animals.
"You really have to love it to do it, because you don't get in this for the money," McLeod said. "You can't do it for the money because you can be comfortable, but you're not going to be rich."
Navigating finances
At Cherokee Animal Clinic, most of the clientele is far from rich. McLeod's seen the other side of the coin, working in Raleigh where it wasn't uncommon for people to be pulling down $250,000 per year, but the less affluent landscape of Western North Carolina makes practicing here an inherently different experience.
"We have to figure out, what are the minimum diagnostics we can do to try to help this animal and also stay within the client's financial budget," McLeod said. "I've been in clinics that basically if you don't give them a blank check to run every test, they're like, well, you probably just need to put your animal to sleep."
Part of McLeod's job is guiding patients through that maze of decisions. Which tests are absolutely necessary? How much will to cost to heal the animal? Is the outcome guaranteed? What will the ongoing cost of medication be? In vet school, professors drilled in terms such as "minimum database" and "standards of care," but in rural practice those words acquire different definitions.
"Sometimes 'standard of care' is what the owner can afford," McLeod said.
"We have a Plan A and a Plan B and sometimes a Plan C, and estimates for them," Kaye added. "We give them options."
Sometimes, no option is feasible. Then the animal might have to get put to sleep. Or, it might be added to the ranks of the many "rescue animals" attending the clinic. Like Picasso, for example, the purring black cat whose nose is crooked due to the multiple facial surgeries he underwent to recover from an accident.
"We all have our own rescue animals," McLeod said.
It's hard to watch, sometimes — the pain and the loss and the death, all placed in the context of long days and chaotic unpredictability. And McLeod admits that she'll often think about her career path and if it ever could have gone another way. But she grew up watching Jack Hannah and Mutual of Omaha's Wild Kingdom, dreaming of swimming with dolphins and petting lions, and when she tries to think about what other course she could have taken, she comes up empty.
"I can't think of anything else I could have ever done," she said.