Women in Business
Finding femininity in the family business
Wednesday, October 12, 2016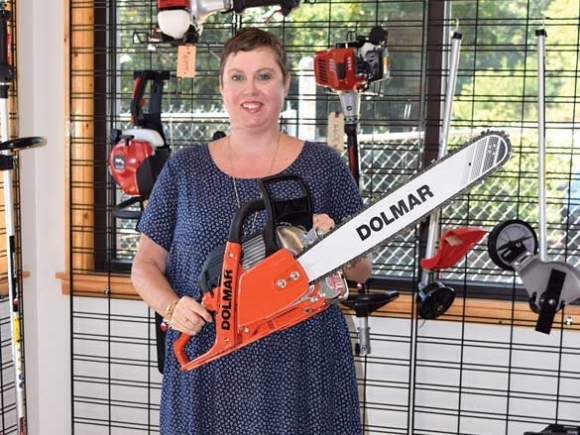 Amanda James Shaw never expected she'd be back in her hometown of Franklin running the family business, especially a power tool business.
As she sits in her office with the scent of essential oils drifting through the air — tucked away from the noisy showroom and the sounds of power tools being repaired in the maintenance garage — Amanda tells the story of how she found herself in charge of Macon Rental Company.
Her parents, Tom and Betsy James, started the small power tool rental business in 1979. Though Amanda grew up around the business — mostly sweeping floors and other light work around the shop — she definitely didn't know how to start a chainsaw. Today she can tell which one is best for your needs and she can also show you how to operate it.
"I grew up around the equipment, but yeah, I couldn't tell you how to use the log splitter by any means," Amanda said. "None of it was second nature to me but you learn and adapt."
She graduated from Franklin High School and earned a business degree at Brevard College. During college she worked for a company that ended up sending her to Charlotte to work after graduation. While working in a large corporate setting in the big city, she met her husband Chris Shaw, who is originally from England. They found themselves at a major crossroads in dealing with immigration and marriage — do we stay in Charlotte or move to United Kingdom?
"Dad suggested moving back here to take over the business. It's the last thing we thought we would do — my husband is an engineer — but we both really like it," Amanda said.
The couple has been running the business for the last nine years now. Amanda's business background and Chris' engineer thinking have proved useful in their new endeavor. Amanda isn't just behinds the scenes doing the books either — she's on the sales floor selling equipment, helping customers and supporting her seven employees. The only thing she stays out of is the repair work — she leaves that for the experts.
"Running a small business in general has tons of challenges — you want what's best for the business and your employees and balancing all that is a huge challenge," she said.
And then there's the added challenges of being a woman and trying to manage a business that has historically been managed by men. Nothing says masculinity like heavy-duty machinery.
"When you work in a masculine environment, you feel the need to know how to talk shop — it's a challenge but a rewarding challenge to learn about all the equipment," Amanda said. "It also gives me an identify I felt I had lost here in the beginning and that was a worry I had, but now I'm the Macon County rental tool girl and that's kind of exciting."
So aside from the typical business-minded qualities, what makes women good leaders in business? Amanda said women have the innate desire to be people pleasers, which makes women great at customer service and dealing with their employees.
"Women are also born multi-taskers — to our detriment sometimes — but it's a good thing in business," she said.
Continuing the legacy of the 40-year-old family-run business is a responsibility that Amanda and Chris are taking seriously. Not only do they want to see it succeed, but they want to continue the legacy of great customer service as well. Continuing that success through the recession was their biggest challenge to date.
"My dad mostly did rentals and had some small equipment for sale, but when the economy took a downturn and people weren't building as much, we had to look at ways to increase income," Amanda said. "The way to do that is with repairs, sales and services."
Macon Rental Company always had a mechanic shop associated with their business but decided to bring in a full-time mechanics team under the same roof to work more tool repairs. They've made it through the worst of it and business continues to pick up.
Amanda also took on another job during the recession for extra money but has stayed with it for six years because of the more feminine outlet it gives her in a life surrounded by power tools and men. As an independent stylist with the direct sales company Stella & Dot, Amanda gets to make some money on the side and exercise her love of fashion and accessorizing.
"The economy wasn't great but also I started to feel like I was losing my femininity here and I needed something else to do," she said. "In corporate business I was wearing a suit and heels every day, but here I could wear shorts and tennis shoes and then eventually I stopped wearing jewelry and then wouldn't even put on lip gloss — and I'm not saying that's all women but that's just me. I kind of felt like I was losing myself in a very masculine environment."
After seeing Stella & Dot CEO Jessica Herrin speak on "The Today Show" about how she was helping women, Amanda felt inspired to join. Now she has a team of 15 stylists working under here and is one of the top 400 salespeople in the company. She even went to speak at a conference in Washington, D.C., last week about her experience.
"It's been extremely successful for me and it's given me a girly outlet," she said.