Women in Business
Farmer's daughter finds life purpose in family business
Wednesday, October 12, 2016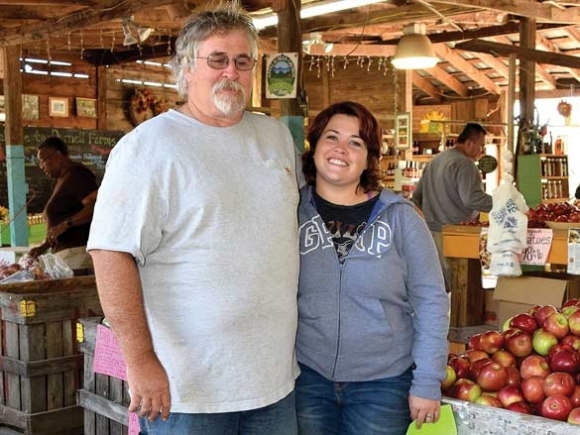 It may be mostly men tending to the crops these days at Darnell Farms, but it's Afton Roberts who has turned the farm into a thriving agri-tourism business in Swain County.
Of course locals and visitors stop by for the fresh and homegrown produce — strawberries and apples are their mainstay — but they stay for the hospitality, hayrides, history lessons and the entire family farm experience.
"I have a woman's eye for this stuff," Roberts said, pointing toward the colorful fall decorations and carefully placed apples and pumpkins. "I have to keep things looking good and focus on the retail side of things just as much as the commercial side."
Free-range children
As the daughter of Jeff Darnell, who has operated Darnell Farms along the Tuckasegee River since 1981, Roberts and her brother Nat grew up on the farm. With plenty of room to roam and always dirty from head to toe, Roberts likes to say they were "free-range children."
She admits it wasn't a childhood she always appreciated when growing up, especially when most of her friends were at the pool enjoying summer vacations while she was at the family farm. But now that she's grown and has a stake in the business, she's thankful for everything it has taught her.
"We were born into it and we're very proud. We call it our oasis. Maybe I wouldn't have said that when I was 15," Roberts joked. "But it taught us good work ethic and we've dedicated ourselves to making sure people enjoy themselves when they come here."
Earning respect
Even at the young age of 24, Roberts is not hesitant to do things her way on the farm or give orders when needed. She exudes confidence and feels at ease with anyone she comes into contact with, which she chalks up to a good upbringing. Her father strongly believes that women need to have a strong presence in the farming industry to keep it going.
"He's always preached women need to run the agriculture business and not in a housewives kind of way — men know a good deal but women know good quality," Roberts said. "He says the good old boy industry needs to be taken over by women to keep it going."
Of course that's easier said than done. It's still a male-dominated field and Roberts still works hard to earn respect from the older generation of growers and buyers.
"Respect is a hard thing to earn. I still have people that have a hard time when I talk to them about pricing and they say, 'you don't know what you're talking about,'" she said. "People don't want to take direction from a woman — that happens everywhere — but I think it's more than me being a woman. It's my age too. It's hard for some people to respect young people in agriculture and the change that comes with progress."
Road less traveled
While Roberts has settled into her lead role on the farm, it hasn't always been the path she thought her life would take. She also didn't think she'd be one to get married when she was 18 and have two kids so young, but if she's learned anything on the farm, it's that sometimes life has other plans.
"I tried to break away from the farm at one time, but I realized I was good at it. I love it and I have a passion for it just like my dad," she said.
And now she and her husband Patrick Roberts, who also works on the farm, can pass along that upbringing to their girls in hopes they'll want to take over the business someday. But even if they don't, just knowing they'll have a deeper appreciation for farming and being good stewards of the land is enough satisfaction for them.
Even though she loves the work, managing a farm isn't easy. It's more of a way of life than it is a job. Roberts works many 14-hour days and probably hasn't had a day off in a month. She wishes she had more quality time to spend with her kids and husband, but the good still outweighs the bad.
"My kids are watching me be a part of something and hopefully they see I'm trying to make something work for their future and I want them to be a part of it," she said.
Even on the tough days, Roberts knows she's exactly where she's supposed to be.
"Most people my age are barely out of college and they don't know what they want to do. I'm glad I know what I want to do and I have a lot of room to grow," she said. "I don't have a college education, but I have used this farm to culture and educate me. It's pushed me farther than any kind of curriculum could have."
When asked which woman in history inspires her the most, Roberts was quick to say Sacagawea — a Shoshone interpreter who helped Lewis and Clark on their expedition out West after the Louisiana Purchase.
"She was a leader. Every time I think about her being so young and with a baby on her back — it reminds me of me," Roberts said. "But it also reminds me to not let anyone tell you you can't do anything — you lead the pack."
Roberts also gives credit to her mother, who died of cancer several years ago, and a former boss at Brio Tuscan Grille in Cherokee, for teaching her important life lessons.
"My boss in Cherokee was an amazing woman. She only stood five-feet tall, but she was full of confidence," Roberts recalled. "She didn't take no for an answer and I respected her and others who don't let themselves be overpowered because they don't look the part."
Preserving past and present
Roberts feels like the progress being made in the industry and at Darnell Farms has been nothing but positive. She says she has a knack for merchandising and knowing what people want to experience and buy when they come to the farm. Special events and attractions like weddings, concerts, outdoor movies, corn mazes, the annual Strawberry Jam Festival and more keep the business thriving throughout the year.
"We're more and more influenced by tourism here and we're entertainers just as much as we are farmers," Roberts said. "We like to see people have a good time — so much so that we used to not even charge for hayrides."
Roberts goes out of her way to make sure her guests walk away with a good experience. Nothing pleases her more than positive reviews and shared pictures on the Darnell Farms facebook page or a comment from visitors about how great the farm looks.
She also believes in taking care of her employees and thanking them for a job well done to let them know they are appreciated. For her, praise is just as important as constructive criticism.
"Women are better at that," she said. "People say women are too sensitive or insult you by saying you act like a woman, but being sensitive doesn't mean you're being a baby — it just means I care."
It's that type of pride and appreciation that she hopes to pass down to her two daughters Heidi, 4, and Alexis, 6. As second-generation free-range children, Roberts' daughters have taken to farm life quite well. They love giving visitors tours of the farm and retelling the history stories they've heard their mom, brother and grandfather tell hundreds of times.
While Roberts is looking toward the future, she has an immense respect and appreciation for her family's roots and her hometown's heritage. She said the old-time mountain women have endless knowledge and wisdom to pass along to those who will listen. They knew how to grow, how to preserve and how to live off the land.
"People have the idea that we're backwoods and uncultured, but really people from this area were smart survivalists — especially women," Roberts said. "They overcame a lot and saved everything. They were true conservationists and we can learn a lot from them."
Darnell Farms
2300 Governors Island Rd., Bryson City
828.488.2376
Visit www.facebook.com/darnellfarm for upcoming events at the farm.
The farm produces nearly 100 acres of strawberries, onions, tomatoes, sweet corn, peppers, blackberries and more.