Archived News
Animals rescued from Korean dog meat farm
Wednesday, October 05, 2016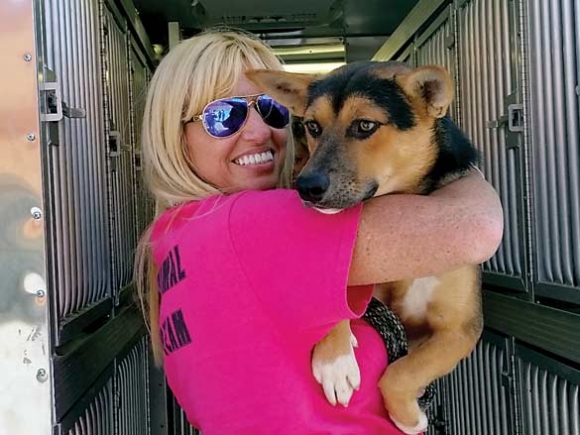 Two small animal shelters in Western North Carolina have made national news this week as they've opened up their facilities to 11 dogs rescued from an illegal backyard dog meat farm in South Korea.
Beth Cline, executive director of PAWS in Bryson City, and her fiancé David Stroud, executive director of Cashiers-Highlands Humane Society, traveled more than 300 miles last Saturday to Cary, N.C., where they met up with Humane Society International and 31 of the dogs the organization saved from slaughter in Jeonju, South Korea.
These dogs have lived in small metal cages their entire lives living off food scraps until it's time for them to be sold to a slaughterhouse for their meat. But HSI intervened and brought 31 of the dogs back to the U.S. to be vaccinated and adopted out to a forever home. The rescue dogs vary in breed, but Cline said many of them are breeds not seen often in the U.S.
"HSI had them boarded already so I'm sure they were in a lot better shape then when they were rescued, but what we found were very excited and anxious puppies," Cline said. "Some were happy and cheerful, some were shy and timid. Some of these dogs haven't had human touch at all or if they have it hasn't been gentle touch so they're afraid of human hands, but what we have to understand is these dogs have traveled a long way so they're all going to seem timid at first."
Cline and Stroud loaded up 15 of the rescue dogs and dropped off four of them at a shelter in Boone before bringing the remaining ones back to the shelter in Cashiers. All the dogs are being quarantined in Cashiers until Monday just as a safety precaution. After Monday, 10 of the dogs will be adopted out of the Cashiers shelter and one will be adopted out of PAWS in Bryson City. Cline and Stroud walked the dogs around the quarantined area on Sunday knowing it was probably the first time in their lives that they had been allowed outside of a cage.
"Tomorrow we're letting them run in an open lot — I just can't wait to see these dogs blossom," Cline said.
According to HSI, South Korea is the only country in the world where dogs are raised on farms to supply the commercial demand for dog meat. An estimated 2.5 million dogs are slaughtered for human consumption in South Korea each year on thousands of dog farms scattered around the country. These farms range from small backyard enterprises to large-scale industrialized farms with more than 1,000 dogs.
Cline said PAWS has been listed as an emergency placement partner for several years, but the Bryson City facility is so small it rarely has the opportunity to help out when needed. However, with the help of Cashiers, they were able to provide the needed shelter for the latest mission.
"Honestly, PAWS wouldn't have had this opportunity without David at Cashiers help," she said. "We're not capable of doing it alone — we have to turn away animals in our own community because we just don't have the space, but this was a team effort."
Even though HSI has brought 526 dogs from South Korea into the United States and Canada to be adopted, the dog meat industry still seems to be an issue many people in the U.S. aren't aware of. Cline hopes this rescue mission will help educate people in North Carolina.
"I think that's the reason HSI had them transported to North Carolina because I think people don't realize the issue," she said. "We all know about puppy mills that need to be shut down but these animals are treated worse than many of the puppies found in breeder mills."
Cline said adopting out the animals probably wouldn't be difficult, especially since the story has made Good Morning America and The New York Times.
"Everybody loves a story and these dogs definitely come with a story, but every shelter dog has a story and I wish we could broadcast all their stories so they would get adopted," she said.
For adoption information, call PAWS at 828.488.0418 or the Cashiers-Highlands shelter at 828.743.5752.