Archived Arts & Entertainment
Mountain Faith wins big in Raleigh
Wednesday, October 05, 2016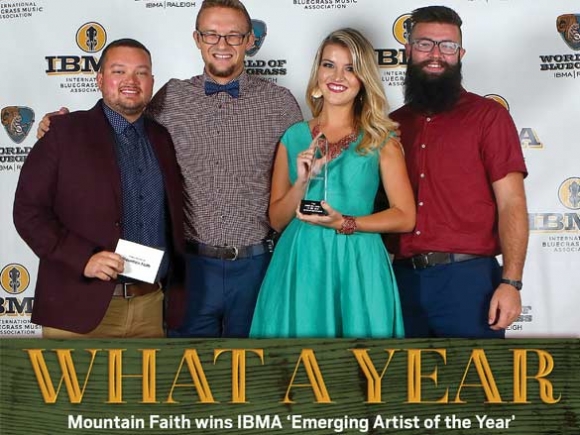 What a year.
That is about all you can say about the past 12 months for Jackson County bluegrass act Mountain Faith. And yet, this past Thursday evening was the cherry on top for the rapidly rising family string band when they received "Emerging Artist of the Year" at the International Bluegrass Music Association awards in Raleigh.
SEE ALSO:
• Balsam Range presses on
• Waynesville songwriter nominated by IBMAs
• This must be the place: SMN at IBMA
"To be honest, we were just expecting to go to the IBMAs and have a great time jamming and hanging out with our bluegrass friends. We absolutely were not expecting to win an award," said lead singer Summer McMahan in her trademark modest tone.
It all started with Mountain Faith's groundbreaking appearances last year on the hit NBC show "America's Got Talent," where the group blew into the national spotlight by interpreting pop radio hits through old-time string music. With their truthful story of long weekends touring and even longer weekdays running their family tire shop on U.S. 441 between Dillsboro and Franklin, they made it deep into the televised competition, spreading the intricate talents and sheer awe of bluegrass music into millions of households each time they took the stage.
After their sendoff from AGT, they were nominated for "Emerging Artist of the Year" by the IBMAs in fall 2015, just around the time their song "Feelin' Blue" hit number one on the bluegrass charts. Though they didn't win the "Emerging Artist of the Year" that year, McMahan, however, took home the IBMA "Momentum Award – Vocalist," which spotlights the finest up-and-coming bluegrass musicians.
"Our four goals at the beginning of the year were to broaden our audience, get a number one song, get an IBMA nomination, and play the Grand Ole Opry," McMahan told The Smoky Mountain News in September 2015. "We made all these goals, and in the back of my head I'm thinking if we just get one of these to happen I'll be happy. Now we have three out of four, with sights on the Grand Ole Opry next."
Since that time, Mountain Faith has hit the road harder than ever, even performing for the troops in Dubai last November. They're growing up, right in front of the eyes of Western North Carolina and greater Southern Appalachia, and claiming the glory that resides at the end of a tunnel of relentless touring and recording amid the everyday ups and downs of a life spent pursing your wildest dreams.
Coming into 2016, the band continued to see its melodic star rise up a few lines on the festival posters, more and more songs hitting the radio, a Grand Ole Opry appearance, not to mention the tens of thousands of new followers they garnered through AGT that are now watching a journey all of us back home have been championing for years.
And when Mountain Faith sat in the audience on Sept. 29 for the IBMA award show in Raleigh, once again watching and listening to this year's "Emerging Artist of the Year" nominees being announced, McMahan will be the first to say how surprised she and her band mates were when their names were called to the stage to receive the honor.
"We were so honored to even be nominated. To win an award like 'Emerging Artist of the Year' means that other people like the music we love playing as well," she said. "There's nothing like the feeling of knowing people support the music you're playing — it's so humbling that people even listen in the first place."
And all through this whirlwind of bright lights and lightning fast pickin'-n-grinnin' radiating from every corner of America stands Mountain Faith — as ambitious as they are humbled to be able to do what they love.
"We're still the same Mountain Faith, playing the music we write and music that we love," McMahan said. "In the future, we hope to be even busier with shows, and with visiting schools — kids are super important to us and we want to encourage them to be creative and follow their dreams just like we're doing."