Archived News
The Wait of War
Wednesday, September 28, 2016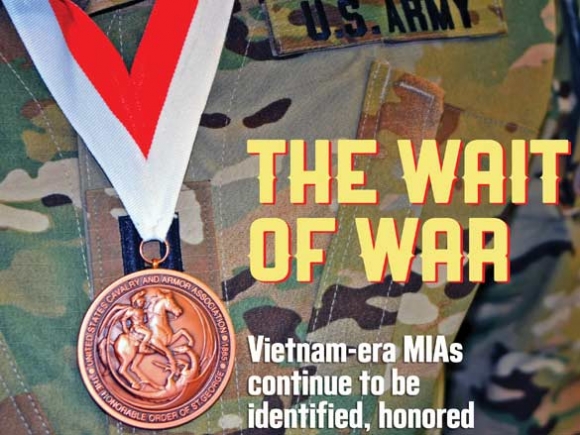 It is known by many names.
Some call it the Second Indochina War. Some call it the Resistance War. Some call it the American War.
Whatever it's called, the Vietnam War — as Americans call it — was still a war with winners and losers and losses. And those losses — the human toll of combat — can leave family members waiting generations for emotional scars to heal.
But one local woman born at the height of the war who never really knew her father got a small bit of closure last week, almost 50 years after he went missing in combat in Quang Tri Province, South Vietnam.
They send you down to war
As the world recovered from the ravages of World War II, the globe's only two nuclear powers became locked in an ideological conflict whereby neither could use their weapons of mass destruction against the other without the mutual assurance that they too would be destroyed.
Thus the Soviet Union and the United States engaged in a series of proxy wars pitting their allies and their puppet, client and satellite states against each other while avoiding direct conflict that could lead to outright thermonuclear Armageddon.
From 1946 on, Vietnamese guerillas — backed by the Chinese, backed in turn by the Soviets — fought to erase a 100-year French presence in Southeast Asia.
By 1954, their success in that endeavor split Vietnam between communist north and capitalist south, and as the 1950s drew to a close, Viet Cong insurgencies in the U.S.-backed south caught the eye of Senator (soon, President) John. F. Kennedy.
Beginning in 1960, U.S. troop commitments to the region began to increase; in 1960, just 900 soldiers were stationed in the theater of operations, but that number swelled to more than 23,000 in 1964.
As the North Vietnamese Army stepped up its conventional attacks in concert with the asymmetrical actions of the Viet Cong, American air superiority was no longer enough to stem the red tide of North Vietnamese territorial acquisition, and the conflict entered a deadly new phase.
The old military credo "you don't own it if you can't defend it" demanded boots on ground.
After a 1965 skirmish in the Gulf of Tonkin — during which a Vietnamese swiftboat engaged an American destroyer — a major shift in public opinion swept through Washington, and troop levels increased by a factor of six to more than 180,000.
That number doubled the next year; the year after that, another 100,000 troops were added until the American deployment in Southeast Asia peaked at 536,000 troops in 1968, most of them directly involved in or supporting the type of seek-and-destroy infantry missions commonly depicted in movies like "Platoon" and "Full Metal Jacket."
But it was nasty business. The Viet Cong and NVA were clever and formidable adversaries who had been fighting on their home turf for more than 20 years by 1968. The region's lush foliage and swampy lowlands provided them innumerable choke points and ambush opportunities that nearly rendered American technological superiority useless.
Fighting was brutal, bloody and sometimes hand-to-hand, which is why by the time American military involvement in Vietnam ceased in 1975, more than 153,000 Americans had returned wounded, more than 55,000 had returned in thick black zippered bags and more than 2,600 hadn't returned at all.
Master Sgt. James Holt was one of them.
Star-spangled eyes
James William Holt was born in Hope, Arkansas, two months before the Japanese attack on Pearl Harbor in 1941. The youngest of seven, Holt grew up on a farm.
"He was a fighter, you know, he had to get through all them older brothers," laughed Holt's daughter, Rebecca. She last saw her father sometime just before her fifth birthday.
"I don't remember him much, just a few things," Rebecca said.
On Feb. 8, 1968, Holt — a combat medic in Company C, Detachment A-101 of the 5th Special Forces Group of the United States Army — found himself and his fellow Green Berets in imminent danger.
Days earlier, the Tet Offensive caught U.S. and South Vietnamese forces completely by surprise; as the largest military operation of the war up to that point, the offensive succeeded in taking the city of Hue and besieging a U.S. Marine Corps base at Khe Sanh.
Both were important impediments preventing the North Vietnamese Army from threatening the heavily populated, clear-water coastal areas of South Vietnam.
The situation in Khe Sanh left Holt and his comrades — who occupied nearby Lang Vei Special Forces camp — isolated and exposed.
Just 2,000 yards from the Laotian border in northwest South Vietnam, Holt's camp was located on Highway 9, which entered Vietnam from Laos and had been used by the Viet Cong as a surreptitious way to supply guerilla forces in the south.
Just after midnight, Holt and his squad mates were astonished to see two Soviet-built North Vietnamese T-76 light amphibious tanks rolling through the wire of their southern perimeter, and rightfully so — it was the first time during the war that Americans had ever faced NVA tanks.
Holt destroyed them both.
Manning a breech-loading single-shot 106 mm anti-armor cannon, Holt saw more tanks grinding their way past the flaming husks of the first two, and proceeded to destroy a third.
Holt, who by this time had been joined by the unit's intelligence sergeant, then ran to the ammunition bunker searching for more rounds, escaping only moments before his weapon was destroyed by return fire.
It was the last time anyone saw him alive.
"He volunteered for all of this," Rebecca said. "He wanted to be a doctor."
No fortunate one
It had been presumed that Holt was killed in the ammunition bunker, unseen by any who survived the Battle of Lang Vei, which ended up being a decisive North Vietnamese victory.
But no one really knew for sure, and Holt's wife and family held out hope, waiting for him to one day return.
Around 1975 as Americans exited the region for good, they realized that James Holt — husband, father, Green Beret — wasn't among the prisoners released by the NVA.
In fact, at the time 2,606 other American soldiers were unaccounted for and classified as MIA — Missing in Action.
Hailing from all walks of life and all corners of the country, some of the American dead were unidentifiable, some were given a decent burial by locals, and some, like Holt, simply remained where they were felled.
In North Carolina, 26 MIAs have since been accounted for, leaving 39 still missing to this day; of those, 18 are suspected to have been killed in action, and the other 21 — like Waynesville's Frederick M. Hall, the only known Vietnam-era Haywood County MIA — are presumed dead.
Little transpired between Holt's final day in 1968 until the late 1980s, when a thaw in U.S.-Vietnam relations precipitated a series of unilateral transfers of remains from Vietnam.
Among those remains were bone fragments from Holt, but with the technology available at the time, they were unidentifiable.
"He was a very young man when it happened — 26 years old," Rebecca said. "And he laid in the ground for all them years."
So from 1989 on, his anonymous remains rested in "respectful storage" at the U.S. Department of Defense's Central Identification Laboratory in Hawaii.
"DNA technology tends to make major leaps about every five years or so," said Matt Kristoff, a retired lieutenant colonel with the United States Army who currently works in the Defense POW/Missing Personnel Office of the Secretary of Defense.
Holt's remains were finally identified in 2014 thanks in part to new technology and procedures discovered during his repose in Hawaii, and in 2015 Holt finally took his place among this nation's honored dead in Arlington National Cemetery.
Although burial at Arlington was among the highest honors Holt received, it wouldn't be his last.
Kristoff travelled from Arlington, Virginia, to the Clyde Volunteer Fire Department on Sept. 24 to present Holt's daughter Rebecca with the Order of St. George on behalf of the U.S. Cavalry and Armor Association.
According to legend, St. George was a member of Roman Emperor Diocletian's personal protection unit. When Diocletian ordered the suppression of the still-nascent Christian faith around 302 A.D., George tore down public notices of edicts, and was executed and later canonized for it.
St. George is the only Christian saint depicted mounted atop a steed and thus has been for centuries the patron saint of cavalrymen and, since the industrial revolution, armored units like tanks. His colors — red and white — have likewise found their way into armored regiments across much of the Christian world.
Based in Columbus, Georgia, the U.S. Cavalry and Armor Association seeks to "preserve and foster the spirit, the traditions, and solidarity of the Cavalry and Armor in the Army and Marine Corps of the United States," according to their website.
But Holt wasn't a "tanker," as they say. So how did he come to receive posthumously that lustrous bronze medallion slung from a red-and-white ribbon?
"It's an award that's really only for cavalry and army guys," Kristoff said. "And he was an infantryman but more specifically he was Special Forces — a Green Beret. So it's highly unusual for this award to be approved from somebody outside of our branch."
Kristoff said that when the board of directors of the USCAA learned of Holt's conduct during the Battle of Lang Vei, they took just one day to approve his "unprecedented" award.
"Frankly, he performed to the standard that the very best tankers and cavalrymen perform," Kristoff said. "His actions spoke for themselves."
Wave the flag
As of May 2016, more than 1,600 families still wait for word that their Vietnam-era loved ones have been located, identified and repatriated, just like Rebecca Holt did for 48 years.
"It was because I didn't understand," she said of the anger and dismay she'd held on to all those years.
In the mid-'70s Holt's family left Fayetteville for Florida, in part to escape the heavily militarized atmosphere surrounding the most heavily populated military base on Earth, Fort Bragg.
Rebecca mostly grew up there, and all that time she waited for definitive word on her father's fate.
And when it finally came, the grief — which was not just a single event but rather an ongoing occurrence — finally gave way to a revival of the achievements, the honor and the honors of her late father.
"I was bitter for many years," she said. "But now I'm proud."
Fred Hall: Waynesville's Missing Man
Carved on row 63 in panel 27W of the glossy black stone wall that buttresses a small hill at 5 Henry Bacon Drive NW in Washington, D.C., is the name Fredrick M. Hall, Waynesville's only Vietnam-era MIA.
Born in 1943, Hall served with the 390th Tactical Fighter Squadron of the 366th Tactical Fighter wing of the 7th Air Force. A weapons system officer, First Lt. Hall went missing after his F-4 Phantom departed Da Nang on a bombing run April 12, 1969, not far from where the borders of Vietnam, Laos and Cambodia come together.
Crewmen on two other aircraft that were also part of the mission reported seeing Hall's Phantom enter a cloudbank and disappear. Hall was promoted to captain while missing, and declared legally dead in 1978. Neither Hall's nor pilot Ernest Desoto's remains have ever been located.
Desoto's name is carved on row 62 in panel 27W of the Vietnam Veterans Memorial Wall, not far from Hall's, among 58,193 others.