Archived News
TVA houseboat policy scrutinized during congressional hearing
Wednesday, September 28, 2016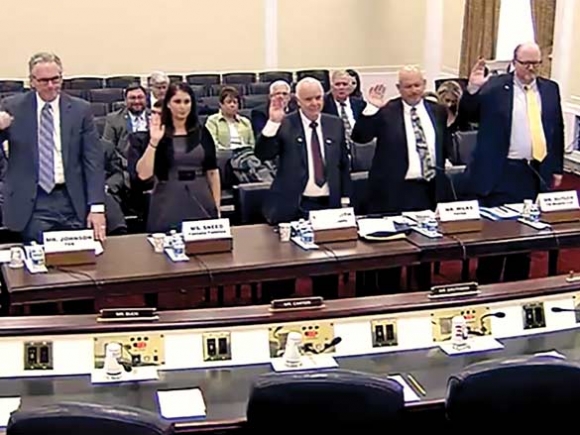 The Tennessee Valley Authority leadership fielded some tough questions from members of Congress last week in Washington, D.C., during a Subcommittee on Government Operations hearing.
There were some questions TVA wasn't able to answer regarding its recent board decision to get rid of 1,800 houseboats on its 49 reservoirs within the next 30 years. Even though more than 3,700 people have signed an online petition opposing the TVA's decision to sunset all floating homes, TVA President and CEO Bill Johnson couldn't tell the committee how many complaints it received regarding houseboats staying on the lakes.
Johnson said TVA staff studied the issue for more than two years and held numerous public hearings before issuing its recommendations to the board.
Rep. Mark Meadows, R-Cashiers, who also chairs the subcommittee, told Johnson that a decision to displace 1,800 families who invested thousands into their homes usually isn't made lightly. After closely examining the legislation that created the TVA as a federal corporation in 1933, Meadows also said he thought the TVA was overstepping its authority and was punishing many homeowners when the TVA hasn't enforced its own houseboat regulations since 1978.
"Now, I've said this before, and I will say it again — this is yet another example of the federal government getting involved without seriously evaluating the consequences placed on taxpaying families," he said. "And as we will hear in testimony today, those impacted — some of whom have lived on these reservoirs for generations — feel genuinely outraged and misled."
The fact that Johnson and his chief of staff couldn't give a definitive answer on how many complaints it received didn't sit well with some subcommittee members.
"We're a complaint-based system and you don't know how many complaints TVA has had?" asked Congressman Gerald Connolly, D-VA. "Bad policies are made over reacting to a few complaints."
Johnson said he would find out the number of complaints and send it to the subcommittee.
Before the TVA board voted on the new houseboat policy in May, the board heard almost three hours worth of public comments from people — a majority were against the sunset provision while only two people spoke in favor of it. Meadows and other congressmen representing Western North Carolina issued letters of opposition to the TVA regarding the sunset in an effort to reach some kind of compromise, but Johnson made it clear the board wasn't going to budge.
Meadows said the provision would affect more than 350 houseboats on Fontana Lake alone. The loss of revenue from personal property tax and sales tax would be devastating for Swain and Graham counties' economies, which rely heavily on tourism and outdoor recreation. Marina operators say they would lose at least half of their business if the houseboats were forced off the lakes.
"I am very concerned that with the public outcry I'm hearing, that other congressmen are hearing, and that you've seen, that this was an arbitrary decision that was not based solely on the number one priority you have to produce low-cost energy for the region and to create jobs — if anything this is a jobs killer," Meadows said to Johnson at the hearing. "It seems to me to be very poor decision-making."
Why the sunset?
The TVA board adopted new houseboat policies in May to ease safety and environmental concerns on its lakes. Under the new guidelines, houseboat owners will have to meet more stringent standards and pay new permit and enforcement fees to the TVA. While houseboat owners have been amenable to meeting new standards and even paying more fees to stay on the lake, they've had a hard time understanding why the TVA had to go so far as to sunset their homes in 30 years and force them to remove their homes at their own expense.
Houseboats have been permitted on TVA lakes all over the Southeast since the early 1940s. In 1978, the TVA prohibited the permitting of new houseboats and grandfathered in the existing 900 or so structures. However, TVA's lack of enforcement for the last 30 years has resulted in proliferation of these floating homes on TVA lakes.
With more than 900 houseboats that are not permitted, Johnson said the issue needed to be addressed before it gets worse. He admits that TVA did not enforce the rules for many years before he took the helm in 2012 and referred to the problem as one of many "legacy issues" the TVA was trying to resolve.
"It did not develop overnight and cannot be fixed overnight," Johnson said during his opening remarks. "But TVA and the TVA board have a responsibility to address difficult issues on behalf of the nine million people we serve in seven states."
TVA's main priorities are to provide affordable electricity to the region and create jobs, but Johnson said TVA legislation also states the federal corporation has a responsibility to be a good steward of the natural resources entrusted to it.
Johnson said TVA staff has heard numerous complaints about the environmental and safety issues that floating homes pose on its lakes, but TVA staff particularly became concerned when they started seeing marketing materials for a proposed 200-home subdivision to be constructed on one of its Tennessee reservoirs. The bottom line, according to Johnson, is that allowing houseboats on TVA lakes creates an issue of allowing private ownership of a public resource.
"There are many differing viewpoints of this issue. We acknowledge it is a personal and emotional experience for many," Johnson said. "The TVA board, using its authority in the TVA Act, believes it has struck a balance in approving a policy that represents the varying interests and seeks to protect the natural resources entrusted to TVA's care."
Michael Butler, CEO of the Tennessee Wildlife Federation, also testified at the hearing in support of TVA's sunset on houseboats. Butler said allowing private ownership of a houseboat on public water impeded the public's ability to access those waters and can also pose health and safety problems when not installed or maintained properly.
"While some may argue that wastewater and electrical safety can be adequately regulated, the sheer fact that hundreds of these structures were located on public reservoirs without any permitting or oversight, over a handful of decades, in direct violation of federal rules, is a clear statement that many of the people building these structures are not concerned with following the rules and regulations that govern them," Butler said during his testimony.
WNC stakeholders testify
Laura Sneed of Cherokee and her family own two pre-1978 permitted floating homes on Fontana Lake. As the driving force behind a grassroots effort to get the TVA to rethink the sunset provision, Sneed was asked to testify before the subcommittee.
She said her family went to great lengths to make sure they were following TVA guidelines by purchasing homes grandfathered in and properly permitted through the TVA. They spent thousands of their savings to renovate the homes and bring them up to current standards for septic. After all that work, Sneed said the TVA board's decision left her in complete dismay.
"I was completely shocked and devastated as I never imagined we would lose our floating homes, especially since we followed the rules, paid $1,000 in fees and received Section 26a permits from the TVA," she said.
Sneed said she wasn't against reasonable regulations and even paying more fees. While her family can afford an increase, she said the new fees and permitting process would have a greater impact on other lake families who can't afford it. Despite stereotypes of rich people living on the TVA lakes, Sneed said Fontana was different.
"These floating homes afford everyday people the ability to enjoy the lake regardless of their income status," she said. "The floating home community is a unique collection of owners, including an EMS worker, a North Carolina State Trooper, a registered nurse, a school bus driver, a chemical engineer, a college professor, tribal employees of the Eastern Band of Cherokee Indians, retirees, numerous former members of the United States military and many others."
And despite the TVA's assertion that houseboats are polluting the lakes with raw sewage, Sneed said TVA has shown no water quality testing to prove that is true in Fontana Lake. As part-time residents on the lake, she said she and fellow owners take great care of the lake.
"As a loving and protective mother I would never allow my children to swim in the lake if it was not safe," she said.
Commissioner gives history lesson
Swain County commissioner and native David Monteith also traveled to D.C. to testify before the subcommittee and give them a brief history lesson of what the federal government has taken away from Swain County throughout the years.
Swain County has lost more than 44,000 acres with the creation of the national park, causing thousands of Swain residents to lose their homes.
"Today 86 percent of Swain County is federal land, meaning the county must rely on diminished territory — only 14 percent of the total county — to fund the schools, roads, emergency responders and other functions of county government," Monteith said.
The TVA took another 11,000 acres from Swain and Graham in the midst of World War II to build Fontana Lake. People were told power from the dam would be used to help build a bomb that would help the U.S. win the war.
"Yet again, the citizens of Swain County were forced off of their land through a combination of social pressure and legal action, even when they were unwilling to sell their property," Monteith said. "District Court Judge Edwin Yates Webb ruled that it is illegal for one branch of the federal government to condemn land in order to give that land to another branch of the federal government, yet the federal government proceeded anyway."
If houseboats are removed, Monteith said, Swain County would lose $3 million in valuation and more than $12,000 in annual tax revenue. He said that's a lot to give up considering the TVA doesn't provide low-cost electricity or flood control to Swain or Graham County.
More pressing issues
Meadows said he just couldn't understand why TVA would focus so much time on the houseboat issue when it had so many other pressing matters to address.
"Instead of focusing on this policy, the TVA, in my opinion, should focus its energies on its critical priorities. For example, providing electricity for business customers and local power distributors serving nine million people in southeastern states," he said in his opening comments. "Instead of displacing homeowners, perhaps TVA should be focused on its current effort to sell a nuclear plant, which by some public accounts is being sold for $36 million despite having cost $5 billion. Or, for example, continuing to clean up the Kingston Plant coal ash spill that contaminated the drinking water of over one million people."
Meadows wasn't the only committee member who took issue with the TVA's decision to do away with all houseboats.
Subcommittee Vice Chairman Tim Walberg, R-Michigan, said lakes in Michigan allowed houseboats and created reasonable regulations to avoid environmental and safety concerns. He also took issue with the TVA's other problems that he said should take priority over houseboats. With $6 billion in unfunded retirement pensions and heavy debt, Walberg asked how the TVA could pay its top executive 15 times more than President Obama's salary or 30 times more than the Secretary of Energy makes in one year.
"TVA has a staggering amount of debt, which as a federal government corporation has contributed to the federal deficit as well," he said. "Taking that into account, wouldn't you consider a million dollar compensation package for TVA executives excessive?"
As the largest utility provider in the country, Johnson said it was necessary to pay its leaders well.
"We operate seven nuclear plants. We've got to get the talent and to do that, we have to pay them," he said.
At one point during the hearing, Meadows asked Johnson how much he made annually including bonuses.
Johnson said he made $4.5 million a year in his position with the TVA. He added that all corporations have unfunded liabilities and that TVA was in good financial shape.
"Look at the last couple years, we've made tremendous improvement — I'd put our performance up against any utility in the country," he said.
As a government entity, Walberg said the salaries were still too high considering the amount of debt the TVA has accumulated. While he doesn't support unlimited personal freedom for the folks who purchased houseboats, he said he expected "some type of reasonable care for the personal liberty we all believe in," especially for those houseboat owners who have a legal permit from the TVA.
Meadows also said he was surprised with the TVA's attempt to sell 1,600 acres of riverfront property with no regard to how the buyer may use the property in the future. The TVA invested $5 billion on the nuclear plant property and is willing to accept a minimum bid of only $36 million. If TVA is so concerned about being environmental stewards, Meadows questioned why TVA wasn't as concerned about potential pollution into the river.
Johnson said a large buffer along the river was not included in the property for sale.
Not a Fontana issue
Houseboat supporters argued many of the issues TVA is concerned about don't even apply to Fontana Lake — and Johnson agreed. When asked by Meadows if he had seen any safety or environmental issues when he visited Fontana six weeks ago, Johnson said, "No. Fontana is the best as far as anchorage safety and environmental issues."
Monteith led a charge about 15 years ago through the Fontana Lake Waste Recovery Organization to improve the water quality on Fontana. The organization was able to secure $700,000 worth of grants through several agencies, including the TVA, to purchase pump-out boats and waste tanks for all the marinas. Since Swain and Graham counties both passed ordinances requiring houseboat owners to have a septic pump-out contract, multiple water tests show the water quality has vastly improved. They are also responsible for paying county taxes, unlike some houseboat owners on other TVA lakes.
"Swain County and Fontana Lake residents have independently taken great steps to preserve their lake, and I would hope that these positive and proactive actions are not met with a mandate that residents abandon their homes," Monteith said.
Meadows said TVA should take Swain and Graham's model and make it a requirement on all TVA reservoirs.
"Let's identify the barriers to fix the problem and dispense with pontification of what might happen in the future," Meadows said to Johnson.
Johnson said there was still the issue of allowing private use of public resources in perpetuity by not putting a sunset clause on houseboats.
Since the TVA already leases space to the marina owners, who then manage the houseboats within its harbor, Meadows argued that the TVA is already allowing private use of public resources. What makes the houseboats any different?
Butler said the difference was that houseboats were permanent residents — though Meadows countered that no one lived in their houseboat on a full-time basis. Meadows threw out the idea of exempting Fontana Lake from the TVA's sunset policy or even getting rid of the sunset provision altogether and letting local counties manage the health and safety of these lakes.
"Is it not a reasonable request to do this for the benefit of floating house owners or do you have such a burr in your saddle that you want to get rid of them no matter what?" Meadows asked.
"I just don't like the permanence of (floating homes)," Johnson replied.
Connolly agreed no one has permanent rights to public waters and floating homes out of compliance should be forced to leave. He encouraged the TVA to figure out a way to assert its public use principle without harming people.
In closing, Meadows emphasized what the sunset would mean for depressed counties like Graham and Swain.
"The population doesn't grow because there's no new jobs and you're talking about taking more jobs and when that happens in my backyard what you experienced today is just the beginning," Meadows said to Johnson. "I've got to stand up for the people I represent."
He then asked Johnson if the TVA planned to compensate floating homeowners when they have to remove their homes in 30 years, especially since the TVA has failed to enforce its own regulations.
"I doubt that will be the case," Johnson said.
"Yeah, I doubt it too," Meadows said before adjourning the hearing.