Archived Reading Room
A rollicking debut novel with a Hemingway twist
Wednesday, September 21, 2016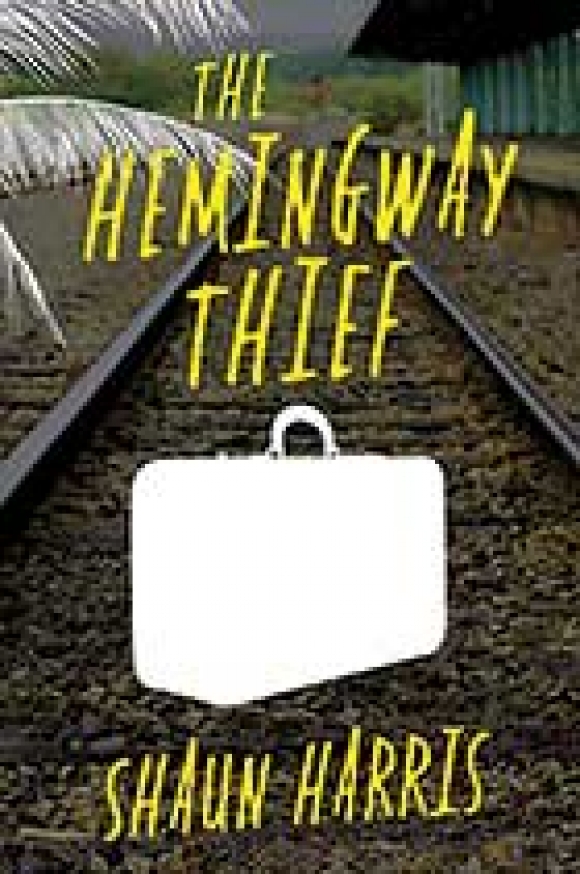 In December 1922 Hadley Hemingway set out from Paris to join her husband Ernest, then a newspaper reporter and an unpublished writer of short stories, in Lausanne, Switzerland. With her Hadley took a valise filled with her husband's stories, including the carbon copies. While still in the Gare de Lyon in Paris, Hadley stepped away from her baggage to buy a bottle of Evian water. In that short time a thief stole the valise and with it all but two of Hemingway's early stories. Hadley never forgave herself for her carelessness, and Hemingway, unable to believe that his wife had packed everything in the suitcase, actually returned to Paris to their apartment to search fruitlessly for remaining pages of poems and stories.
Though Hemingway later said the theft was probably for the best in that it rid him of the dross of his youthful writing and forced him to dig deeper into his ideas regarding style and subject matter, that valise and its cargo of writing would today be worth their weight in gold.
In The Hemingway Thief (Seventh Street Books, 2016, 238 pages, $15.95), Shaun Harris tells the story of four men in the wilds of Mexico who band together to search for Hemingway's missing manuscripts, brought into that country long ago by the man who had stolen them. There is Grady, a former cop and now owner of a dilapidated hotel; Ebbie Milch, a descendant of the original thief and a grafter himself; Digby, who goes by many names and who has killed many men; and the narrator, novelist Henry "Coop" Cooper, who has struck gold in the publishing world by publishing a series of vampire romance novels.
Ashamed of his writing — he is, after all, a romance novelist — Coop travels to Mexico to reassess his career and his life. There he befriends Grady, who becomes his drinking partner and confidant. The two of them become involved with Milch when he is badly beaten by two men in search of a rough draft of Hemingway's A Moveable Feast, which Milch has stolen from a crook and a rare book dealer, Thandy. Digby, who until that time seems little more than the hotel's concierge, turns out to be the key man in the quartet with his knowledge of the countryside, his understanding of the cartel operations, and his coolness under fire.
From that point on, The Hemingway Thief takes readers on a wild ride through the brutal, blood-stained mountains and mesas of a Mexico where the cops and soldiers are on the take, where drug cartels rule and the men who operate them operate by a bizarre code of honor, where life is as cheap as a set of plastic cups from WalMart. Coop, who castigates himself all the time for writing romance novels, mistrusts his own masculinity and as a lark joins the expedition to track down the manuscripts mentioned in the draft of A Moveable Feast. Soon he discovers hidden reservoirs of strength hidden within, suffering the harsh environment of the Mexican outback, facing death every day, mistrustful of his comrades and hunted by several enemies, including La Donde, a female assassin who never fails to take down her target.
Adding to the fun of this action-packed novel are the humor and the many references to Hemingway. Coop, for example, often references movies and television shows to make his points to others, illustrations that often sail past the heads of his listeners, and Harris brings various pop songs and contemporary artists into the story. Grady, who unlike Coop has seen his share of fistfights and gunplay, brings a droll wit to the page. After a car accidentally strikes Dell, a murderous thug who is about to kill Grady and Coop, Milch asks Grady what killed Dell. "Lack of situational awareness," Grady says.
Some of the humor depends more on circumstance and description than on sharp dialogue. Near the end of the book, when a marijuana cultivator, Dutch, drives Grady, Coop, and Milch to the last stop in their search for the suitcase, Harris makes their bumpy ride an act of comedy:
"It was only a 15-mile drive, but Dutch thought it would take about an hour. The road was a smattering of dust and rubble spread over a series of rocky shelves that looked like they'd been under mortar attack for the last twenty years. Dutch manhandled the gearshift with gusto, turning the wheel like he was steering a teacup at Disney World. My tailbone slowly made its way toward my brainstem, and I knew I would be at least half a foot shorter by the time we got to the camp."
Those familiar with Hemingway's life will find little new here, but may still take pleasure in revisiting parts of Papa's life, especially scenes and figures from A Moveable Feast. Harris also has some fun with readers by taking his titles for the four parts of the book from Hemingway's short stories: "In Another Country," "The Killers," "A Clean, Well-Lighted Place," and "The End Of Something."
The Hemingway Thief is Shaun Harris' first novel. It's a fine book, a rollicking adventure story that keeps the reader intrigued, laughing, and turning the pages.
(Jeff Minick is a writer and teacher.
Reach him at This email address is being protected from spambots. You need JavaScript enabled to view it..)