Archived Arts & Entertainment
Finding the root of your rhythm
Tuesday, September 20, 2016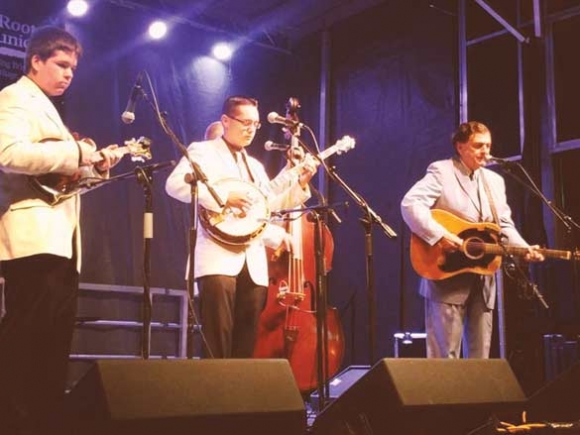 The RPMs hovered around 4,000, the truck huffing and puffing up the steep hillside.
Approaching Sam's Gap (elevation 3,760 feet) on Interstate 26, I wondered if my old GMC Sonoma (aka: "Grace") would be able to reach the crest before stalling out and rolling back down into rural Madison County. With Asheville and greater Western North Carolina fading into the rearview mirror, the blazing Friday afternoon sun began to fall behind the Bald Mountains nearing the Tennessee state line.
Some four years ago, Grace and I were barreling down this same road, but in the opposite direction, with Waynesville in our crosshairs — an unknown community at that time, as I relocated from Upstate New York to Haywood County for work. And now, here we are, pushing towards Bristol, Tennessee, before nightfall, in an effort to cover the Bristol Rhythm & Roots Reunion later that evening, and also the Western Carolina University/East Tennessee State University football game the following afternoon.
Tell it from the mountain
Cruising into downtown Bristol, State Street was abuzz with thousands of music lovers, proud locals, and those lucky enough to just stop and say they were "passing through and happened to come across all of this." As the state line of Tennessee and Virginia is drawn right down the middle of State Street, so is the mayhem, with the raucous nature of the festival leaning more to the southern side than the northern side of the centerline.
Turning a corner, the Country Mural Stage suddenly appeared. Bluegrass legend Larry Sparks was finishing up his set while Balsam Range were tuning up their instruments backstage. The 2014 International Bluegrass Music Association "Entertainer of the Year" winners, the Haywood County natives have seemingly won every award at the IBMAs over the better part of the last decade. But, that doesn't mean it is "old hat" to them to once again be nominated in several key categories at this year's ceremony, kicking off next week in Raleigh.
"Ah, it's just great to be able to do what we get to do, day-in-and-day-out," Balsam Range bassist Tim Surrett said in his usual humbled tone. "And being here, headlining this stage at Bristol, well, it's just an honor."
When I first stepped foot in Haywood County in early August 2012, my first assignment (within my first hour being in town) was to interview Balsam Range, and to cover their album release party for the acclaimed "Papertown" at the Colonial Theatre in Canton. And during those four years since then, the band has grown, professionally and spiritually, to where now the quintet continues to spread their message of Western North Carolina culture into seemingly every far corner of this country. And I also find myself, within that same timeframe and process, planting deep roots of my own being into the rich and bountiful soil of Southern Appalachia.
Watching Balsam Range up there, captivating yet another crowd, it's surreal to see just how far they've come, from personal obstacles to simply taking to the open road each and every weekend, playing hundreds of shows a year, all while holding down full time jobs back home — in the office, on the farm, or in the studio.
Keep pounding
Entering the enormous parking area for the Bristol Motor Speedway, beads of sweat slid down eager faces flocking into "The Last Great Colosseum," climbing up the endless steps to their seats. Feeling like a pan on a stove moments before you drop an egg into it, the scorching football field played host to its second college football game in as many weeks.
Although the previous University of Tennessee versus Virginia Tech matchup brought in just under 160,000 people in attendance, the WCU game hovered somewhere around one-tenth of that for their head-to-head with ETSU.
"We've played big games in big stadiums before — Tennessee, Alabama," said WCU Coach Mark Speir. "And our players know how to not get distracted in those situations. Our only focus for this game is ETSU and how we can come out of this game with a victory."
When I initially arrived in Western North Carolina, Speir was entering his inaugural season at the helm of the Catamounts in 2012. At that time, the team was in the basement of the Southern Conference, posting a 1-10 (0-8 SoCon) record in 2011. And during his short tenure, Speir has brought the team to prominence, with 7-5 (2014) and 7-4 (2015) records in recent years. To put that in perspective, the Catamounts finished in ninth place in the SoCon in 2012, but second in 2014 — an impressive feat for a program thought to be left in the dust by a once disenchanted alumni and student fan base, only to now have large crowds of "Catamount Nation" packing E.J. Whitmire Stadium in Cullowhee.
"Certainly the expectations have changed. It's a fun process, and it's a hard process, to build a consistent team that's winning," Speir said. "We're a team right now that our opponents know that they'd better prepare or they're going to get beat. The entire 'Catamount Nation' has been unbelievable, where everyone has created such a supportive and positive atmosphere. We're 11-1 at home over the last couple years — every year we're building towards that SoCon championship."
In their first Southern Conference football action since 2003, ETSU has been chomping at the bit to gain some traction as a legitimate football program in Southern Appalachia and the greater Southeast. Following the kickoff, WCU held court as they went up and down the field, ultimately garnering a 21-3 advantage heading towards the end of the first half. But, with 00:04 left, ETSU crossed the end zone, with the scoreboard reading 21-10.
The second half didn't fare much better, with ETSU coming out of the gates ready to take possession. The Buccaneerss scored two unanswered touchdowns in the third quarter, up 34-24 before WCU rallied, making it 34-31 before the last seconds on the game clock ticked away. WCU walked away without a win, though the two programs each held their heads high — shining examples of coming back from the brink. They're both ready now more than ever to compete and hoist glory above them — the blood, sweat and tears they shed each day, on the field and in the classroom.
Onward and upward
Pulling out of the Bristol Motor Speedway, I merged onto the state highway, ultimately hitting the onramp for Interstate 26 East. Back to North Carolina. Back to Haywood County. Back to Waynesville. Back to all that is familiar, all that is (now) home.
Cresting over Sam's Gap, I thought about the last time I found myself throwing Grace into a lower gear on this downhill, in 2012, when I was 27 and in search of the next step — whatever and wherever that meant.
I thought of Balsam Range, and also of Western Carolina University. I tapped the brakes on the curves, pushing down the pedal on the straight-aways. A lot has changed in the last few years, for all of us, and all for the better, as the people, places and things of Western North Carolina continue to evolve, create, and, ultimately, find solid ground in a modern era of uncertainty and doubt. Whatever the case — whether it be bluegrass or football, or even journalism — we're all immersed in the natural beauty and wonder of our own backyard, something that also has radiated outward to any and all curious enough to see what "we're all about."
Daydreaming and cruising back into Western North Carolina, I could see Asheville in the distance down below, as elusive and mesmerizing as that first time I laid eyes on it as some lost New Yorker looking for a place to call my own. My gaze soon drifted to the nearby mountain ridges dotted with orange and red bursts among the green leaves of a summer quickly retreating — change is ah-coming, get ready for it, y'all.