Archived Reading Room
Putting a face on the growing white underclass
Wednesday, September 14, 2016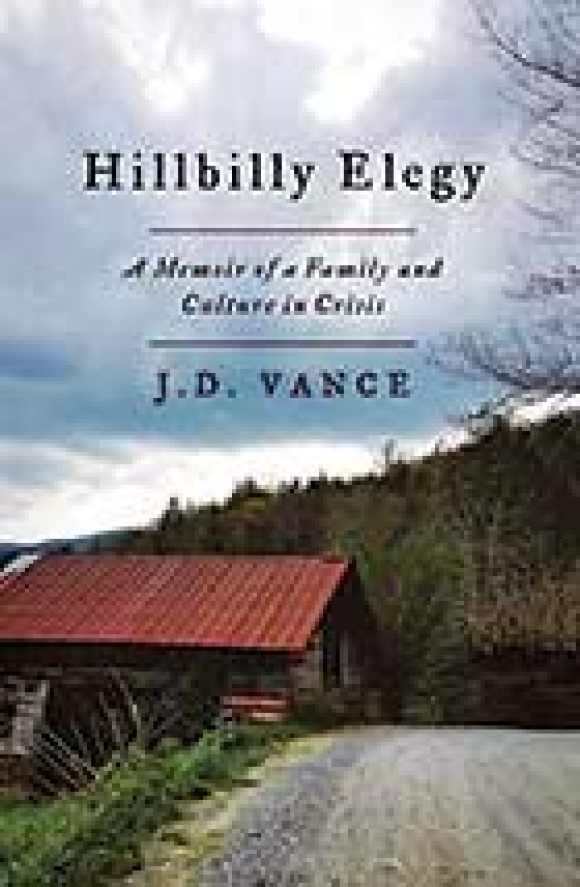 For decades, the lot of poor white Americans has worsened. Marriage rates have plummeted while out-of-wedlock births have skyrocketed. Unemployment, particularly among young white males of this class, is endemic in many small towns in the Midwest and South. Particularly disturbing are the death rates in this group for men ages 30 to 65. Poisonings, suicide, and liver disease have lowered the life expectancy of these men, a fact that one commentator found "unprecedented" in modern times in America.
In 2012, Charles Murray addressed these problems in Coming Apart: The State of White America, 1960-2012. His research revealed the growing gulf between America's elites and its large underclass, the poverty and harsh living conditions of that underclass, and the difficulty in overcoming the attitudes of despair among the poor.
In Hillbilly Elegy: A Memoir of a Family and Culture in Crisis (HarperCollins, 2016, $27.99, 264 pages), J.D. Vance puts a face on Murray's statistics.
Vance grew up in a working class family with one foot planted in Kentucky, the other in Middletown, Ohio, which even in Vance's boyhood — he is 31 years old — was becoming a part of the Rust Belt. The son of an abusive and drug-addicted mother and an absentee father, grandson to two crusty old people who eventually took him into their home and showered him with love, Vance shows us in Hillbilly Elegy how he made his way out of the culture in which he was raised, enlisting in the Marines, attending college, and entering Yale Law School. His Mamaw, a feisty woman who could turn the air blue with curses one minute and quote Scripture in the next, and who at the age of 12 shot a man trying to steal the family's cow, was, as Vance says, his savior during his high school years: "There was always a safe place and a loving embrace if ever I needed it."
But Hillbilly Elegy is more than the story of a young man overcoming adversity. It is, as the subtitle of the book states, a personal look at a culture in crisis. That culture sits in a particular geographic location — Appalachia — and belongs to a particular people, the Scots-Irish. As he entered college and then law school, Vance began reading books addressing the problems of poverty and class — William Julius Wilson's The Truly Disadvantaged, Charles Murray's Losing Ground, and others — but these scholars were writing about black people in inner cities. "It would be years," Vance writes, "before I learned that no single book, or expert, or field could fully explain the problems of hillbillies in modern America. Our elegy is a sociological one, yes, but it is also about psychology and community and culture and faith."
And it is in these areas that Vance's book leaves its mark. J.D. Vance employs few statistics here, few studies. Instead, he writes as an insider and an observer of his family and acquaintances. He reports on what he has witnessed: the drug addiction that has infected the hollers of his beloved Kentucky; the closure of mines and factories; the boarded up downtowns.
More importantly, he shows us the people in these communities. Here Vance takes a different view than one an outsider might offer. Like some blacks, Vance realizes that government programs — welfare, food stamps, Medicaid — have created a permanent underclass. His book calls for his people to begin taking individual responsibility for the disorder in their lives. "Our homes are a chaotic mess;" "We don't study as children, and we don't make our kids study when we're parents;" "We choose not to work when we should be looking for jobs;" "We rarely cook, even though it's cheaper and better for the body and soul;" "We talk to our children about responsibility, but we never walk the walk." These are topic sentences for paragraphs describing the values of many poor whites in Appalachia. And as Vance writes in his conclusion to Hillbilly Elegy, "These problems were not created by governments or corporations or anyone else. We created them, and only we can fix them."
In contrast to those immersed in this dreary lifestyle, Vance offers the examples of his grandparents and some of his relatives and friends. He writes:
"Not all of the white working class struggles. I knew even as a child that there were two separate sets of mores and social pressures. My grandparents embodied one type: old-fashioned, quietly faithful, self-reliant, hardworking. My mother and, increasingly, the entire neighborhood embodied another: consumerist, isolated, angry, distrustful."
In addition to this summons to responsibility, Hillbilly Elegy is a touching memoir, a coming of age account filled with incidents of humor, violence, love, despair, and optimism. It is, in fact, optimism that Vance credits for his salvation. Because of Mamaw's encouragement, at times savagely and humorously delivered, he broke free from the "environmental pressures from my neighborhood and community."
Highly recommended.
•••
A few weeks ago, I wrote here about Jim Harrison, poet, novelist, and essayist, who died this past spring. Readers interested in his work should take a look at Dead Man's Float (Copper Canyon Press, 2016, 107 pages, $23), a collection of some of his last poems. The photograph on the back cover of the book reveals a much-wrinkled, aged man, appearing old beyond his years, yet the poetry retains all the beauty and wisdom found in Harrison's other writings.
(Jeff Minick is a writer and teacher. He can be reached at This email address is being protected from spambots. You need JavaScript enabled to view it..)