Archived Arts & Entertainment
This must be the place
Wednesday, September 14, 2016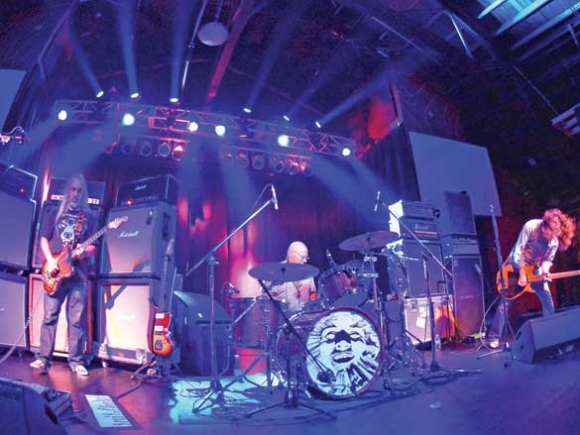 It pushed me back a couple of feet.
Standing in the photo pit at the Dinosaur Jr. show within The Orange Peel this past Sunday, the awe-inspiring sight of six stacked Marshall amplifiers was only matched by the raw power of guitarist J. Mascis six-string thrust radiating over the sold out Asheville crowd.
Formed in 1984, Dinosaur Jr. is looked upon as one of the cornerstones of the modern rock era. A "square peg in a round hole" mesh of punk, metal and classic rock, the power trio launched countless garage bands from Los Angeles to New York City and every single Midwestern city and cow town in between.
To see Dinosaur Jr. firing on all cylinders in 2016 is a testament to their ethos, which has always been, "hell or high water, this what we do — perform and make records." Watching Dinosaur Jr. onstage, it isn't some nostalgia act, nor is it a chance to say you've seen them live. Rather, it's an experience — visually and sonically — that catapults the band and its audience into the forefront of some of the most authentic and artistically jarring music ever conceived.
As Mascis stands within his cocoon of amplifiers (a fitting space for the very private and low-key rocker), he's completely immersed in the moment, which for him is counted in guitar notes and not in seconds, each song — whether three years old or 30 years old — a portal into a reality where time doesn't exist, only the melodies and how those melodies make you feel.
While most of their peers from that punk/grunge era of the late 1980s/early 1990s are either six feet under or have completely dropped off the radar of critics and fans alike, Dinosaur Jr. continues to carry that torch of irresponsible enlightenment, with Mascis the Pied Piper of a generation that grew up alongside the band.
You've got to remember, when Dinosaur Jr. first came onto the scene, there wasn't any Internet or social media. So, for all of us disenchanted youth, those kids feeling out of place or alienation, music was the only way to find solace, and to find ourselves in the process. Each record and song was a message in a bottle from seemingly outer space, a signal from the abyss that you weren't alone, especially in your thoughts and actions.
And it's those signals we're reminded of when you once again cross paths with Dinosaur Jr., either at a venue or on your stereo. In a time when we've never been more connected by technology, we've actually become more disconnected than ever. It's only when you step into the same room with Dinosaur Jr. that you step back in the headspace you always swore you'd never forget. But, you did — we all did — and we can only get back that sanity and sense of self in the presence of songs immortal.
Standing there, in an overflowing sea of humanity at The Orange Peel, I kept looking gazing at those surrounding me. Like myself, and like Mascis up there in his cocoon, they had a lot more grey in their hair, a few more wrinkles and pounds around the edges. But, we're here — we're all still here — still rocking out and trying to navigate this world to the best of our knowledge and ability.
Being part of the last generation of kids who grew up without the Internet, I've always counted myself lucky to be able to separate reality from technology. As in, I found beauty and wisdom, and also heartache and hard-earned truths, while playing outside, getting dirty and discovering the world around me, at least until the street lights came on and it was time to go inside.
And, I think that's what Dinosaur Jr. signifies to me — innocence. When you listen to their music, you hear your younger self within the lyrics and tone, where the attitude and angst were as if Mascis and Co. had you in mind when they penned the tunes. But, while their music captures innocence, it also exposes the loss of innocence, something we as human beings will all experience as the clock on the wall keeps ticking like the miles on the odometer of your life.
Exiting The Orange Peel, we all had a little bit more of a kick in our step, that kind of "devil may care" flare we tend to all too easily forget when the daily grind pushes us down before we ever had a chance to stand tall. But, we continue on, for what the hell else is there to do? Give up? Not a chance, brother. It's as devastating as it is glorious, which is why we keep coming back for more — show after show, day after day.
Life is beautiful, grasp for it, y'all.
Hot picks
1 Acclaimed bluegrass act The Gibson Brothers will perform at 8:30 p.m. Saturday, Sept. 17, at Cataloochee Guest Ranch in Maggie Valley.
2 A cornhole tournament to benefit Big Brothers, Big Sisters will be held at 11 a.m. Saturday, Sept. 17, at BearWaters Brewing in Waynesville.
3 The annual Community Art Exhibit at the Swain Arts Center will be held from 2 to 4 p.m. Sunday, Sept. 18, in the lobby of the center located on the campus of Swain County High School in Bryson City.
4 The last Rockin' Block Party of the summer will be at from 6 to 10 p.m. Saturday, Sept. 17, in downtown Waynesville.
5 The NetWest program of the North Carolina Writers Network will host an open mic night at 7 p.m. Friday, Sept. 16, at City Lights Bookstore in Sylva.