Archived News
Cherokee give $50,000 to oppose North Dakota pipeline
Wednesday, September 14, 2016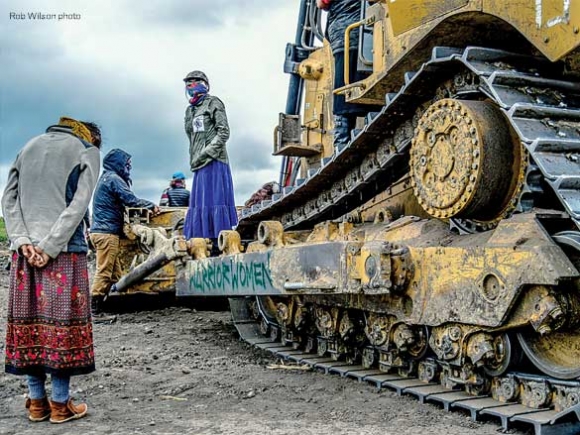 The Eastern Band of Cherokee Indians threw its support behind the cause of the Standing Rock Sioux in North Dakota when Tribal Council voted to give $50,000 toward a legal battle to prevent construction of an oil pipeline north of Standing Rock Sioux land.
"This is an issue of tribal sovereignty. This is also an issue of honoring a treaty. More importantly, it's an issue of water rights," Vice Chief Richard Sneed told council at its Sept. 6 Budget Council meeting. "Where this pipeline is set to cross just north of the reservation, when there is a break that will pollute the only water source."
"It is something that we need to be concerned about," concurred Gil Jackson, a tribal member who Sneed invited to tell council about his trip to support the Standing Rock Sioux. "Water is life and we have to have it. It not only affects those folks in North Dakota and South Dakota, it eventually will affect us. It's an issue worldwide."
The issue stems from a 1,172-mile, $3.78 billion pipeline project by Energy Transfer Partners that would connect thriving oil fields in North Dakota to Patoka, Illinois. The route passes by the Standing Rock Sioux Reservation, and the tribe says that completion would disturb sacred sites and burial grounds, while also endangering the tribe's water supply. A break or spill in the pipeline, they say, would pollute its only water source.
"None of us can eat money, none of us can drink money, none of us can breathe money, so those things are important," Councilmember Teresa McCoy of Big Cove, said in the meeting.
The Standing Rock Sioux have taken the Army Corps of Engineers to court over the issue, claiming that the Army Corps hadn't consulted them about the project as the law requires. Protesters have been camped out along the proposed route to prevent construction from continuing.
"I've been getting texts all morning on this situation, and it was suggested to me that we donate $50,000 to this tribe," Councilmember Alan "B" Ensley, of Yellowhill, told council. "We all know what legal battles cost — $50,000 sounds like a lot of money but it being a legal battle, it's not."
The Standing Rock Sioux lost a round of that legal battle Sept. 9 when U.S. District Court Judge James Boasberg denied the tribe's request for an injunction to halt construction until things finished playing out in court. However, that ruling was swiftly followed by a same-day joint decision from the Department of Justice, Department of the Army and Department of the Interior that construction would stop until the Army could determine "whether it will need to reconsider any of its previous decisions" in light of federal laws.
Sneed was quick to express his appreciation for council's unanimous vote and endorsement of the $50,000 figure — in the resolution he submitted, he'd left the dollar amount blank for council to fill in.
"I'm humbled. I'm honored. Today you demonstrated why we are leaders in Indian Country," he said. "I had no idea or even expected a move of that much. It's impressive."
Sneed told council that he'd like to hand-carry the check to North Dakota. When Principal Chief Patrick Lambert addressed council at another meeting two days later, he concurred with Sneed's appreciation of council's actions and pledged a swift signing of the resolution.
"The feedback from the community at large and Indian Country has been tremendous," Sneed said in Council Sept. 8..
The Standing Rock Sioux are accepting donations to aid their cause at www.standingrock.org/news/standing-rock-sioux-tribe—dakota-access-pipeline-donation-fund.