Archived Opinion
A hint of autumn, a sense of pride
Wednesday, September 07, 2016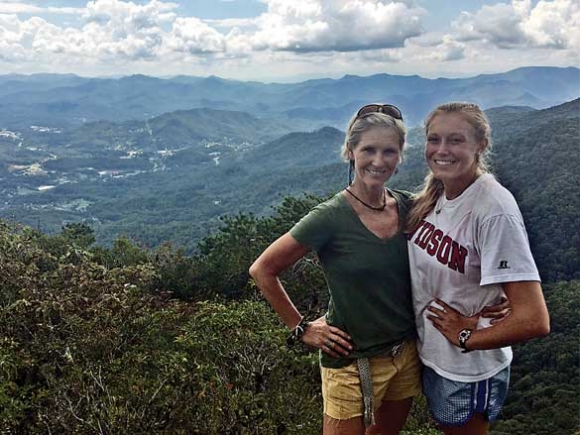 When we got out of the car on Sunday at the parking area in Jackson County at the end of Fisher Creek Road, it was cool, perhaps high 60s or low 70s. Fall is coming, I thought. Despite the favorable temperatures, the walk up the trail toward Black Rock and Pinnacle Peak soon had all of us bathed in sweat, feeling winded and wonderful at the same time.
I'd been on the trail before. That was on a cold April morning a few years back as a pack of crazy trail runners took part in the annual Assault on Black Rock race. The sheer exhaustion I suffered during that run erased any real memory of the trail, and so this time it might as well have been my first time maneuvering up the rocky path.
We walked and talked, my wife and me, my daughter Megan and her friend Sam, deciding along the way to go to Pinnacle instead of Black Rock, me explaining how the land was in an easement and would never be developed, and how an adjacent tract had just been added, a park was in the works with more trails and how some hoped to develop a series of mountain bike trails. I stopped once or twice to splash cool, pure mountain water on my neck and face.
When we approached the top and poked through the rhododendron thicket, we came upon one of those views: Sylva and the courthouse way below, out along N.C. 107 you could spy Smoky Mountain High School, through the gap you could make out buildings on the Western Carolina University campus; looking east was Balsam Gap; behind and above and circling around to right beneath my feet the Plott Balsams, rising nearly 6,300 feet at their highest. Ancient mountains shaping a view that never gets old.
As we munched on snacks and shared the promontory with others emerging from the rhodos, I started thinking about our cover story from last week's Smoky Mountain News about the 100th anniversary of the Park Service. We weren't in a national park, but we were in protected land that has been set aside forever for public use. Forever. That concept, one we so often take for granted, is really nothing short of amazing.
Historian and writer Wallace Stegner is credited with coining the phrase of national parks as being "America's best idea," and the phrase gained popularity after filmmaker Ken Burns used it as the title of this documentary on our national parks. And now, with the centennial of the Park Service, it has become even more popular.
This country has a lot to be proud of, and the freedoms we have enshrined in law — individual liberties, freedom of the press, of religion, speech, the constitutional amendments that followed the Civil War, and more — certainly reside atop a higher moral ground than the concept of preserving land.
That said, the idea that it is important to preserve wilderness and make it accessible to every citizen is uniquely American. Prior to the creation of the U.S., this was completely unheard of. Land was to be used for the benefit of those who owned it, whether that was for timber, mining, agriculture, hunting or simply walling it off for the rich and powerful. We recognized that humans need to connect with the natural world, and we are all better off when some of these special places remain untouched and protected from the whims of successive generations.
I shouldered my daypack to head down the mountain with a sense of satisfaction. The hike had refreshed me, had scrubbed trivial worries from my head. As a citizen of this country — a place where we like to fight about ideas and issues both big and small — this is part of my birthright: to forever have access to public lands, whether it's the Blue Ridge Parkway or the Great Smokies, Pinnacle Park or the Nantahala National Forest, the Grand Canyon, Yosemite or Yellowstone. They are all mine. And yours. Pretty damn good idea.
(Scott McLeod at This email address is being protected from spambots. You need JavaScript enabled to view it..)