Archived Arts & Entertainment
The Face in the Mirror: Ron Rash releases latest novel
Wednesday, September 07, 2016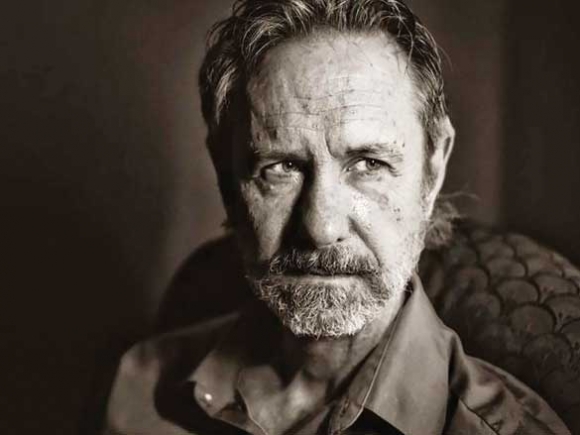 Can you find redemption within your own consequences?
In The Risen, the latest work from famed Southern Appalachian writer Ron Rash, the plot focuses on two Jackson County teenage brothers, an out-of-town femme fatale, and a decades-old question of what really happened to her — and also them — in the process.
On the surface it seems to be another dark and ominous novel from Rash, the New York Times bestselling author and distinguished professor at Western Carolina University, but, when one digs a little deeper, intricate and vivid truths are revealed. Hailed as one of the finest modern American writers, Rash is truly hitting his literary stride, where readers once again find themselves venturing down a rabbit hole into the internal battlefield of their own moral high ground, or lack thereof.
Taking place in Sylva in 1969, The Risen encompasses the essence of the counterculture movement, even though many traits and ideologies of that era never really made it to the rural mountains of Western North Carolina. It's as much about peace, love and understanding as it is about honing in on the darker side of man — something to behold that can either be viewed as a token of gratitude or the weight of the world atop your shoulders.
Smoky Mountain News: I had read that the inspiration for The Risen came from a real murder that had occurred some 20 years ago?
Ron Rash: It was near where I was living in South Carolina at the time. A young woman had been murdered. There were two suspects. Ultimately, no one was charged, but there was a good bit of suspicion. When that happened, I was just haunted by the idea of how does one live a life after something like that, after perhaps being involved in a murder? And also that someone else knows what really happened, and what if that person for some reason decides to eventually tell what happened? To me, that just was such an interesting premise for a novel.
SMN: There are a lot of different themes in this novel — the religious aspect of Cain and Abel, sibling rivalry, small town America, and the 1960s counterculture. And also, that idea of two people growing up in the same household, having the same experiences, and yet both turning out completely different.
RR: Oh, yes. And I think it's one of those mysteries of life kind of things — birth order and how that affects children. But, I think it's always interesting how two people raised in the same environment can be so different, and how they react to something, perhaps something terrible, how they can or cannot transcend it. And also that troubling question of personal responsibility versus the environment they grew up in.
SMN: There's that line in the book describing the doctor's office, "...the trays of glistening metal instruments — all had enhanced a sense of detachment from other people's suffering," which I think evokes the sterilization of emotions humans can go through to either compartmentalize tragedy or simply act like nothing happened at all.
RR: Exactly. You've got it. One thing I wanted to do with this novel, perhaps more so than any other of my books, was that I really wanted the reader to be not quite sure about the characters, to have different reactions to the characters as far as their sympathies go. And also to have those sympathies shift as the book progresses.
SMN: And then the line that really stuck out to me was, "That's what novels so often get wrong … you make certain choices and you leave life never knowing if they were right or wrong …"
RR: I'm glad you caught that, because to me that's what makes this novel, which is that refusal to make everything complete, which is something most novels tend to do. We don't have to understand everything or if things worked out, because, as in life, unfortunately that's just not the case.
SMN: The brothers, Bill and Eugene. What about their character is similar to who you are, or were at that age, or perhaps you were a little bit of both?
RR: Maybe both. I think the most autobiographical thing was growing up in a small town in the 1960s. I grew up in Boiling Springs. In 1969, in this sense of all that was happening in California, the Love Generation, all that change in the world, and yet nothing was happening like that in my town. And in the book, when I talk about the radio and music, that was my experience, as if these songs on the radio were like messages in a bottle. Another goal of the book is that I hope to accurately capture that time, particularly that dark turn in 1969 with Charles Manson and how things changed. It was the Love Generation, but it was also a time of great turmoil. I don't want that to be viewed at as a nostalgic era — there was the good and the bad.
SMN: What's it like for you as a writer these days, being more and more in the public eye with your literary celebrity?
RR: I'm doing a short book tour soon — Philadelphia, Washington, D.C., and other places in the South. And then there are these regional bookstores like City Lights (Sylva) and Blue Ridge Books (Waynesville), they advocated my work when nobody else was interested, and to me, I have to support them. My life has definitely gotten a lot busier, especially with people asking me to do more things. But, I always make sure the writing comes first. Whether I'm in an airport or a hotel room, I'm always writing. I never want to waste a day.
SMN: Where you are right now professionally, you're in a space where it's the pinnacle for aspiring writers. Now that you're at or near the top, what do you see? Perhaps other mountains in the distance?
RR: It's about being true to the writing and not being waylaid by other things. And to be grateful. I'm very lucky. Really, I've only ever wanted to do three things well. One, was from age 4 to now, I wanted to be a really good trout fisherman. Then, in high school and college, I wanted to be a really good runner. And then, I wanted to be a writer. It's taken me a long time, and it wasn't easy. There were years I wasn't writing well, but I stuck it out. It's very important to me to always be grateful, because a lot of people don't get that chance.
Want to go?
Renowned Southern Appalachian writer Ron Rash will be hosting a book reading and signing for this latest novel, The Risen, at the following locations:
• 11 a.m. Saturday, Sept. 10, at Blue Ridge Books in Waynesville.
• 1 p.m. Sunday, Oct. 2, at City Lights Bookstore in Sylva.
The author of New York Times Bestsellers Serena and The Cove, Rash is the Western Carolina University Parris Distinguished Professor of Appalachian Culture. A two-time finalist for the PEN/Faulkner Award for Fiction, he also has received the Frank O'Conner International Short Story Award.