Archived Opinion
We must deal with affordable housing problems
Wednesday, August 31, 2016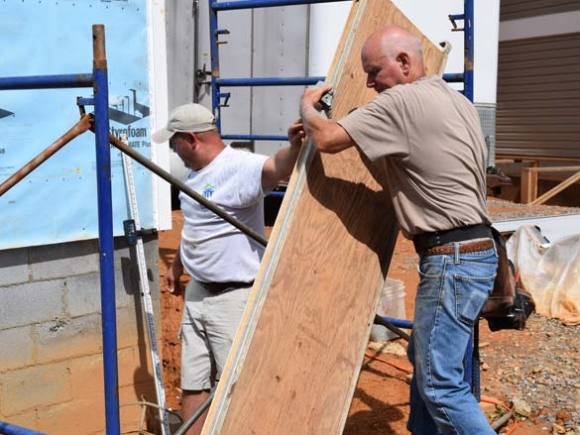 If you don't think there is an affordable housing problem in the mountain region, you're just not paying attention.
In last week's cover story in The Smoky Mountain News (www.smokymountainnews.com/news/item/18291) and in a subsequent story in this week's edition, we looked into several issues related to affordable housing. But it's the simple numbers concerning income and pricing that tell the story in the most easy-to-understand terms.
The common rule of thumb when purchasing a home is to find a house that's about two times a family's annual income. The median household income in Haywood County is $41,795, in Jackson County it's $36,705. The median housing value in Haywood is $157,200, and in Jackson it's $172,300.
According to one study, in the United States the average ratio, though, is not two times one's income but 3.3 times income. That means across the country people are stretching and scrimping to afford a home.
But here in the mountains, we don't even come close to that ratio. Housing is less affordable here. In Haywood County, the average home is about 3.78 time median income.
Now this is all relative, and in some markets affordability is much worse than it is in Western North Carolina. But the problem here is large, and it affects the region in many ways.
Patsy Davis, the executive director for Mountain Projects — which helps low-income families and those in need in several ways — said some years ago the organization's board of directors began maintaining a waiting list for people in need of affordable housing. It was a short-lived but educational initiative.
"We had to close the waiting lists because we had hundreds of names. We were not prepared for the magnitude of need we saw," she said.
There are many, many factors that contribute to affordable housing woes. Some point to wage stagnation as the main culprit. From World War II until 1973, one study says, inflation-adjusted hourly pay rose with economic growth.
However, from 1973 until now, economic productivity per worker has grown 72.2 percent but pay for the typical worker has risen just 9.2 percent.
"People have been told that the economy isn't doing well and therefore that's why people haven't done well," says Lawrence Mishel, a respected economist and president of the Economic Policy Institute EPI in Washington, D.C. "Everybody's wages could have grown substantially. But they didn't."
I would tend to agree with Mishel's assessment that workers should be earning more, but that's not a problem that will easily be solved. Thankfully, advocates in Western North Carolina have recognized the looming affordable housing crisis and are taking action.
In Haywood County an Affordable Housing Task Force just issued an assessment of the problem. It contained a ton of stats and words like "sobering" to describe the situation. As the task force released its finding, County Commissioner Kevin Ensley suggested finding tracts of land that could be used to build affordable housing.
He's right in that it is going to take bold action, with help from government, to make a dent in the problem. Asheville — which faces a similar predicament, perhaps worse — will ask voters to approve a bond refendum in November that includes $25 million to go into an affodable housing fund to help developers with projects that will address the housing shortage.
Home ownership has been an avenue to middle-class economic security for almost two generations in this country, and now that road is blocked for too many people. It's an issue whose time has come.
(Reach Scott McLeod at This email address is being protected from spambots. You need JavaScript enabled to view it.)