Archived News
Houseboat owners raising legal funds to challenge sunset provision
Wednesday, August 31, 2016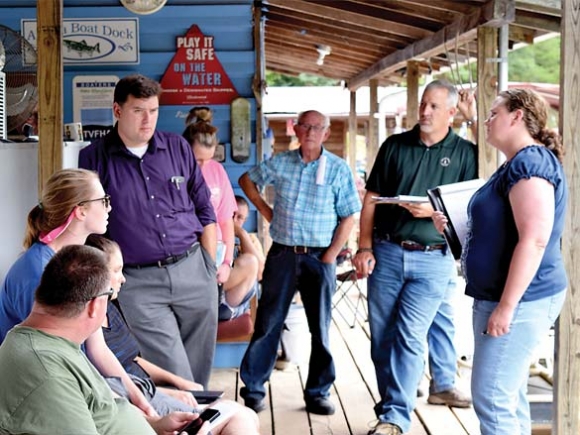 While the Tennessee Valley Authority seems unwilling to reconsider its decision to sunset all lake houseboats within 30 years, houseboat owners on TVA's reservoirs aren't giving up yet.
The Tennessee Valley Floating Homes Alliance, a nonprofit group of houseboat and marina owners created to prevent the removal of some 1,800 floating homes, has started a fundraising campaign to pay for future legal fees. The goal is to raise $49,000 to hire professional public policy advocates to assist the TVFHA in getting the 30-year sunset clause removed from the TVA's new policies regulating houseboats. So far, the campaign has raised about $15,000 toward the cause.
When the TVA approved the new policy on May 5 in Parris Landing, Tennessee, many houseboat owners from Fontana Lake in Swain and Graham counties drove at least six hours to oppose the measure. Houseboat owners also showed up at the recent Aug. 25 TVA meeting in Knoxville to oppose the ruling during the public comment session, which lasted more than four hours.
Floating home advocates were quick to point out to the TVA board how its May 5 decision was already impacting local lake communities. Sophia Paulos, the new economic development director for Graham County, said just the talk about the sunset provision was already having an impact in Graham County's property tax revenue. With an annual budget of about $6 million, she said floating houses generate $38,000 in property tax revenue, not to mention all the sales tax revenue from floating homeowners who spend money on gas and at restaurants, grocery stores and the marinas.
Paulos said TVA's main reasoning for removing all houseboats — not wanting private owners benefiting from public waters — was hypocritical.
"In Western North Carolina, the notion of private use of a public resource doesn't float well with us because you guys use water from North Carolina to make an exorbitant amount of profit and we see nothing for us," she said. "There's no programs that I'm aware of to show what benefits you provide us in North Carolina."
Lastly, Paulos told the board that it needed to work toward better communication with the communities affected by its decision. She said no one in her county government was aware of the TVA meeting until 36 hours before it was scheduled.
"We're the ones with all the records. We're the ones who know how this will affect everyone," she said. "Not contacting us has been detrimental to all of us."
Debbie Samples, who owns a marina on Norris Lake in Tennessee, said she understood the TVA had a business to run and hard decisions have to be made for the greater good. But she said the decisions TVA made for the greater good were too invasive. While she understands the TVA doesn't want floating homes to proliferate because they could cause problems in the future, Samples said the TVA's impact report showed no proof that floating homes are causing any current problems.
"Let's be honest — it's hard to imagine out of 1,800 floating homes — 98 percent of which are moored in marinas licensed by you — present a problem with private use of public lands," she said. "There's no legitimate rationale in that report."
Overall, speakers were supportive of the TVA's need to better regulate houseboats. Most said they were more than willing to meet high environmental standards and pay a reasonable annual fee to the TVA, but still want the board to reverse the sunset clause because people will lose their private investments and counties will be negatively impacted by the loss of tax revenue and tourism dollars.
After the TVA meeting concluded, floating homeowners were given the opportunity to speak with Rebecca Tolene, TVA vice president of natural resources. Houseboat owner Laura Sneed of Cherokee said about 15 floating homeowners — most of which were members of the TVFHA — sat down with Tolene for about three hours.
"At first she was very passionate about her position — keeping her lake's safe. She also views the floating homes as unfair for the have-nots, but we tried to convey to her that we are the have-nots or we'd buy million dollar homes on land," Sneed said. "I think in talking to each other you humanize each other. This is the first time she's talked to us so I appreciate where she's coming from and she appreciates where we're coming from."
In the end, Sneed said homeowners made it clear they wanted the sunset provision to be reversed. Tolene told them that if they presented a proposal she could get on board with, she'd be willing to present it to the TVA board.
"The TVA board doesn't seem willing to back down so I don't know if there is a proposal she (Tolene) could get on board with," Sneed said.
But the floating homeowners are definitely willing to give it a try. Sneed said the idea of people renting out their floating homes to increase public access was discussed at great length during their meeting with Tolene. Renting out floating homes would also help the owners recoup some of the costs the TVA will be implementing in the future with permitting and annual fees.
"She was really concerned about letting us stay forever on the lake — she thinks house values would skyrocket because no more can be built — but I think they'll just go back to what it was before they made this decision — now values have crashed," Sneed said. "But we're willing to negotiate with the TVA — we don't want to be in an adversarial position."
U.S. Rep. Mark Meadows, R-Cashiers, has sent support letters to the TVA asking the board to remove the sunset clause. He couldn't attend the Aug. 25 meeting but did send his aide from Washington and issued the following statement after watching the meeting online.
"It was my hope that the board would reconsider its sunset decision. The most recent board meeting has indicated to so many that it will continue to carry out a very flawed decision that is not based on fact, science or consideration of adverse economic consequences," Meadows said. "In light of this decision, it now brings into question the entire decision making process of every aspect of the TVA system."
Meadows has prepared three different bills that will be introduced in the coming weeks. The first, which he said has support of Democrats and Republicans as well as both chambers, will attempt to stop the houseboat action. The other two will look at the financing and government backing of the TVA.
"Yesterday I instructed committee staff to start a list of TVA witnesses to include staff and board members as we prepare for hearings in Washington, D.C. The next 30 days will provide concrete actions that will require the TVA board and management to address a host of issues," Meadows said.