Archived News
New Swain library not possible without county support
Wednesday, August 31, 2016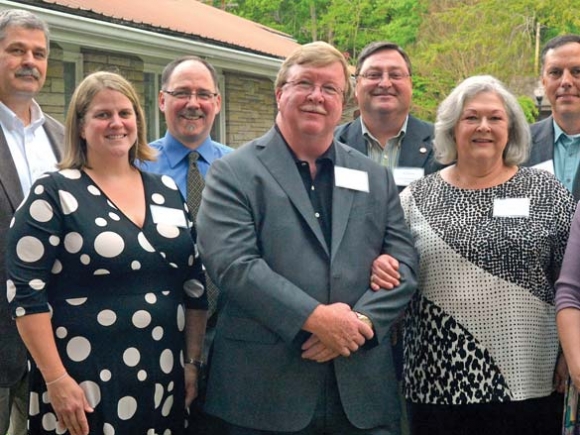 The clock is ticking to get a new library constructed in Swain County before the land donation reverts back to the owner, but the fundraising committee says it can't move forward without some kind of commitment from county commissioners.
Constructing a new library in Swain County has been a topic of discussion since 2000, but little progress was made until 2014 when Don and Toni Davidson purchased 9 acres on Fontana Road for $350,000 and gifted it to the county. However, they stipulated that a library must be constructed within seven years or the land will revert back to them.
The fundraising committee has been raising awareness with smaller fundraising events, but committee chairwoman Janis Wright told commissioners securing large donations for the $7.2 million project was nearly impossible under the circumstances.
"We've made efforts to raise large sums but we're not being successful," she said. "They are interested in donating but then they ask about the timeline and we have to say we don't know because we haven't had a commitment from the commissioners."
Not only have commissioners not given a financial commitment to the project, they have offered little comment or feedback about the project when presented with updates from the fundraising committee.
"We've talked to all the commissioners and each of them expresses interest in the library, but at this point they tell us the money isn't there to put it on the calendar," Wright said.
Wright said the committee understands the county is operating on a tight budget and decided to go back to the drawing board to rethink its fundraising strategy. Instead of working toward raising the $1.5 million needed to purchase furniture, fixtures and equipment for the new library, the committee decided to shift gears and raise the funds for construction.
"Even if we do raise $1.5 million for (furniture, fixtures and equipment), it doesn't do us much good without a building," she said.
With so much uncertainty about the project timeline, the committee also decided that securing pledges instead of donations would be a more productive option. Even with the shift to getting pledges, Wright said they still needed to decide what the trigger would be for those pledges to turn into cash.
Wright said the fundraising committee and the library board want the county to form some kind of partnership with them to ensure this project moves forward before time runs out.
"The commission has to make some commitment about what would happen if we raise that amount," she said. "We want you to sit down with us and see if there's any feasibility to this idea."
Once the fundraising committee hits the $1 million mark, Wright said more opportunities for grants would open up. She said Jackson and Macon counties received grants from 15 different agencies when they were building new libraries.
The current library in Bryson City was constructed in 1970. With only 9,000 square feet of space, Wright says the library is too cramped and in desperate need of more parking space. A new and expanded library would allow for more programming and larger collections for the community. The new Marianna Black Library being proposed would have about 34,000 square feet of space.
Commissioner Danny Burns asked if the library board would be willing to compromise and bring the size of the building down to 15,000 square feet, which would significantly reduce the project cost.
"It's a tremendous amount of money — 34,000 square feet is bigger than Jackson or Macon's library," he said. "We could build 15,000 square feet and make it where it can be added on to in the future."
Commission Chairman Phil Carson agreed that 15,000 square feet of space would be a more realistic project.
Wright said the committee was not interested in negotiating the size of the library at this point. She said that additional space was needed to be able to offer expanded programming and with the hopes of housing special collections no other libraries carry. She said the Marianna Black Library had been approached about being home to a substantial collection of Appalachia literature.
"This would be bigger and better than the University of Tennessee's collection," she said. "Our library could become a destination for researchers — there are lots of possibilities."
Commissioners also hinted that if Fontana Regional Library offices are still going to be housed inside the Marianna Black Library, then the other counties should pitch in some of the cost. The libraries in Macon, Jackson, and Swain counties are all under the Fontana Regional Library system umbrella.
Each county government makes contributions to its own library though. Macon County gives about $1 million each year to fund its three libraries, Jackson County gives about $1.1 million for the Sylva library and Swain County gives about $225,000 a year for the library in Bryson City.
Commissioner Ben Bushyhead asked if construction had to be complete within the next five years or if beginning construction in the next five years would satisfy the land donation stipulation.
Wright said the land donors did not want to take the land back and intentionally left the language vague in the written agreement. While there is some flexibility in the timeline, Wright advised commissioners not to wait until the last minute to begin construction.
Bushyhead said commissioners were simply asking questions that had been asked of them in the community. He said commissioners hadn't had the opportunity to meet with the library board to work through the issues.
Wright said the library fundraising committee meets twice a month on Mondays, and commissioners were welcome to attend to find out more about its efforts. She said committee members have very detailed plans for fundraising opportunities and a list of potential donors. They just need a more definitive timeline to really make headway.
"We've been here a few times making presentations and no one asked a single question," Wright said. "I'm happy we're having a dialogue now."
In the end, the library committee is asking commissioners to work with it to develop a pledge document that can be presented to donors for the fundraising campaign. The document will have a date in which pledges would become donations. Commissioners didn't take action at the Aug. 25 meeting but said they would consider the proposal before their next meeting.
The proposed new Marianna Black Library would include:
• Comfortable reading areas for patrons.
• Large children's area for reading and activities.
• Separate space for teen materials activities and group work.
• Improve internet access for public use.
• A separate computer lab for both informal use and group software training.
• Increasing number of computers from 14 to 38.
• Conference room for small programs and meetings.
• Large, adaptable multi-purpose room for community programs, workshops and movies.
• Small rooms for quiet study, tutoring and group projects.
• Ample parking and safe, attractive entrances and exits.
• Accessible building design and parking for people who are physically impaired.
• Convenient location with outdoor space for community activities.