Archived News
Canton awarded $350K pool grant
Wednesday, August 31, 2016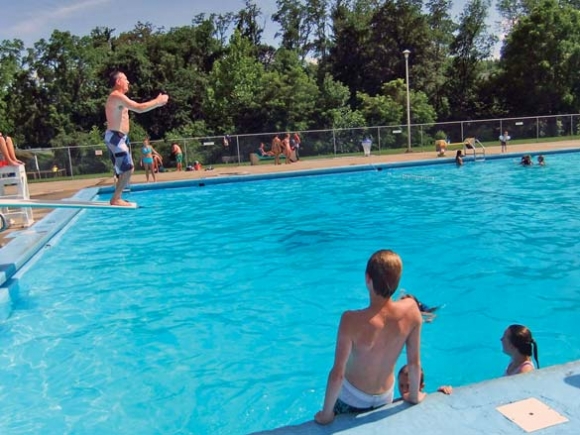 The Canton Board of Aldermen was in high spirits Aug. 25 even before Town Manager Seth Hendler-Voss walked in to the meeting five minutes late.
He'd just come from Raleigh by car to announce great news for the town, but Mayor Mike Ray beat him to it when he told the assembled board and public that Canton had been selected as one of just 31 grantees to receive money from the North Carolina Parks and Recreation Trust Fund (PARTF).
"This whole week the board members had been asking me why I was being so positive," said Hendler-Voss. "I just said I was optimistic; I tried to go in there with a positive attitude, and I felt confident that we prepared the best application possible. I felt the justification of the project and the need for the project were well-demonstrated."
PARTF apparently agreed with Hendler-Voss; it makes matching grants to counties and municipalities for parks and recreational projects, and the $350,000 that will be formally awarded to Canton in the coming weeks is a significant piece of the town's proposed $2.2 million project to rehab the town's 70-year-old public pool and upgrade recreational facilities surrounding the pool area.
"I think we put together a very sharp proposal with very strong design," he said. "We had a lot of public input, and that's why we scored so high. I'm really proud of the job staff did in helping prepare that proposal, and that's why I felt so good going in to it — because I felt we prepared the best possible grant, and that's what I had told the board from the beginning. We were just going to submit the best darn grant we could submit, and if we don't get it, we don't get it. But I'm not going to go to bed at night wondering if we left something out, because we didn't leave anything on the table. "
But the money was far from guaranteed — PARTF grants are highly competitive, and as Hendler-Voss sat in the meeting in Raleigh where the winners were announced, he admits that he started getting a little nervous.
Western North Carolina hasn't fared well when asking the state for money lately; last month it was learned that desperately needed tax credits for the old Haywood County Hospital's rehabilitation into affordable housing would not be awarded to the project's developers, again leaving the building with an uncertain fate.
There were 66 applicants competing for $8.4 million in funds; at the outset of the meeting, the PARTF board announced that based on the scoring of the grant applications and the monies available, there would be only 31 grants awarded.
"I had a few visions of the consequences of not getting it, but I tried to remain positive and it worked out really well," Hendler-Voss said.
The grantees were announced in order, town-by-town, beginning with the highest scores.
"I numbered my paper one through 31 and went in and wrote down the municipality or the county as they announced them," he said. "As they were getting near the end, I started to get really sweaty. I was just writing everything down, and when they said 'Canton' I was writing, and it wasn't until I was halfway through writing it down that it set in — 'Oh, that's me.'"
Canton's grant will supplement a complex 10-part financing package that also includes private donations and a substantial match by the town. To date, Hendler-Voss said, they've raised about $280,000 including a $25,000 donation from Debbie Wilson, wife of Canton auto dealer Ken Wilson.
Bids for the project are slated to go out in late September, right around the time the town expects approval on its U.S. Department of Agriculture loan application.
Assuming that goes well, bids will be awarded in early November. After approval by the Local Government Commission — which Hendler-Voss said may take a few months — construction could begin over the winter, with the goal of opening the new pool in time for summer. The pool's last day this season is Sept. 3.