Archived News
Going tiny: Some look to downsized housing for personal freedom, financial security
Wednesday, August 24, 2016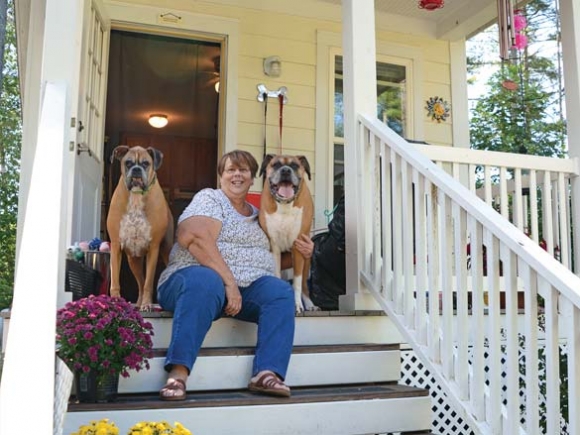 When her husband lost his battle with cancer, Lindey Herrington was living in a 1,800-square-foot house in Lakeland, Florida, where the couple had made their home for two-plus decades. After his death, it didn't take her long to decide that she needed a change.
"I didn't want to stay in my house anymore," she said. "It was too big."
So she downsized, moving to a 700-square-foot home in St. Petersburg, Florida. Save for her first 14 months of life in Barbados, Herrington, 59, had been a Florida girl her entire existence.
But she was ready to get away, and as she grew ever more fascinated by the TV show "Tiny Home Nation" on the FYI network, something clicked. She wanted a tiny home, she decided, and she wanted it in Waynesville, a place where she'd made many pleasant vacation memories over the years.
"I just Googled 'tiny homes in Waynesville, North Carolina,' and this came up," she said, gesturing from her chair in the 420-square-foot house in Fines Creek that's been her home since June.
From the outside, the house doesn't look too unusual — yellow siding, freshly painted wooden steps leading up to a porch that covers the entire front of the house, flower pots full of blooming chrysanthemums livening up the space. There's just one thing, really, that's out of the ordinary — the house is tiny.
Walk inside, and you're in the living room. Or the dining room. Or the kitchen. It's all combined into one compact space, and by necessity everything is in its place, framed photos and knickknacks making it all look homey and inviting. Down the blink-an-eye-and-you'll-miss-it hall is a bathroom featuring a full-size tub and a bedroom that mostly just holds a bed. And also an efficiency-size washer-dryer, mounted into the wall right next to the bed.
"She knew what she wanted," said Paul Heathman, of Mountain Dreams Realty, who found Herrington the house. "Once she saw that, it was pretty much it for her."
For his part, Heathman said, life in 400 square feet would be hard to swallow — "I have organization problems anyway" — and he was sure to ask Herrington whether this was really what she wanted.
It was. But that didn't mean the transition was effortless.
"I sized down two or three times and brought everything else up here and still had to size down more and get rid of more things," she said.
The trick was to keep items that had sentimental value but didn't take up too much space. Like, for instance, the wooden sign bearing the words "The Herringtons" that she and her husband used to display at their campsite when traveling.
"You have to pick and choose what you want," she said. "Little things and nothing huge — except dogs."
Herrington has two boxers with whom she shares the space. It's just big enough for the three of them, she said, and it's great to have enough to live without the responsibility of maintaining what she doesn't need.
"I can have time to be outside and do the garden thing, and if I want to take trips I can," Herrington said. "I don't have nothing holding me back."
Her property actually includes two tiny homes, both 420 square feet and located on the same half-acre plot — her daughter will soon move into the unoccupied one. She bought the two for $106,000, paying in cash with the money she got from selling her house in Florida.
"It gave me a sense of financial security," she said. "I took my profit from my house and bought these so I have no house payment and I'll be able to live out my life somewhere not worrying about house payments."
While a lot of the folks on the tiny homes TV show she watches build houses designed to tour the country like RVs, her house will stay put. But the fact that she doesn't have a house payment will allow her to travel more, hopping on and off planes with an ease that comes from lessened financial burden.
The drive to downsize
Living in the itty bitty space of a tiny home isn't for everybody. But it's looking increasingly attractive to more people, the rose-colored lenses helped along by TV but perhaps also by a drive to get away from a culture that defines success as owning a 5,000-square-foot house and the stuff to go with it. There's a whole subculture surrounding tiny homes and the movement to promote this kind of scaled-down life. Some tiny home advocates might not even consider Herrington's home to be genuinely "tiny," but rather just "small."
"More and more people are trying to downsize, not only to get out of debt but to have lower maintenance as well and free up their time to have a better quality of life," said Michelle McElroy, of Beverly-Hanks & Associates, who sold the property Herrington bought.
Having a small house forces you to get rid of things you don't need, the thinking goes, and if you can situate a tiny home on a beautiful plot of land, you can shift your time more to outdoor living. Or just to living in general, rather than working to care for your possessions.
But that's not to say that tiny homes are currently sweeping the market in Western North Carolina. Herrington's pretty sure she managed to snag one of the only ones in Haywood County — "the good Lord placed me here," she said.
"Here in Waynesville, Haywood County area we're not seeing a tremendous amount (of tiny homes)," McElroy said, adding that she wouldn't say there's "an inventory, per se," of them.
"I think maybe the market for tiny homes isn't quite here yet, but perhaps it will arrive," added Elizabeth Teague, town planner for Waynesville.
For Larry Rankin, owner of Country Park Home and Cabin Sales, however, the market arrived quite a while ago. He's had the business in Franklin for 20 years, selling homes under 400 square feet all that time.
"What we're doing is something that's been around for a long time," Rankin said.
Rankin's homes are park model, meaning that they're transportable but generally meant to be placed at one location like a mobile home rather than driven around like an RV. Many of them are made in a log cabin style. And he's got a development of 58 of them — 25 of those are under 400 square feet — at the Country Meadows Community near Franklin.
However, very few of his buyers are people looking to permanently downsize.
"They're buying it for a second home, for a vacation retreat or a weekend place," he said. "It's not their primary residence."
Sales have been pretty steady over his two decades in the business, he said, though acknowledging there has been an uptick recently in interest from people considering living in a tiny home full-time.
"The show has brought a lot of curiosity into it," he said. "I guess it has gotten people thinking can they downsize and how much stuff do they need."
Roadblocks to going tiny
Downsizing is hard. But there are other obstacles in the path for those who would like to get into a tiny home.
First of all, there's figuring out where to put it. City codes can often present difficulties for people wanting a tiny house. Finding an empty lot and navigating minimum lot size requirements — the minimum typically varies depending on how an area is zoned — can be a challenge. If the house is on wheels, it's technically considered a vehicle, which ushers in a whole other set of zoning restrictions.
Then you've got to wade through neighborhood covenants, which can include stipulations as to how many square feet, at a minimum, a structure should have to be part of the neighborhood.
"When you buy that lot, you have to agree to a set of standards that go beyond what town zoning does," Teague said. "Sometimes those town covenants will have a minimum square footage."
Where Waynesville's zoning is concerned, tiny homes on foundations are allowed anywhere as long as they conform to the state building code, something that Teague terms "very progressive." Not that her office has seen a lot of interest, aside from a recent permit request from somebody wanting to build a grandmother suite as a separate structure on their property.
"I think they're intriguing, and I'd like to actually see more of these," she said. "They're certainly a very green type of construction, and they certainly create a more affordable option."
Tiny homes can come with hidden costs, however. For instance, those wanting to avoid municipal regulations by building on county land can find themselves paying bills for wells and septic systems that call into question the whole concept of saving on the cost of living.
"If you're building a one- or two-bedroom house or just a tiny house, the state requires the same septic system to be installed, so there's no savings," Rankin said.
Tiny homes can also be hard to finance — they don't generally meet the definition of "house" where banks are concerned, McElroy said. Especially if they're on wheels. A bank will see that as a vehicle, not eligible for a real estate loan.
"It either has to be a cash buyer or sometimes a credit union will work with you on that," she said.
But with any purchase, there are pros and cons and considerations and stipulations to wade through. At the end of the day, a home purchase is a personal choice, whether that choice ends with the keys to a tiny home or to a mansion.
And as far as Herrington is concerned, she made the right decision.
"I didn't live out on my own or with friends or anything like that. I got married and had a baby right away, just took off in life," she said. "Now it's me time."