Archived News
Plan for new mountain biking system moving forward
Wednesday, August 24, 2016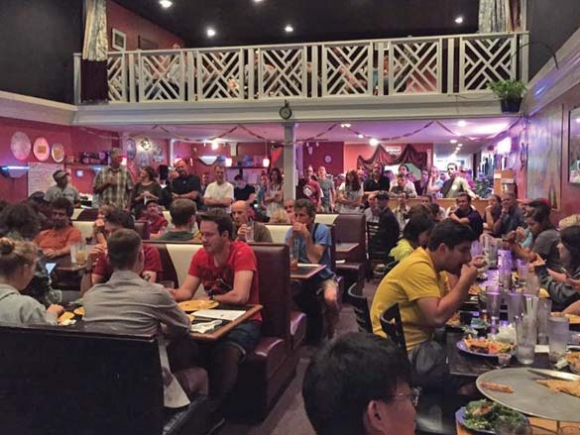 A meeting seeking feedback on an emerging plan to turn Sylva's Pinnacle Park into a mountain biking destination drew about 70 people to the Mad Batter Food and Film last week, and after a night of fielding questions and taking comments, the folks behind the effort are feeling positive about its future.
"I had so many conversations with excited people who said how much we need this," said J.P. Gannon, a member of the Nantahala Area Southern Off Road Bicycling Association who is also a hydrology professor at Western Carolina University. "I was utterly ecstatic at the end of the night."
Gannon and fellow Nantahala SORBA member Sae Smyrl had first floated the idea publicly at a Sylva town board meeting in July, suggesting that the town could boost its profile as a tourism destination by installing somewhere around 30 miles of trail in the 1,100-acre park.
Formerly home to the town's watershed, the property is now in a conservation easement held by the Clean Water Management Trust Fund through Mainspring Conservation Trust and houses hiking trails to Pinnacle Peak and Blackrock. The SORBA folks feel that mountain biking trails could be built without any significant negative impact to the environment and that the equipment used to construct new trails could be put to work rehabilitating the existing ones, which are wide, steep and heavily eroded.
Gannon says he hasn't heard from anyone who flat-out opposes the plan and indeed has been somewhat overrun by enthusiasm. However, he said some concerns were brought up at the meeting that SORBA will continue to consider.
For one, a resident of Fisher Creek Road — the steep, narrow road that ends at Pinnacle Park — expressed concern as to how a new mountain bike system could impact traffic there. Would the road be able to handle the increased load, she asked, and would people living along Fisher Creek Road be involved throughout the planning process?
Some attendees also pointed out the need to consider impacts to plants, wildlife and water quality when deciding if and where to locate trails.
Gannon said SORBA is taking those comments to heart and will seek input from area residents throughout the process, also enlisting those with ecological expertise to help design an environmentally friendly project.
However, he cautioned, it's too early to term the Pinnacle Park project a done deal.
"It almost feels a little too public to me at this point," he said. "It makes me nervous because it's not a sure thing, and we don't want to give anybody the impression this is something we're going to start digging tomorrow when in reality it's in its infancy."
The first step was to get a ballpark idea of what it would take to build a trail system and see if the town board would support the effort. That's been accomplished. Next, the group had the meeting held last week, aiming to gauge public opinion and develop a bank of supporters it could call on for help going forward.
Now, SORBA is turning its attention to the trust fund agreement to see if a trail system is something that would even be allowed in the context of that legal document.
"They've been actively looking into it and looking at the language," Gannon said of the folks at Mainspring and the Clean Water Management Trust Fund. "We are having those conversations. We certainly have not gotten a no."