Archived News
Davis, deVille spar over state education funding
Wednesday, August 24, 2016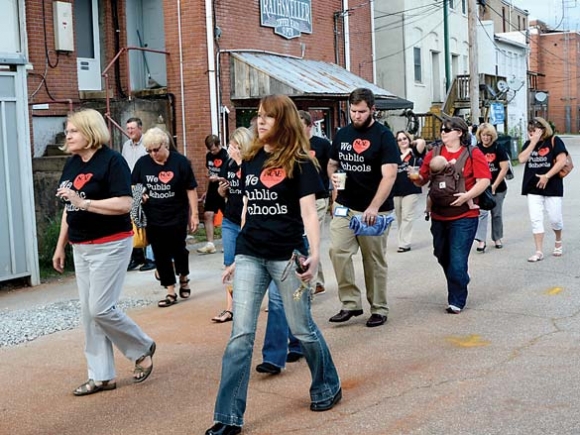 In the last year, Macon County teacher John deVille has asked county commissioners several times to pass a resolution asking the North Carolina General Assembly to restore public education funding to 2008 levels.
Commissioners have expressed support in wanting more funding from the state, but they seemed reluctant to pass a resolution that would be presented to legislators in Raleigh.
When deVille presented the resolution again to the board last month, he thought he was closer to getting a yes. The commissioners finally gave him an answer last week, but not the one he wanted to hear.
Commission Chairman Kevin Corbin, who is running on the Republican ticket for state representative, said his voting record showed he was clearly pro public education. He told deVille that even though they were on opposite sides of the political spectrum, they both wanted to improve public education.
"I don't know if I need to be in the business of passing a resolution criticizing the leadership I have to work with if I get down there," Corbin said. "I'm not sure our goals are different but maybe the method."
Commissioner Ronnie Beale, the only Democrat on the board, said he agreed that it's the state's responsibility to fund public education, but also agreed that passing such a resolution would be a political statement he's not sure the board should make.
While deVille and other public education advocates say funding continues to decrease, the Republican-led legislature argues that it has increased public education spending every year since 2012.
The inflation-adjusted figures presented by deVille in his proposed resolution claim state education funding is down by $855 per student since 2008. With thousands more students in the system and less teachers, deVille said those cuts have made a huge impact in Macon County.
To make the issue more political, Sen. Jim Davis, R-Franklin, attended the commissioner meeting to give the other side's perspective on education spending. Davis said the proposed resolution contained inaccuracies he wanted to address. First of all, he said there was a reason funding levels for education were much higher in 2008. That's the year the state received federal stimulus money and put billions of it into K-12 education. The only problem is that was non-reoccurring revenue that put the state budget in a deficit when the stimulus dollars dried up after three years.
Davis said the first thing Republicans did when they took over majority in 2012 was to make up the $2.5 billion-dollar deficit left by the Democrats.
Davis said K-12 education makes up 37 percent of the state budget. While there is still room for improvements, he said the legislature is making steady progress.
"We can debate whether it's enough, but we're determined to ensure getting value for the money we're spending in education," he said. "We've budgeted responsibly — it's amazing what happens when you don't penalize productivity. More people contribute to society and the tax base."
deVille's resolution states that North Carolina is 46th in per-pupil spending in the U.S. and dropped from 25th to 42nd in the nation for teacher salaries since 2008, according to the National Education Association.
Davis said those numbers couldn't be taken at face value because the NEA didn't factor benefits into the teacher salary figures.
"We passed a budget this year that put the average teacher pay to over $50,000 a year (including benefits)," Davis said. "We have some of the best benefit packages in the country."
Commissioner Gary Shields, a retired Macon County educator and a school board liaison, said he knew the decision not to pass the resolution wouldn't keep deVille from fighting for public education funding.
"I know you'll be back and will continue to try," he said. "Just because we don't act on it doesn't mean we don't support it."