Archived Arts & Entertainment
Ahead of her time: Photographer shifted the art of the image, fought for women's rights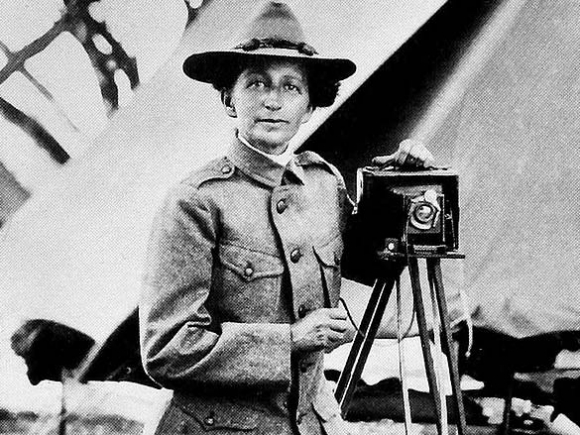 Who was Bayard Wootten?
"She was a wonderful, strong North Carolina woman," said Pam Meister. "She was a skilled photographer. She was a feminist before her time. The more I learn about her, the more I'm impressed with her life."
Curator at the Mountain Heritage Center within Western Carolina University in Cullowhee, Meister is currently hosting a collection of the famed works of Wootten (1875-1959), a figure as feisty and invigorating as she was determined and compassionate.
Originally Mary Bayard Morgan, she retained her married name Wootten even after her husband left her and their children high and dry back in New Bern as he headed west for the Gold Rush. In dire need of income, and a single mother at a time when that was either unheard of or looked down upon, Wootten crossed paths with photography and never looked back, eventually opening her own studio in New Bern in 1904.
"She was in situations where she didn't have the advantages of education or family money," Meister said. "And she also wasn't satisfied with being a commercial photographer. She viewed photography as an art at a time when the field was heavily weighted towards men. She worked within the system, and because of that, made it possible for other women to do the same."
With a seemingly unmatched zest for life, Wootten found herself in the middle of the Women's Suffrage Movement, where she became a key voice in the quest for the right to vote. Wootten also began bouncing around North Carolina, photographing people, landscapes and everyday life in the pre-Great Depression era. Soon, the National Guard installation near New Bern caught her eye. She saw an opportunity to photograph every soldier, seeing as photo postcards were all the rage back then.
"But the National Guard commander told her she couldn't take any photos. She protested and eventually prevailed, with the commander realizing the photos could be good for morale," Meister said. "They then designated her as an official member of the National Guard, the first woman to do so in North Carolina. She was named 'Chief of Publicity' and she photographed the soldiers for 16 years."
Taking her talents on the road, Wootten found herself in the mountains of Western North Carolina. With her maiden name "Morgan," she discovered her blood relation to Lucy Morgan, the founder of the world-renowned Penland School of Crafts. The two became friends, with Wootten taking countless photographs of artists creating at the school, a lot of which became marketing tools for the institution.
While running around the state, Wootten snapped images of tobacco farmers, strawberry pickers, military and medical scenes, whatever caught her eye in the grand scheme of things (even a young Thomas Wolfe, as the famed author was a young lad with the Carolina Playmakers). She'd try new angles of using a camera, a sense of adventure that led to her dangling from Linville Falls in hopes of the "money shot." She even became a pioneer in aerial photography, finding herself flying in an open-air Wright Brothers Model B airplane, all the while lugging her heavy and cumbersome equipment around.
"She was very interested in people on the lower rungs of the social economical ladder. She would photograph these ordinary people, mountain people and where they lived. It's an extraordinary and very personal view of what people were like back then — it's a total joy to look at these portraits and landscapes," Meister said.
As the decades wore on, Wootten began to fade from the public eye. She still ran her studio, but vision problems later on in life limited her photography. In the years since she passed away in 1959, the University of North Carolina at Chapel Hill began collecting her work, all in an effort to ensure that the legacy of Bayard Wootten will forever be preserved.
"I get the distinct sense that all of us would have loved to have met this woman," Meister said. "She was fun, energetic — just a 'shot out of a cannon' personality."
Wootten photo exhibit, fundraiser at WCU
Western Carolina University's Mountain Heritage Center will host an exhibit of works by Bayard Wootten, a pioneering woman photographer, beginning Sunday, Aug. 28, with an opening reception from 2 to 5 p.m. on the second floor of Hunter Library.
The reception also will serve to kick off a fundraising campaign by Friends of the Appalachian Women's Museum. The Dillsboro museum is dedicated to preserving and sharing the stories of "everyday" women throughout the history of Western North Carolina and their resourcefulness, accomplishments and contributions made to the region.
"There are so many wonderful stories of women in this area who have touched so many lives through the examples they lived," said Cathy Monteith Busick, president of the AWM. "The goal of the AWM is to create a living museum where visitors can see first-hand what life was like for women in the 1900s here in Western North Carolina. The museum will also serve as an educational partner for schools to bring children for interactive field days."
Busick noted the goal of the fundraising campaign is to obtain $40,000 atop donated building materials and labor. The 108-year-old Monteith Farmstead was added to the National Register of Historic Places in 2008.
"To date, this is the only museum in existence devoted to just Appalachian women," Busick said. "The property is considered one of the best examples of a remaining mountain farmstead in Western North Carolina, and lends itself perfectly as a tourism attraction and heritage center."
Images from Light and Air: The Photography of Bayard Wootten, were primarily taken in the 1930s and 1940s, and provide glimpses into everyday life in North Carolina at that time. An accomplished landscape and architectural photographer, Wootten (1875-1959) today is often most recognized for her portraits of common folk and the poverty stricken, both black and white.
The Wootten exhibit closes Wednesday, Nov. 23. The Mountain Heritage Center gallery is open 9 a.m. to 5 p.m., Monday through Friday. For more information, call the museum at 828.227.7129.
To learn more or to make a donation, visit www.appwm.org or www.facebook.com/appalachianwomensmuseum.