Archived Arts & Entertainment
This must be the place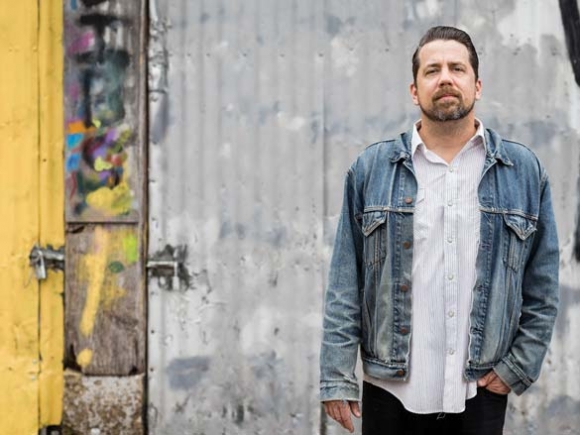 It's a feeling rather than an attitude.
You can't really become the blues — you simply are the blues. It's a sound and a lifestyle, a realm of society that digs deep down into the soul, only to pull up the nitty gritty from the corners of the mind, body and heart. And yet, it's also a celebration, something where one revels in sheer awe over the physical and emotional landscape laid out before them, for good or ill.
It's laughter in the face of despair. It's sorrow in the midst of euphoria. It's the culmination of the human experience, with all of the energy channeled and radiated from the fingertips and mouths of those chosen by the blues to carry forth the message — the forewarning, the camaraderie, the majesty, and the ultimate sincerity that resides solely in this most sacred of musical forms.
Hailing from just outside Canton, Ohio, Patrick Sweany is the embodiment of the modern-day bluesman. Ricocheting between dive bars and theatre stages day in and day out in Anytown USA, the six-string ace is a mesmerizing force of sonic purpose and lyrical aptitude. He wears his heart on his sleeve, with that unrelenting chest muscle mirroring his own melodic rhythm and tone.
To say Sweany is the torchbearer of the likes of Bobby "Blue" Bland, Junior Kimbrough and Lightnin' Hopkins is to also say Sweany is as real and in tune with humanity as those who took the stage before his time were. Sweany commands a room with such matter-of-fact presence, one can't help but take notice of some of the most invigorating — soul searchin' and soul crushin' — music out there nowadays.
Garret K. Woodward: What does the landscape of Pat Sweany looks like in 2016?
Patrick Sweany: I start recording a new record in a couple weeks. Writing songs and finishing songs is my whole world right now. My focus is nearly entirely concerned with that. I've got a responsibility to make it better than the one before, so that I can continue making a living performing and selling records. I don't look back too much, and when I have it hasn't provided any new information.
GKW: In this current election year, what are you seeing out there when you're on the road? What are hearing and also experiencing as you travel the country amid such hotly contested states and ideologies?
PS: I make it a point not to discuss politics in my professional life. It's a free country and it's people's inalienable right to be the dumbest sunuvabitch that they want to be. I am not interested in trying to convince anybody of anything. If you are a stupid person, you'll do stupid things and that is your right. Nothing I say is going to convince somebody to smarten up.
GKW: In your time being a musician, touring relentlessly and releasing albums, what have you come to know about what it takes to get to where you want to go in life as an artist?
PS: I don't know anything about what it takes to get where you want to go as an artist. Behaving as a professional and dealing with people who act like professionals makes my working life easier. I do know that if you have connected and influential management, agents, and money, you get more opportunities. That was true at the beginning — it is true today. It has nothing to do with the quality of performance, amount of fans in the area, or experience. Festivals have to work with particular management teams to get larger acts that draw crowds. The festival promoters must make concessions to the demands of that management company to keep them providing headliners. That is the business of festival promotion. If the promoters had their way, they'd pay us all a million dollars a show and they could book their favorite music and hundreds of thousands of people will show up, we'd be rich and groove together forever. But, festival promotion is risky and challenging, and is governed by audience attendance. No one asked me to do my job. I have doggedly pursued this path. Any opportunity to play in front of larger crowds is important. Would I prefer to play a later, more well-attended time slot? Sure. Will that affect anything about my performance? You bet your ass it will. It will have a positive effect. The people that see me play that earlier set are going to see a better show, because now I have something to prove. I will have to give everything I have, every ounce of my energy, to do my job better than the other artist is at their job. No matter where or when I play, I have to reach those people so they talk to the other folks who weren't there. That part of the business has never changed. I have to do what I do, to the best of my abilities every single time.
Want to go?
Blues rocker Patrick Sweany will perform during the Jam In The Trees gathering at 12:15 p.m. Saturday, Aug. 27, at Pisgah Brewing Company in Black Mountain. The daylong festival will also include The Wood Brothers, Jim Lauderdale, The Del McCoury Band, The Burrito Brothers, Willie Watson, and more. As well, Watson & Tellico will kick things off with a set at 8 p.m. Aug. 26 at the brewery's indoor stage.
For more information and tickets, click on www.pisgahbrewing.com.
Hot picks
1 Written by famed comedian Lewis Black, the production of "One Slight Hitch" will hit the stage at 7:30 p.m. Aug. 26, Sept. 1-3, 8-10, and at 2 p.m. Aug. 27-28 and Sept. 4 and 11 at Haywood Arts Regional Theatre in Waynesville.
2 "An Appalachian Evening" will close out the summer series with Frank Solivan & Dirty Kitchen at 7:30 p.m. Saturday, Aug. 27, at the Stecoah Valley Cultural Arts Center in Robbinsville.
3 The "Way Back When" trout dinner will continue at 5:30 p.m. Friday, Aug. 26, at the Cataloochee Ranch in Maggie Valley.
4 Mad Anthony's Bottle Shop & Beer Garden (Waynesville) will host Fritz Beer & The Crooked Beats (Americana/rock) at 8 p.m. Saturday, Aug. 27.
5 Paint Nite Waynesville will be held at 7 p.m. on Fridays at the Panacea Coffeehouse, with the next installment being Aug. 26.