Archived News
Fly fishing museum moves to Bryson City
Wednesday, August 17, 2016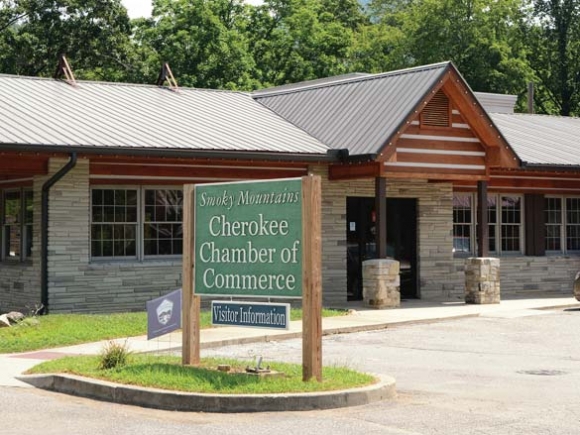 Just one year after setting up shop in Cherokee, the Fly Fishing Museum of the Southern Appalachians will be moving to Bryson City.
Swain County leaders are ecstatic the ode to angling history is coming to their downtown, and the museum is looking forward to settling into its new home.
But the circumstances that led to the exodus from Cherokee have Alen Baker, the driving force behind the museum, scratching his head. He was just up in Cherokee for a routine visit to the museum — Baker lives in Charlotte — when he got word that the tribal government had been talking about cancelling the lease.
"I was shocked," Baker said. "It was not something I expected."
Discussing the lease
The museum had gotten a green light from Tribal Council — with support from then-Principal Chief Michell Hicks — in April 2014, when the body voted to lease the tribally owned building to the Cherokee Chamber of Commerce for $1 per year for 25 years. The idea was that the museum would share space with the chamber, allowing it to tell the story of fly-fishing heritage in the mountains, bolster Cherokee's place as a tourism destination and raise revenue to support chamber, which is a nonprofit.
At the time, the Cherokee Chamber of Commerce told Tribal Council that it operates on about $80,000 per year but takes in only $30,000 in membership fees — once established, the museum could help offset that deficit, the thinking went.
Two years later, much has changed in Cherokee, with an election in 2015 delivering substantial turnover in the tribe's elected offices. On July 12, councilmembers on the tribe's Business Committee got to talking about the museum, with a suggestion surfacing that the committee consider canceling that 25-year lease and replacing the chamber/museum combo with something more lucrative for the tribe.
Principal Chief Patrick Lambert, who sits on the committee, appeared to agree with that point of view in his July report.
"I support cancellation because the 'Fly Fishing' museum is seldom, if ever, used and does not bring one red cent into the Tribe," he wrote.
However, said Lambert's chief of staff Sage Dunston, "our position on this is that we don't really have a position." The idea of cancelling the lease came from a pair of councilmembers serving on the committee, he said, and Lambert wasn't pushing for the pendulum to swing either way.
"The chief did not cancel anybody's lease," Dunston said. "He did not run anybody off. He doesn't have the authority to cancel a lease."
However it originated, the discussion threw Chamber Director Amy Parker for a loop, spurring her to send out a July 26 letter to chamber members asking for their support.
"This is causing mass confusion for us," Parker wrote. "We feel as though we only provide a service for the community and ask for very little in return."
Since opening in June 2015, she wrote, more than 5,700 people have visited the museum. The chamber website draws more than 20,000 hits per month and the organization distributes more than 40,000 travel guides every year promoting Cherokee, the letter said.
The committee has not yet made a final decision on the lease, but Baker opted not to wait. The Swain County Chamber of Commerce reached out with an offer of space, and he took them up on it. The museum is already gone from Cherokee and reassembling in its new home.
"Just the discussion that they might revoke the lease means we can't trust the situation," Baker said. "So we had no choice but to start looking for an opportunity to relocate."
He takes issue with Lambert's assertion that the museum hasn't contributed "one red cent" to the tribe, pointing out that the chamber has received donations for museum admission and helps contribute to Cherokee's overall diversity of tourism attractions. The chamber did not respond to a request asking for the revenue gained from the museum since it opened.
There's another way to look at that question of monetary contribution, Dunston said. Tribal businesses are required to pay a tribal levy — analogous to a sales tax — whose proceeds are then put back into tribal programs. The museum didn't contribute anything to the levy until July of this year. For the month of July, they paid $76.60.
"I think that the community would say to you what benefit has the fly fishing museum given to the tribe," Dunston said. "The tribe invested over $100,000 in refurbishing and rewiring and all kinds of work in that museum."
From that standpoint, he pointed out, there's an argument that a lease payment of $1 per year doesn't make sense when the levy garnered from one of the heaviest tourism months of the year is less than $100. Lambert is focusing on other methods of diversifying Cherokee's economy, Dunston said, pushing Tribal Council to pursue initiatives such as a water park, downtown revitalization and additions to Harrah's Cherokee facilities in Cherokee and Murphy.
Welcome in Bryson
For his part, Baker is a bit taken aback by the apparent change of heart from Cherokee's leadership and looking forward to settling into Bryson City.
"I don't know what else to do but to reestablish the museum around a community that really wants it," he said. "That's all we've really wanted to do."
The museum's new home will be in the Swain County Chamber of Commerce building on Main Street, which happens to be just around the corner from the Swain County Heritage Museum.
"I'm glad to see it come down here," said Swain County Commissioner David Monteith, who spearheaded the Heritage Museum project. "It's going to be a win-win situation for the county."
The new space will be "a little cozy," Baker said, but there will be room for everything that's already displayed in the Cherokee building save the drift boat exhibit, which will go in a glass case to be installed out front. And because Bryson City is a Mountain Heritage Trout Water City, it will be easy for the museum to incorporate hands-on fishing events right downtown — the Tuckasegee River flows by not a block from the chamber building.
"Our county and region is very much on the national radar when it comes to fly fishing, and we would have been foolish honestly not to invite them in," said Karen Wilmot, Swain County chamber director. "It's an excellent attraction and we're happy to have it."
"I think we're the winner of this, very definitely," agreed County Commissioner Ben Bushyhead. "Anytime we can bring something that's stable, and a fishing museum can definitely be a stabilizing factor in a town where tourism is extremely important."
Bushyhead wants to see Bryson City become a town that gets people coming for an entire vacation rather than just for a day visit while they're hanging out in Cherokee or in the Great Smoky Mountains National Park. The more places you've got for visitors to investigate, the more attractive you become as a destination.
"The fishing museum only adds to that, and I think it's a great thing," he said.
Baker said he's grateful to the tribe for giving the museum its start — Cherokee is where the museum got its feet under it and transformed concept to a reality that Bryson City is excited to host.
"I always had confidence that it's a good product that we've done so far," he said.
Grand opening scheduled
The Fly Fishing Museum of the Southern Appalachians will hold a grand reopening at its new home in the Swain County Chamber of Commerce building in Bryson City on Saturday, Sept. 24, coinciding with the induction of the first-ever honorees in the Museum Hall of Fame.
Inductees will include:
• Jim Casada, a Swain County native who now resides in South Carolina, in the "Communications" category. Casada is an avid fly fisherman, has authored numerous outdoors books and shares his lifetime of knowledge and experience as a seminar speaker.
• Walter Cary, of Virginia, in the "Crafts" category. Cary spent decades creating poppers that pan fish and bass can't resist, and teaching novice anglers, kids and veterans how to fish and tie flies.
• Wanda Taylor, of Georgia, in the "Recreation" category. She's spent her career as a professional guide, casting instructor and volunteer with Casting Carolinas, Casting for Confidence and Casting for Recovery.
• Phil Bracewell, of South Carolina, posthumously in the "Conservation" category. Bracewell was a founding member of the N.C. Chapter of Trout Unlimited and longtime volunteer Trout Unlimited national director.
The inductees will be celebrated with a ceremony and dinner. Space is limited and reservations are available at 828.488.3681. $35.
The museum's hours of operation and cost of admission are yet to be determined.